Material Lift Rental
Stowers Cat offers material lift rentals in Knoxville and the surrounding East Tennessee areas. We are the best source for all kinds of industrial and agricultural machinery, and we know what it takes to get the job done right. When you opt to rent a material lift from us, you'll find well-maintained products and the best customer service in the industry.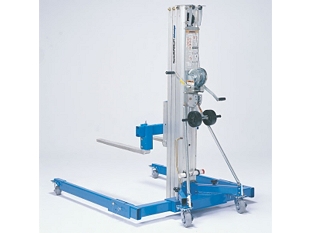 Maximum Lift Height

18.5 ft

Load Capacity

650 lb

Weight

307 lb
Please call for rates.
Maximum Lift Height

24 ft

Load Capacity

650 lb

Weight

347 lb
Please call for rates.
What Type of Material Lift is Right for You?
Finding a material lift that's right for the work you're doing is as simple as assessing your needs. From there, our knowledgeable customer service team can walk you through your various options.
The material lifts we offer for rent come in a variety of weights, load capacities and maximum lift heights. You can also choose from certain manufacturer options, including booms, platforms, pipe cradles, adjustable forks and fork extensions, so you can customize the lift for your job site.
Benefits of Renting Material Lifts
We find that many of our customers in various industries — mostly construction, industrial and agricultural — don't need to own a material lift. You may use a material lift infrequently and would prefer not to buy equipment you won't really use.
So instead of buying, choose to rent material lifts instead. By renting, you can save a lot of money by avoiding paying interest on financing, paying for the machine in full and spending money on storage space. You'll also save by not having to worry about repair and upkeep. This allows you to invest in different types of equipment you'll get more use out of.
Material Lift Rentals in Tennessee
If you're looking for material lifts for rent in Chattanooga or anywhere else in East Tennesee, we are your local source.
Stowers Cat has a presence in Knoxville, Crossville, Sevierville, Kingsport and Chattanooga, so you won't have to go too far to find us. All of our locations feature similar, well-maintained rental equipment and straightforward, helpful customer service representatives. If you need to rent a material lift and want professional guidance on which lift to choose, talk to Stowers Cat today.
Why Choose Stowers Cat?
Stowers Cat has the largest rental fleet in the East Tennessee area, and we want to help you find the right material lift rental, so you can get your job done safely and effectively. Call us at 865-546-1414 or contact us if you have any questions about material lift rentals or any of the services we offer to help you get the job done right.