Skid Steer Rentals
Skid steer loaders bring versatility, maneuverability and effectiveness to job sites where construction, agriculture and landscaping work is taking place. In fact, when you take advantage of different skid steer attachments, this equipment can be among the most valuable in your fleet.
Gross Power - SAE J1995

74.3 HP

Rated Operating Capacity

1800 lb

Operating Weight

6567 lb
Please call for rates.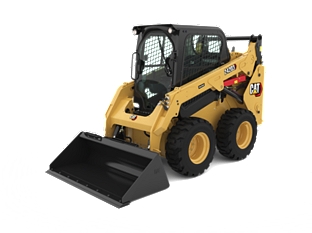 Gross Power - SAE J1995

74.3 HP

Rated Operating Capacity

2200 lb

Operating Weight

7138 lb
Please call for rates.
But you don't always need to buy a skid steer loader. Sometimes you need a skid steer for short-term work — which makes Cat® skid steer rental options incredibly attractive. At Stowers Cat, we offer you the ability to rent a skid steer in Knoxville and the surrounding communities throughout East Tennessee. You'll find nothing but high-quality, well-maintained equipment rental options in our inventory. Get the capabilities you need for your next project when you choose skid steer rental in East Tennessee from Stowers Cat.
A Range of Skid Steer Rental Options
What type of skid steer rentals are you searching for? Whatever you need, you'll find the right solution at Stowers Cat. Our expansive selection of options when you need to rent a skid steer in Knoxville and surrounding areas means you can find something with the features and capabilities you require for an upcoming project. Make sure you're getting the ideal solution when you trust the selection at Stowers Cat.
The Benefits of Renting a Skid Steer
The greatest benefit of skid steer rentals is that you get on-demand access to the capabilities you need, all without making an upfront investment and without worrying about ongoing repairs and maintenance. When you choose skid steer rentals in Knoxville and the surrounding areas from Stowers Cat, you can rest assured your equipment is ready to work hard and get the job done.
Convenient Locations Across East Tennessee
When you need skid steer rentals in East Tennessee, you'll find them at Stowers Cat. We serve customers across the region from our locations in Knoxville, Crossville, Sevierville, Kingsport and Chattanooga. Whether you choose to shop with Stowers Cat online or in person, you'll find the same high-quality Cat skid steer rental options and the same level of customer service. At Stowers Cat, our goal is to provide the equipment and support you need to reach your ultimate level of success, and our network of locations across East Tennessee is just one way that we strive to meet that goal.
Find a Helpful Team and Outstanding Support
We're ready to help you find the skid steer rentals you need. At Stowers Cat, we are among the leading Cat dealers in the country, not just because we offer access to high-quality products, but also because we're committed to answering your questions and providing the guidance you need. In short, we do whatever it takes to connect our valued customers to the construction, landscaping and agricultural equipment they need to be successful. We're ready and willing to walk alongside you during your search for skid steer rentals, during the financing process and even during challenges as you operate your skid steer.
Contact us today about getting the best option to meet your Cat skid steer rental needs in Knoxville.