Undercarriage components are essential to the undercarriage system that drives and moves your equipment. Choosing the best heavy equipment undercarriage parts is key to keeping a durable, capable support structure under your machines.
Stowers Cat understands the value of the undercarriage system, so we have a variety of parts in stock, including everything your equipment needs to continue to provide top performance at the job site.
Our Quality Undercarriage Parts
Stowers Cat parts are made with a reliable quality that you can count on throughout the life of your undercarriage. All of our parts are designed and built by Caterpillar®  and take specific machine specifications and real-world experience into account.
If we don't have the component that you need, we can get it to you quickly. Our distribution network makes undercarriage parts available from anywhere in the world.
Factors to Consider Before Buying Cat® Undercarriage Parts
Installing the right parts on your machine minimizes costs and enhances function, so be sure to consider your equipment's current configuration and typical working conditions when deciding what you need. Our parts selection can accommodate the following:
Rear attachment type: Drawbar, ripper, counterweight and winch
Track frame configuration: Low ground pressure (LGP), standard, extra-wide (XW), and extended (L or XL)
Packing conditions: Operating in extrusive materials (can be removed when wet) and non-extrusive materials (cannot be removed)
Width of track shoes: Narrow, intermediate and wide with tri- and quad-link track configurations
Blade type: Straight, semi-universal (SU), variable-pitch power angle/tilt (VPAT)
Type of track shoe: Chopper, self-cleaning, extreme service (ES), center hole, moderate service (MS)
Underfoot conditions: Severe, light, and moderate impact and abrasion
Other attachments: Window guarding and sweeps
Terrain: V-ditching, side slopes and ground objects
Which Type of Track Shoe is Best?
One of the most important factors in helping you achieve the lowest owning & operating costs and maximizing equipment uptime is matching the right undercarriage option to your specific machine model and work application.
At Stowers, we are able to assist you in determining which type of track shoe for your equipment. You can choose from the following options:
Extreme Service: These shoes should be used wherever the moderate service track shoe bends or breaks, or where links outlast track shoes.
Moderate Service: These are the best shoes for low to medium impact and abrasive conditions.
Self-Cleaning: Designed for use in loose, muddy conditions.
Center Hole: Work best in applications where packing causes the track to tighten, accelerating pin and bushing wear.
Chopper: Work best in applications where debris tends to stick in the shoes.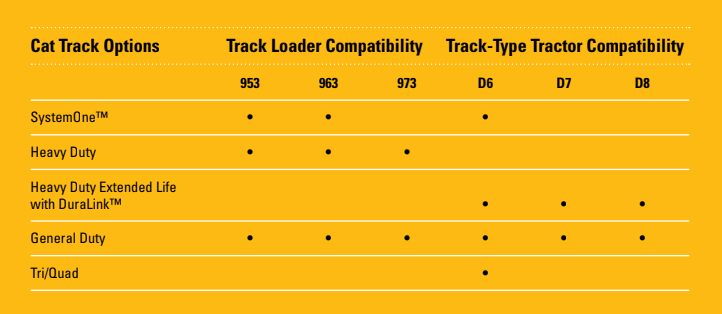 Undercarriage Parts Available at Our Six Locations
Stowers Cat territory is all of East Tennessee, which includes the cities of East Knoxville, West Knoxville, Sevierville, Kingsport, Chattanooga and Crossville. At every location, you can expect to find helpful staff who will answer all of your questions about our Cat undercarriage parts and can recommend the best solution for you.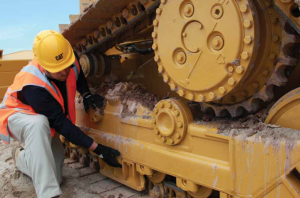 Why Order Heavy Equipment Undercarriage Parts From Stowers?
If you are looking to buy undercarriage parts in Chattanooga or anywhere in East Tennessee, come to Stowers Cat. As one of the country's top Cat dealers, we offer quality parts and exceptional services for your material handling equipment. The team at Stowers Cat cares about every customer, and we are dedicated to doing everything we can to ensure your success.