Stowers Machinery is ready to help you extend the life of your engine. When you use Cat parts, you can be assured of high-quality materials and controlled manufacturing processes. With our new in-frame overhaul kits, you have value-added options for overhauling your engine the right way, with the top performance and long life of genuine Cat® parts. Read below to learn more about how our engine overhaul kits offer long life, quick turnaround time and an easy ordering process.
Schedule Engine Rebuild Service
CAT OVERHAUL KITS OFFER RELIABILITY AND CONVENIENCE
Cat engine overhaul kits are engineered to deliver a reliable and high-quality rebuild that meets Caterpillar's recommended overhaul practices. They include all parts necessary for a variety of repair options, from a basic repair to a complete in-frame overhaul. Kits can be purchased over-the-counter at any Stowers Machinery Parts Department location and come with a factory-backed, one-year parts warranty that covers Cat parts needed to correct the failure, including Cat parts damaged by the failure and labor needed to correct the failure (when work is performed at Stowers or a Caterpillar-authorized dealer).
In addition to being engineered to deliver a reliable and high-quality rebuild, these self-contained kits offer improved pricing; pre-packaged, genuine Cat parts for your convenience; ease of ordering and handling; and minimized selection errors.
WE'RE READY WITH OPTIONS
Cat in-frame overhaul kits cover most 3406E, C-12, C-13, C-15, and C-16 heavy-duty Cat engines as well as most 3126B, 3126E, and C-7 medium duty Cat engines. These overhaul kits are offered at four cost-effective and simple-to-order overhaul levels: Bronze, Silver, Gold, and Platinum. Each succeeding level offers more value.

Engine Rebuild Options:
The BRONZE overhaul kit is your low-cost repair option and includes value-added components like Cat oil filters and fuel filters and components you might not think of replacing, such as exhaust sleeves and exhaust manifold studs. There is no core charge with the bronze overhaul kit. Request Bronze Overhaul Service
The SILVER overhaul kit is suitable for a basic in-frame overhaul and is similar to competitive in-frame overhaul kits. It builds on the Bronze overhaul kit and also has no core charge.
Request Silver Overhaul Service
The GOLD overhaul kit is suitable for a basic in-frame overhaul and includes the core parts from the Bronze kit and the added bonus of Cat Reman cylinder pack assemblies. Reman cylinder packs are beneficial because the rods, pistons, rings, and liners come preassembled, saving four to six hours of labor when compared to the Silver overhaul kit.
The PLATINUM overhaul kit includes all the components from the Gold kit plus a Cat Reman cylinder head assembly, Cat Reman fuel injectors, a Cat Reman water pump, and a Cat Reman oil pump. The Platinum overhaul kit optimizes engine performance and fuel economy and maximizes the built-in second or third life of your engine.
Request Platinum Overhaul Service
COMPARE ENGINE OVERHAUL KITS TO FIND YOUR BEST VALUE
Use the chart shown below to compare the contents of each engine overhaul kit.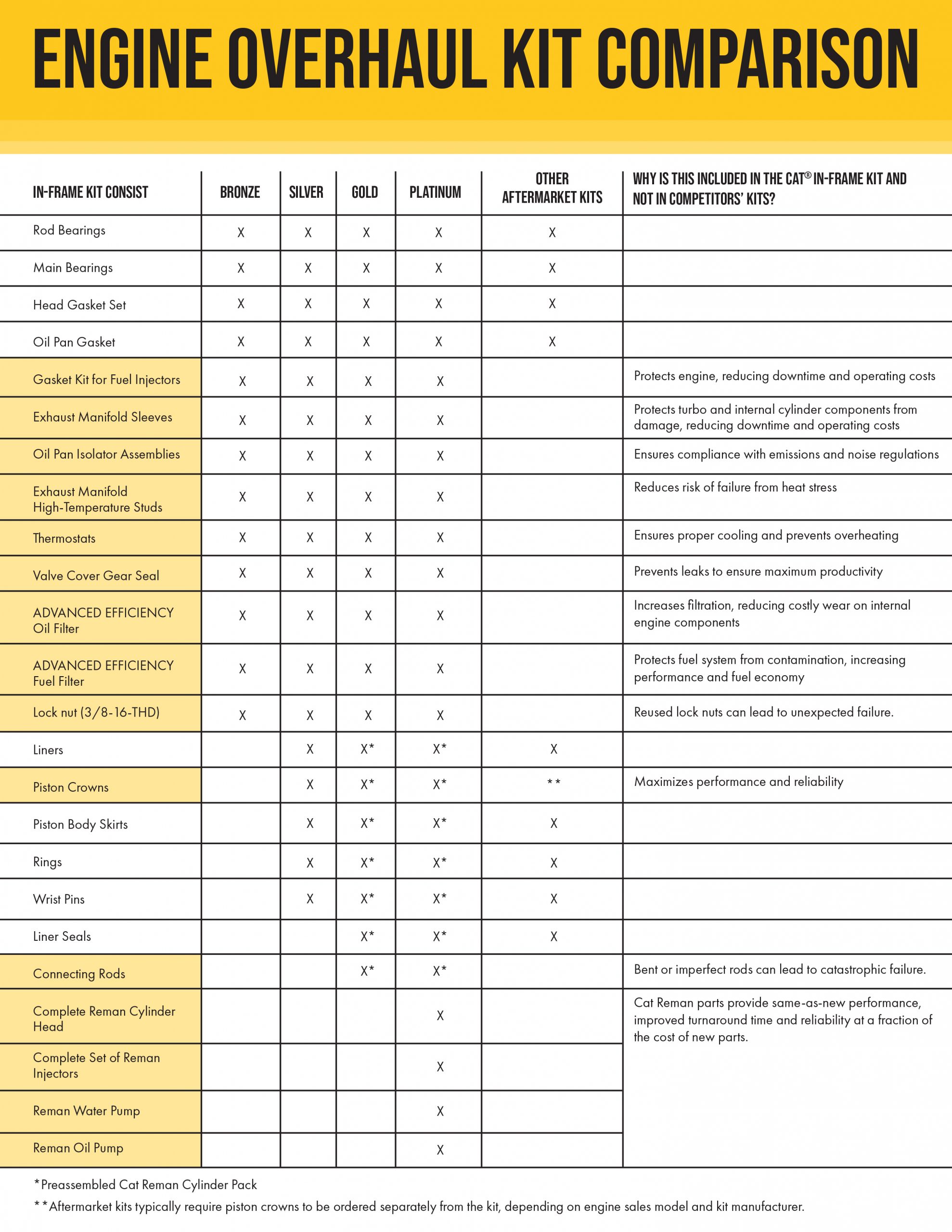 EXTENDED SERVICE COVERAGE
Each kit is available with optional Extended Service Coverage (ESC) that goes beyond the standard factory parts warranty. ESC provides additional protection up to four years with no mileage or hour limitations.