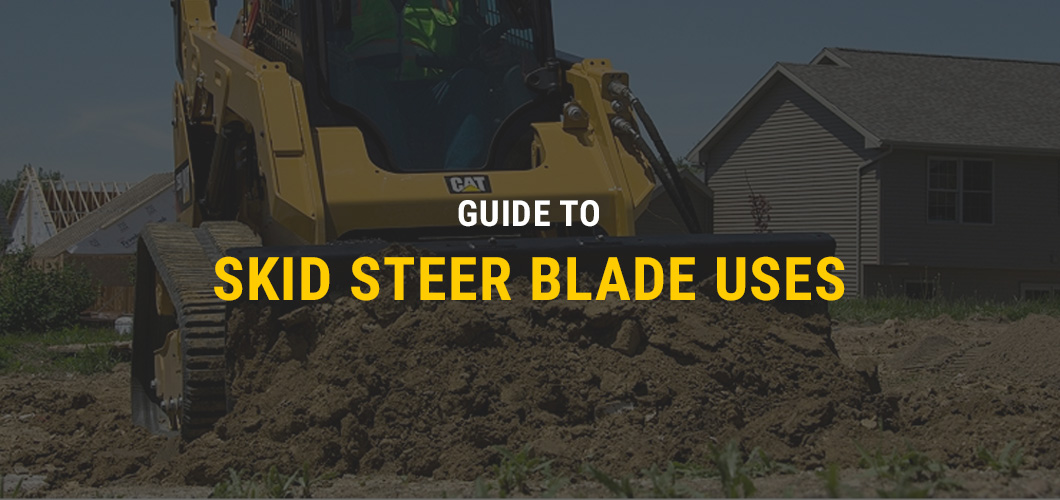 If you've ever used a skid steer, you know how valuable these machines can be for maintaining productivity. Skid steers are the workhorses of a job site — they can take on all sorts of jobs thanks to their attachment compatibility. While buckets, mulchers, rakes and backhoes are some of the most common skid steer attachments, another you'll want to remember is the blade.
Uses of Skid Steer Blades
Skid steers are among the most versatile machines available because they can use so many different work tools. If your work involves earthmoving, a skid steer blade can be one of the most useful tools on your job site. Some of the common applications for skid steer blades include moving materials such as gravel, livestock waste, sand and dirt, effectively making the machine function as a mini bulldozer.
Equipping a skid steer with a blade makes it highly valuable in landscaping and construction applications.
Can You Use a Skid Steer Blade for Snow Removal?
Skid steer blades can also work for snow removal, allowing you to stay productive in winter weather. Angle blades are often a clear choice for using a skid steer to remove snow.
Can You Use a Skid Steer Blade for Grading?
You can also use skid steer blades for grading. These attachments are excellent when you need to rough or finish grade dirt or gravel. There are specific grader blades for skid steers that allow you to cut and grade dirt, sand, gravel and other base materials.
Dozer blade attachments for a skid steer are ideal for small-scale rough and finish grading at landscaping or construction sites, especially when a full-size dozer can't maneuver due to space restrictions.
Types of Dozer Blade Attachments
Dozer blades for skid steers can come in several different styles:
Angle blades: These blades are set at an angle for pushing materials like gravel, snow and dirt around the job site.
Grader blades: A dedicated grader blade has cross-slope capabilities and is an excellent choice when you need to cut and move base materials.
Dozer blades: Finish grading is easy with a dozer blade. They can also perform some light dozing. Cat® dozer blades have six-way capabilities, making them a versatile attachment for grading at construction or landscaping sites.
Benefits of Cat® Skid Steer Blades
Having a blade attachment for your skid steer loader can go a long way on the job site. High-quality blade attachments from Caterpillar provide advantages like:
Increased productivity: Interchangeable attachments allow you to get more work done using a single machine. You can easily switch from another tool to a blade within minutes, helping you maximize operating time.
Machine versatility: Your skid steer is already one of the most useful equipment pieces you have — adding more attachment availability just lets it do even more. Use your skid loader to push materials, remove snow and grade to keep your fleet at its most efficient.
Durability: Cat blades work hard and are made to last, even when used in challenging applications. With proper maintenance, your attachment will continue to serve you for the long haul.
Get Skid Steer Blade Attachments From Stowers Machinery Corporation
Stowers has served East Tennessee with top-quality machines, attachments and service since 1960. We make it easy to rent or buy attachments with the help of experts at any of our convenient locations.
Contact us online today to learn more about our attachment options or request a quote.