Visit or drive past any construction site and you'll likely see a skid steer loader hard at work. These compact, lightweight earthmoving machines can maneuver in confined areas that are inaccessible to larger, bulkier pieces of equipment. Skid steers are also versatile — you can use them for everything from roadwork and excavating to landscaping, demolition work, material handling and much more. Their multifunctional capabilities make these loaders a staple of just about any operation that calls for heavy equipment.
The Benefits of Skid Steer Attachments
Part of what makes skid steers so versatile and productive is their compatibility with a wide assortment of attachments that allow operators to match the machine with specific job site tasks. The use of quick couplers enables equipment operators to switch tools rapidly — in many cases without leaving the cab — saving time and increasing productivity.
As the exclusive Cat® equipment dealer for East Tennessee, Stowers Machinery Corporation can supply your Cat skid steer with a high-quality attachment that will increase its utility and give your business a competitive edge.
What Types of Skid Steer Attachments Are Available?
Skid steer loader operators can select from numerous attachments to meet their unique project and task requirements.
Skid Steer Bucket Attachments
Buckets are one of the more common attachments for skid steers. Many loader models feature general-purpose buckets as standard equipment to perform basic dirt scooping, moving and loading tasks. Machine owners also have numerous bucket options available to customize the tool's functionality to their applications:
Grapple: Industrial grapple buckets enable the operator to grasp bulky, irregularly shaped objects found at construction, demolition, recycling and forestry sites.
Low-profile: These buckets typically contain a sharp cutting edge for executing light-duty excavation projects.
Multi-purpose: As the name implies, these buckets can perform multiple tasks, such as grading, dumping, dozing, clamping and more.
Utility: A utility bucket equipped with a cutting edge can handle various low-density materials.
Skid Steer Blades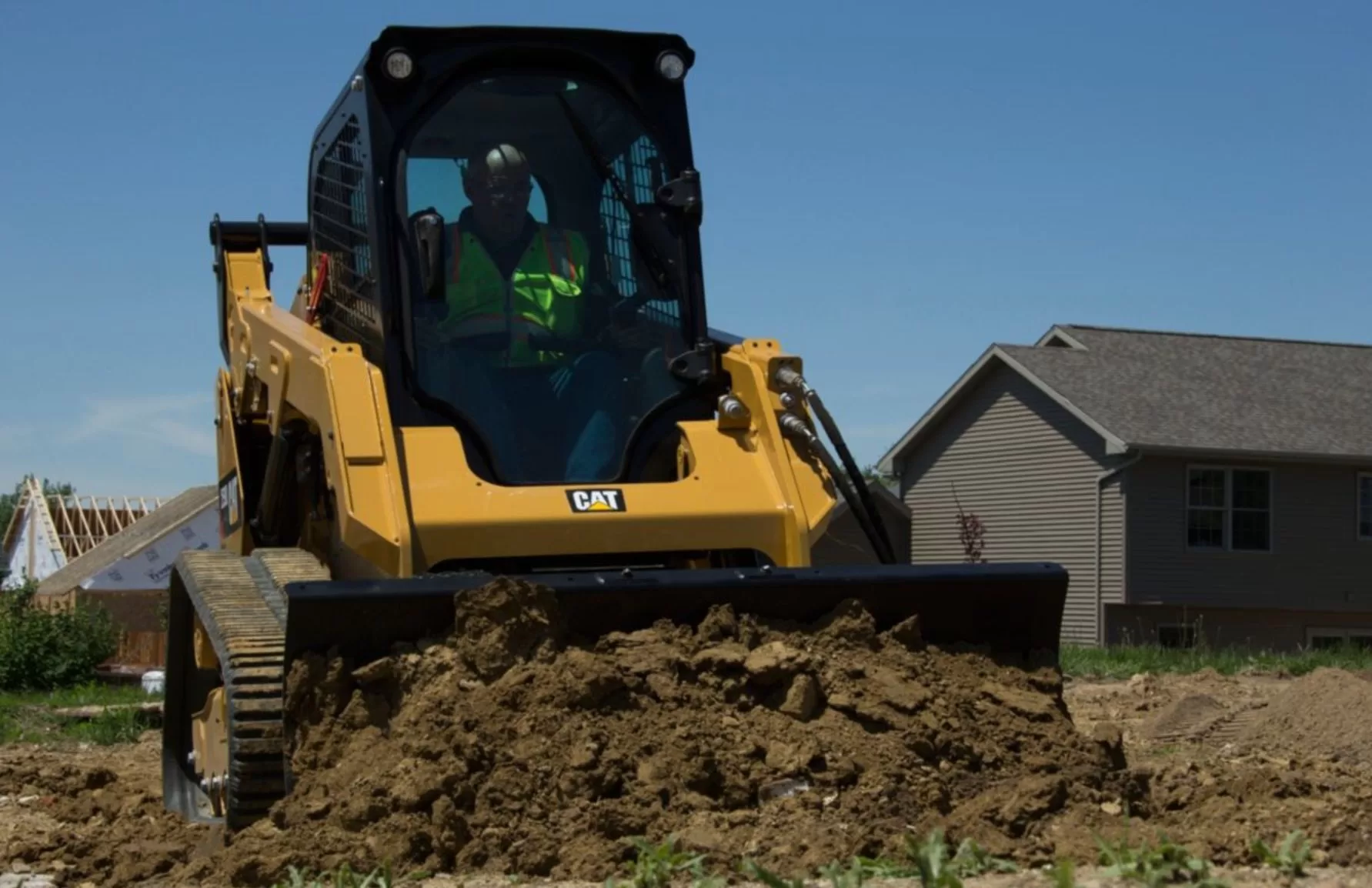 Attaching a box blade to a skid steer enables the machine to perform various grading tasks on gravel and dirt surfaces. This blade configuration typically includes wheels that provide additional stability and help overcome the limitations stemming from the loader's shorter wheelbase. The forward and reverse functionality offers increased maneuverability.
Skid Steer Mulchers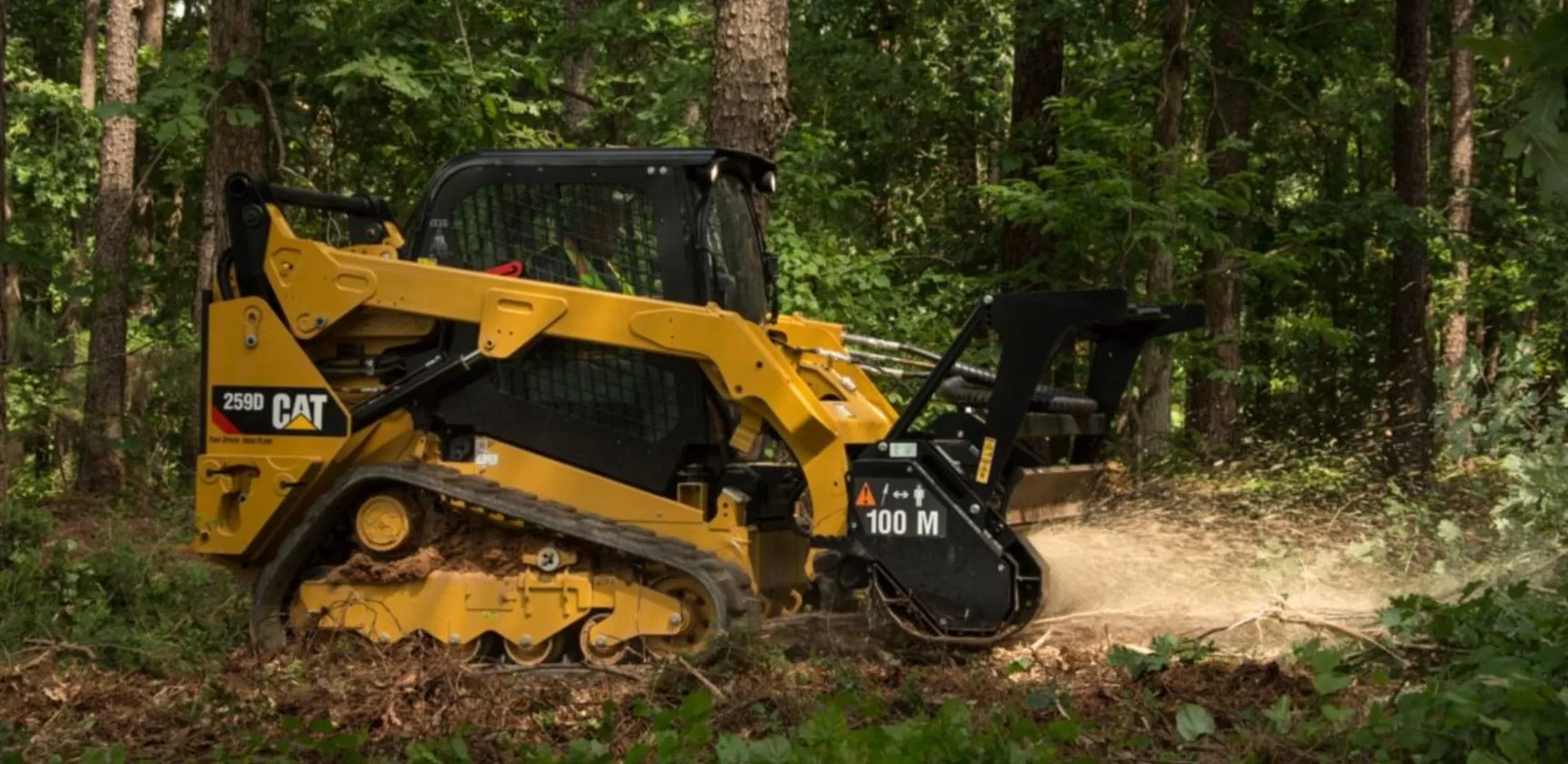 Do your projects involve land management tasks such as landscaping or forestry? Attaching a mulcher to your skid steer loader allows you to cut and mulch vegetation and overgrowth quickly and efficiently.
Cat mulcher attachments include multiple features designed to increase productivity, precision and control. A high-performance push bar guides vegetation into the drum, ensuring a more efficient process. Rugged helical teeth deliver superior grinding force when mulching brush, limbs and smaller trees. Several working widths are available, allowing you to choose the optimal size for your work areas.
Skid Steer Brush Hogs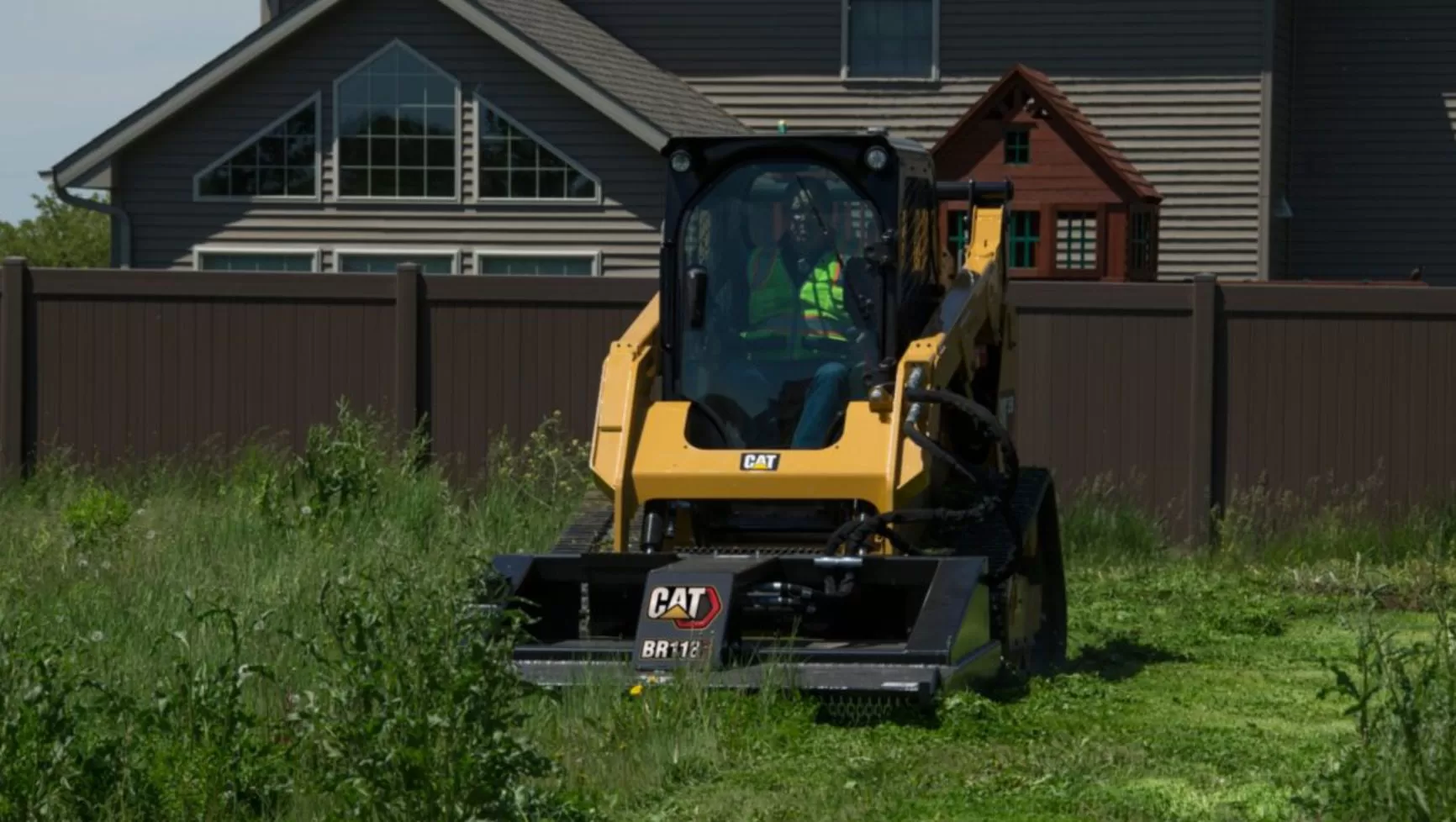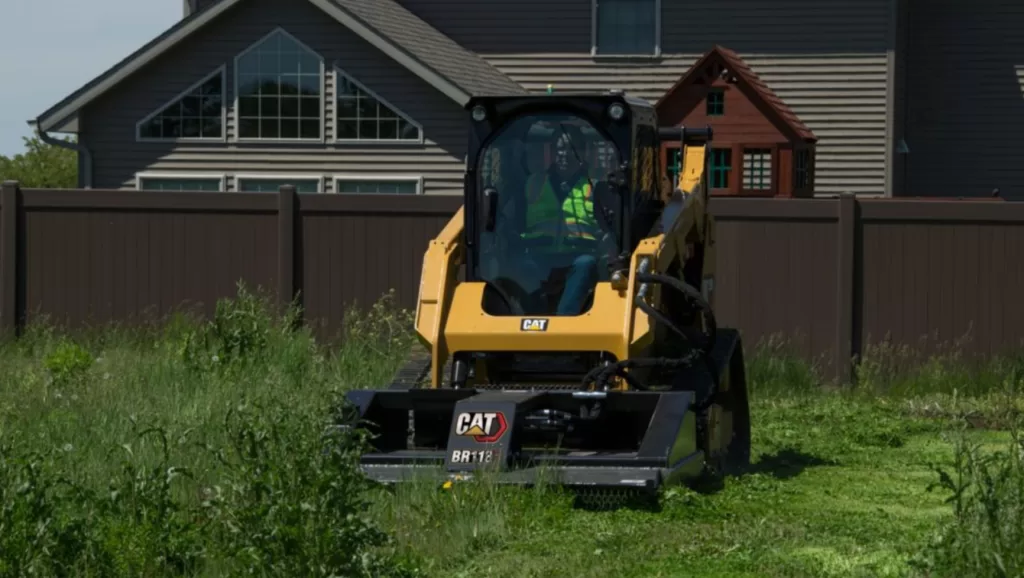 A brush hog is a mini rotary mower with hinged blades that are relatively dull, enabling them to power through dense brush and vegetation. Attaching one of these versatile tools to your skid steer can work well for land clearing and trimming jobs on small farms and similar areas.
Examples of the many functions that brush hogs can perform include:
Trimming weeds around buildings and other areas that are too much for riding mowers to handle
Periodic mowing of grazing paddocks
Mowing mature hayfields to restore essential organic matter to the soil
Creating small meadows on wooded properties
Cutting paths to accommodate temporary electric fencing on your property
Skid Steer Tillers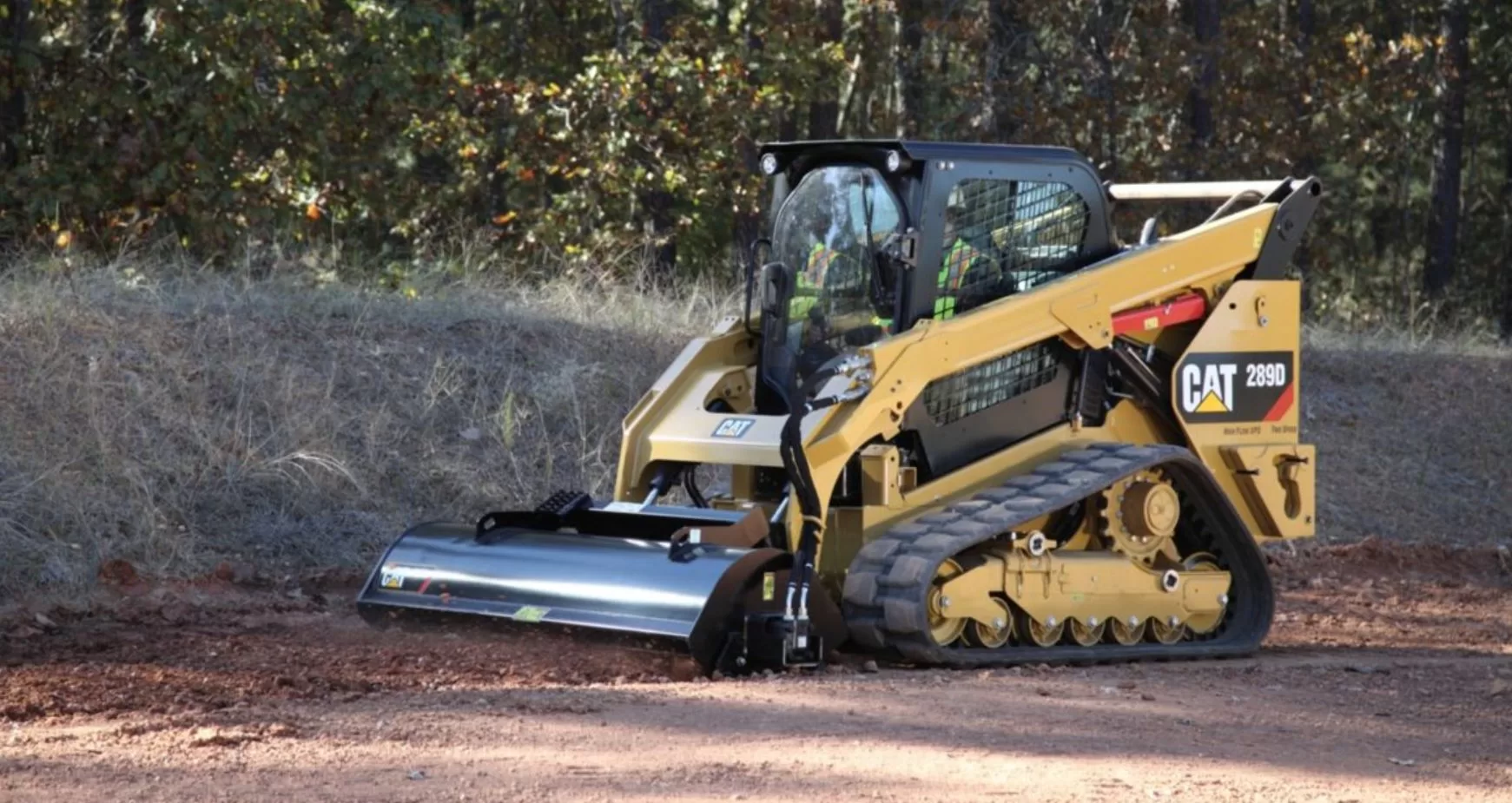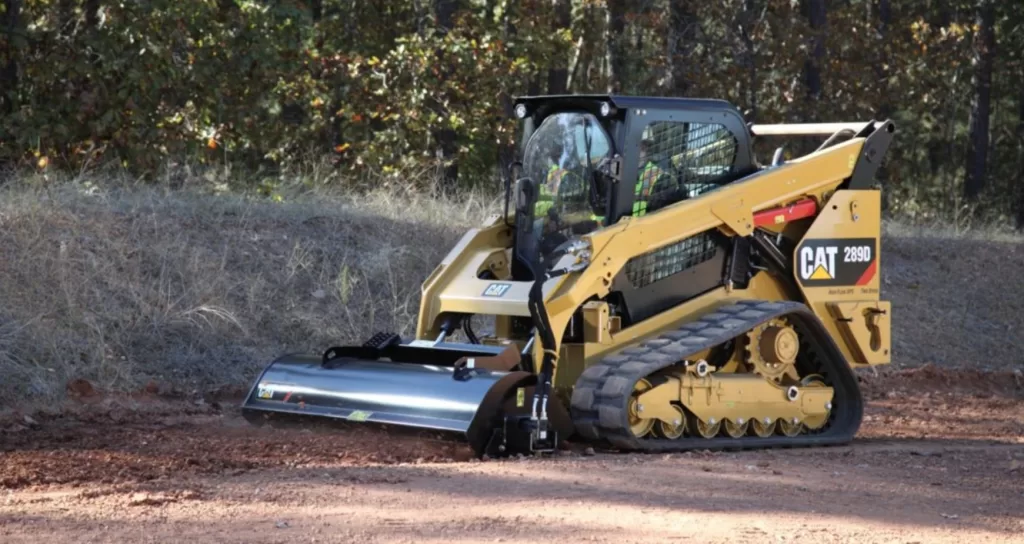 Like brush hogs, tillers can transform a skid steer loader into a valuable landscaping and farming machine. Use them to break up hard ground and prepare it for planting and seeding. They can also smooth out uneven terrain, enhancing a property's appearance. Other typical tiller applications include:
Mixing fertilizer, manure, compost and mulch into the soil
Removing weeds between crop rows
Adding amendments to flower beds during landscaping projects
Tilling next to curbs, sidewalks and buildings
Executing a wide range of golf course maintenance projects
Tiller attachments come in several width options to perform these and other tasks in various environments.
Skid Steer Rakes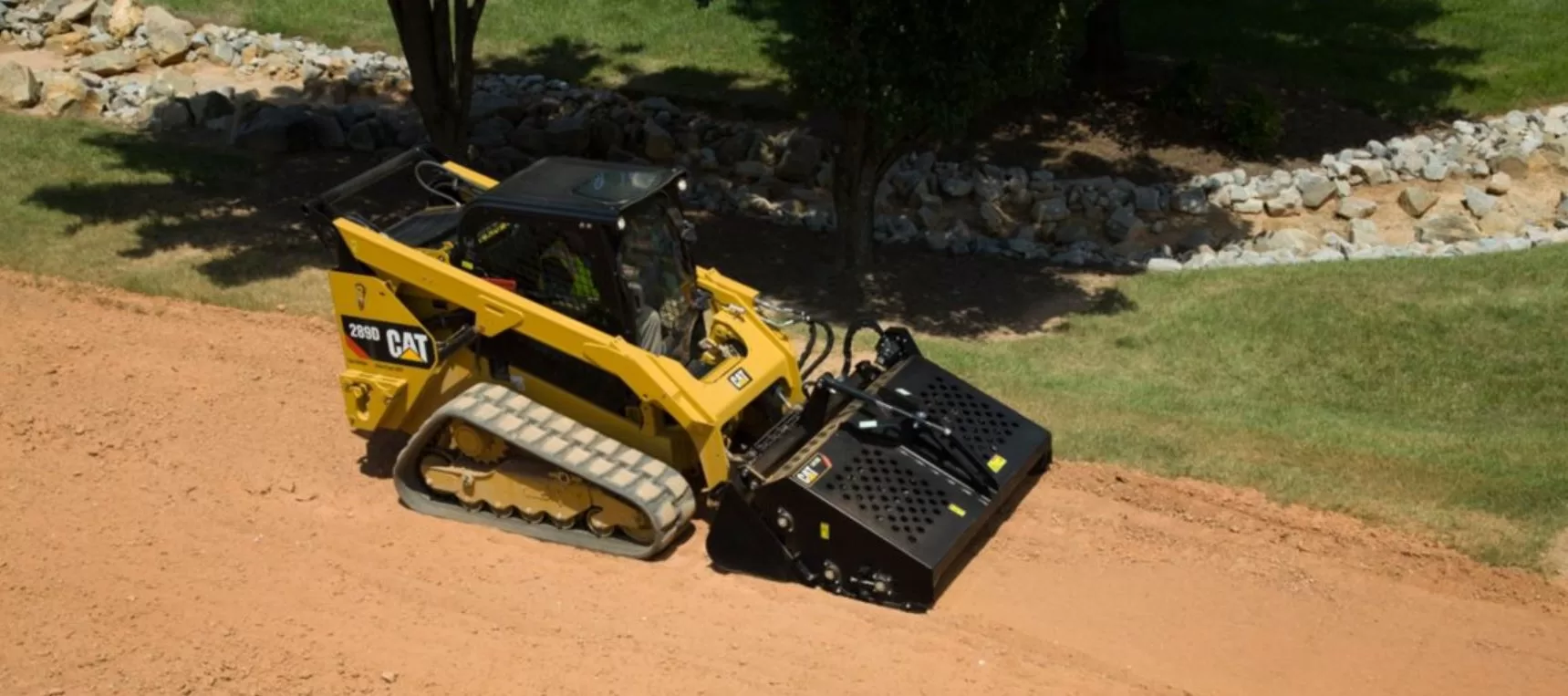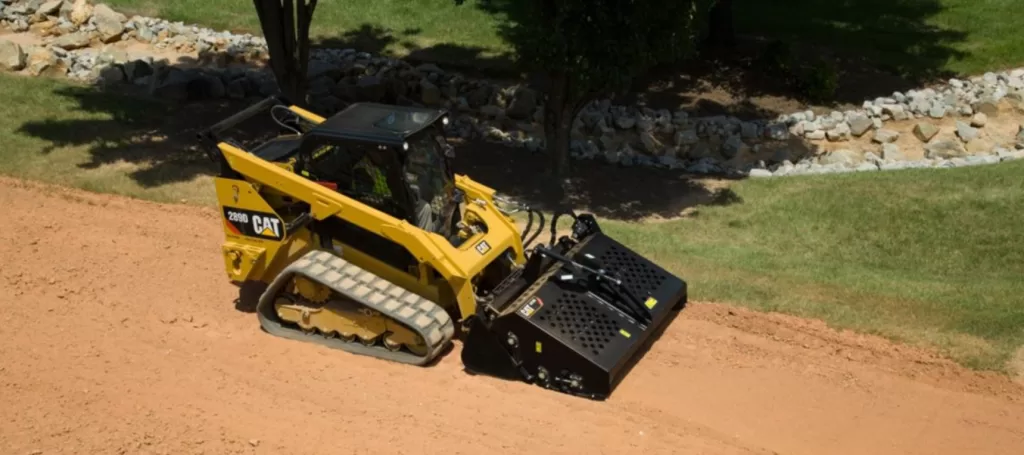 A rake attachment is ideal when using your skid steer loader to remove rocks and other large objects from the soil. They can also smooth out rough terrain and serve multiple lawn care purposes.
Several rake options are available:
Landscape: These models include a hopper to collect the accumulated debris for easy and convenient disposal.
Industrial grapple: Choose this rake attachment for high-demand lot clearing and land preparation projects, such as preparing a site for constructing a building.
Excavator: An excavator rake can dig into rough or compact soil, making it easier to remove large rocks, roots and debris.
Power box: This effective soil conditioning tool can help you prepare and condition the turf on golf courses, athletic fields and outdoor recreation areas.
Skid Steer Backhoe Attachment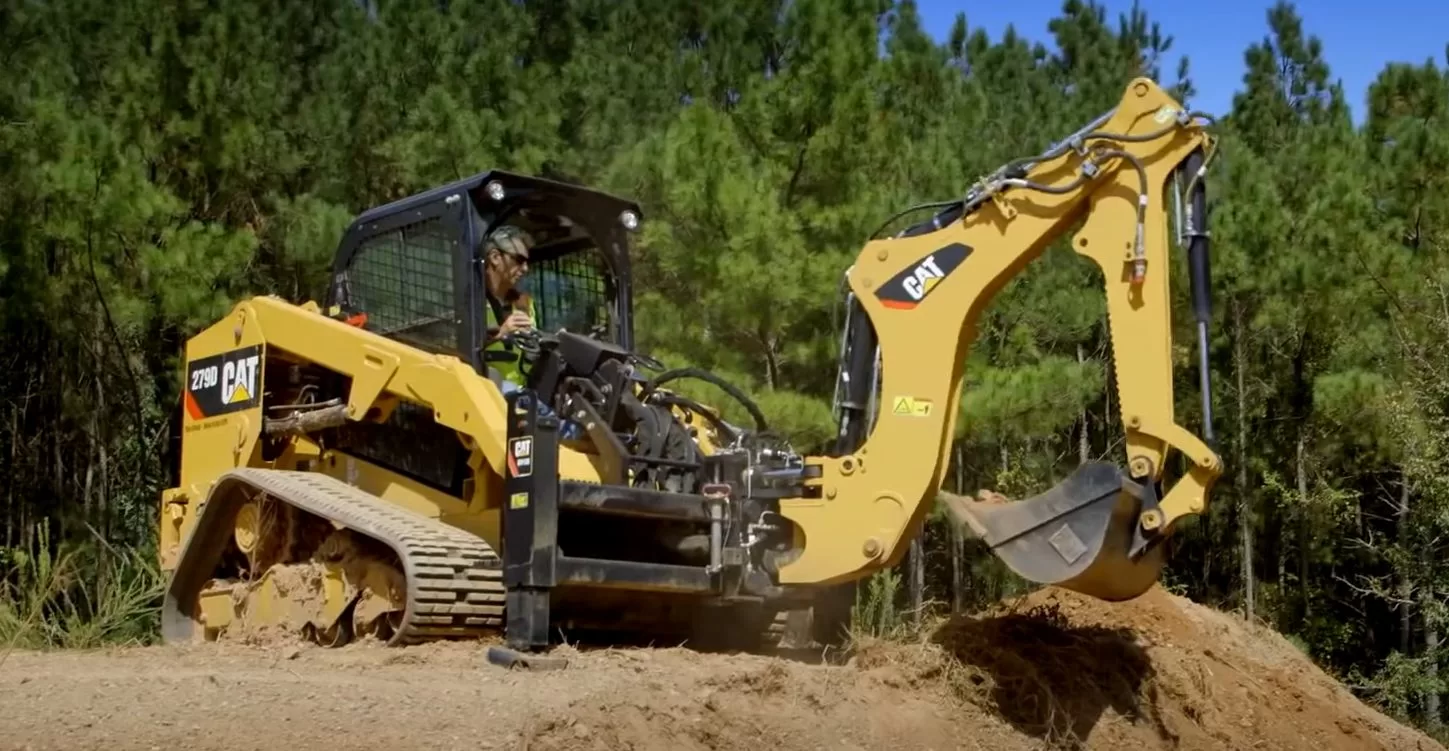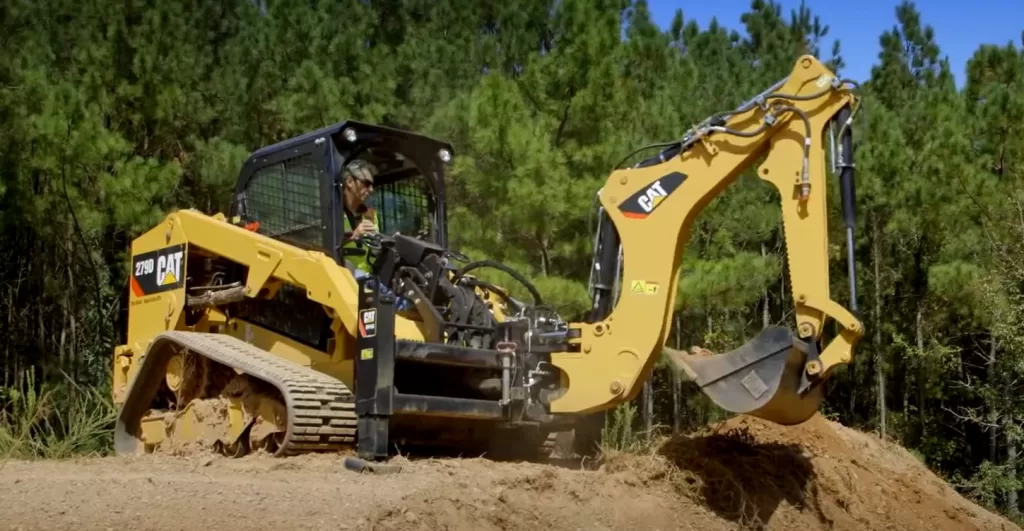 Could your East Tennessee business benefit from a backhoe loader? Instead of investing in a brand-new machine, you can achieve many of the same objectives by attaching a backhoe to your skid steer. Use the backhoe arm and a compatible bucket to perform multiple digging and earthmoving tasks in construction and landscaping applications, like creating footings, grading slopes and excavating drainage ditches.
Skid Steer Hammers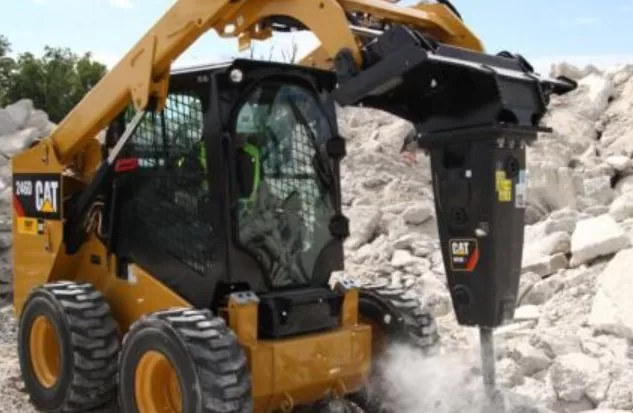 Your skid steer can even become a powerful demolition tool. A hammer attachment can break through rock, concrete, brick and other solid objects quickly and efficiently. You won't have to depend on manual labor to perform this demanding and time-consuming job, enabling you to free up your crews for other projects.
Explore Your Skid Steer Attachment Options at Stowers Machinery Company
Stowers has been helping East Tennessee businesses get more work done in less time since 1960. Whether you're looking to buy or rent an attachment, the expert team at any of our convenient locations can help you make the best match between machine, work tool and application.
Contact us today to learn more about the various skid steer attachments and get a fast quote.