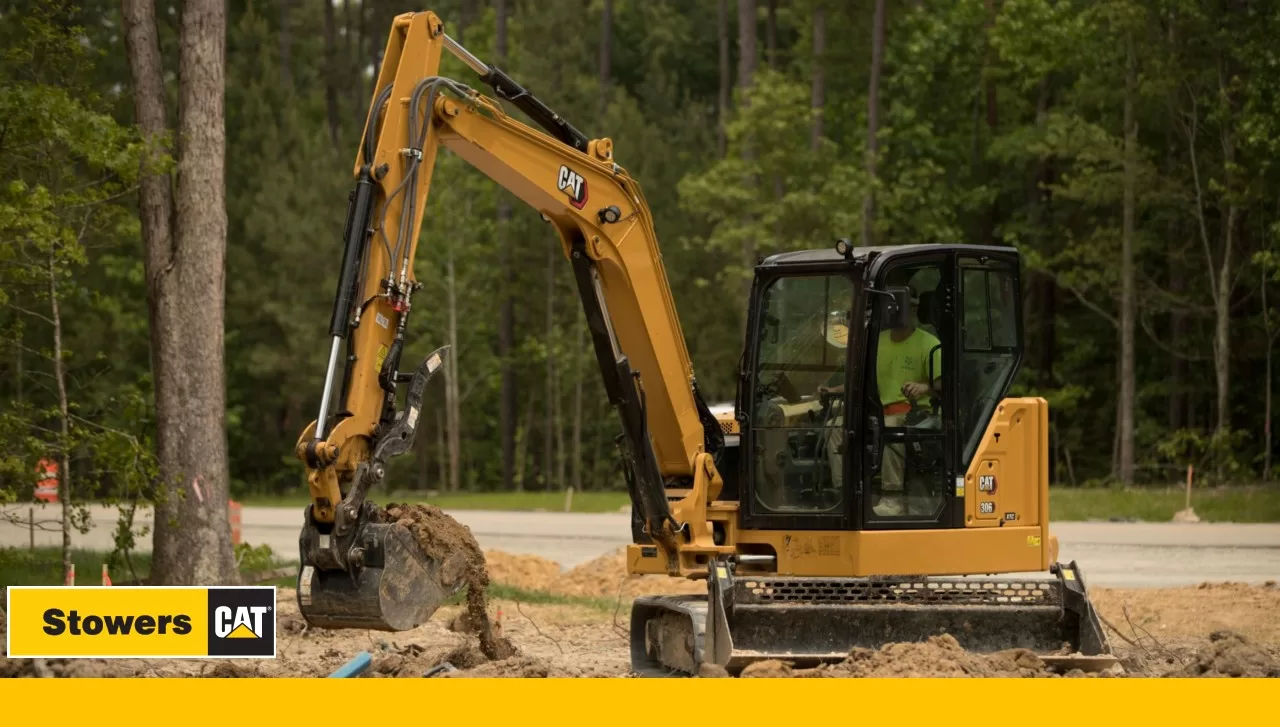 Whether you're a first-time equipment buyer or a seasoned professional, mini excavators can help you get the job done. Learn more about the main uses for mini excavators, renting vs. buying and frequently asked questions in this guide.
What Is a Mini Excavator?
A mini excavator has many of the same features as larger excavators, such as a diesel engine, hydraulic system and boom arm. The main difference is they are much smaller and weigh less than 10,000 pounds.
Top Uses for Mini Excavators
Compact enough to fit in a standard garage, yet strong enough to move massive amounts of dirt and debris, the mini excavator can accomplish a wide range of tasks in various settings.
Residential Applications
Use your mini excavator for:
Digging foundations: Mini excavators provide precision and efficiency when digging foundations for new homes or additions.
Landscaping: Whether you need to grade and level land, remove stumps or create retaining walls and terraces, this equipment will do the job quickly and efficiently.
Installing pools: These machines make quick work of creating a smooth, flat surface for your pool or spa and are ideal for landscaping projects around the pool area.
Trenching: Built for heavy-duty work, mini excavators can dig trenches for utility lines, irrigation systems and drainage systems.
Septic system installation: A mini excavator can boost your efficiency when installing septic systems, from digging the hole to laying the drainage pipes and pumping in sand or gravel.
Commercial Applications
Commercial applications of this versatile machine include:
Construction: A workhorse of the construction industry, mini excavators are used for trench digging, foundations, footing and demolition work.
Utility work: Create narrow trenches just big enough for pipe or wide channels that accommodate cables.
Mining and quarrying: Mini excavators come in handy for digging and transporting materials such as dirt or rock in commercial mining and quarrying operations.
Agriculture: Farm operations employ mini excavators for creating irrigation, drainage and other systems.
Industrial Applications
In industrial settings, mini excavators can perform:
Forestry work: Easily navigate through trees and brush to clear land, remove stumps and plant trees for forestry purposes with a mini excavator.
Waste management: Dispatch your excavator to remove or transport waste while staying within regulations.
Demolition: The attachments on the mini excavator allow it to break down concrete, wood and other materials otherwise difficult to remove or demolish.
Excavation: Mini excavators can reach places other heavy machinery cannot, making them perfect for excavating with limited space.
Frequently Asked Questions
Common questions about mini excavators include:
What is a mini excavator worth? A mini excavator is worth anywhere between $20,000 and $90,000. The final cost depends on the model, brand, machine age and whether the model is new or used.
How many yards can a mini excavator dig in a day? Mini excavators provide the speed and power to dig trenches and holes from 350 to 1,000 cubic yards per day. Factors that influence how fast you can dig include operator skill level, type of ground, the specific model used and the bucket capacity.
Can a mini excavator break up concrete? Yes, mini excavators can break up concrete. If you have a mini excavator, you can use a concrete breaker attachment to easily tear up hard materials.
What is the life expectancy of a mini excavator? The life expectancy of a mini excavator is approximately 10,000 hours.
Mini Excavator Rental vs. Purchase — Which Option Is Right for You?
If you're in the market for a mini excavator, you have a choice between renting and buying. Consider these three factors when making your decision:
What is your budget? If you are on a tight budget, renting may be your best option. You'll only pay for the time you use the machine instead of paying installments over months or years. At the same time, purchasing a new or used model can prove just as cost-effective if you want a long-term addition to your fleet.
How much do you plan on using the equipment? Buying may be the better option if you plan on using a mini excavator frequently since you'll see more value over time.
Can you afford to make repairs if things break down? When you rent a mini excavator, you're not responsible for any repairs. If something breaks down, the company that provides the equipment will hold responsibility for fixing and maintaining it. If you purchase a mini excavator, you'll have to pay for all repairs and maintenance. By renting a mini excavator from Stowers Cat, you can rest assured your equipment will be covered if you participate in the warranty and Equipment Protection Plan.
Are Mini Excavators Worth It?
The short answer is yes! Mini excavators are a cost-effective investment across industrial, commercial and residential applications. If you want to get more done with less space and a smaller budget, turn to the power and capabilities of a mini excavator.
About Stowers Cat
Since 1960, Stowers Cat has remained the go-to source for top-quality equipment and supplies in East Tennessee. Whether you need a new machine, replacement parts or routine maintenance, we have everything required to keep your equipment running at peak performance.
Every piece of equipment in our inventory is backed by factory-trained technicians available 24/7/365 with parts and service support. We also offer financing options, so you can get what you need today no matter your budget.
Learn More About Mini Excavators Near You
At Stowers Cat, we know every job is important and want to ensure you have the best tools for your applications. Whether you're a homeowner or a business owner, we can help you find the equipment that meets your requirements. Visit one of our locations or contact us today to learn more about mini excavators near you.