XG135 - NATURAL GAS
This new rental package delivers optimal performance, produces fewer greenhouse gasses, and provides the features and flexibility to fully meet the needs of the Rental and Petroleum markets.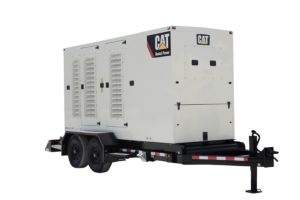 DETAILS
SPECIFICATIONS
Generator
Rating
135 ekW (170 kVA) Continuous
Engine
Engine
CAT G3306 TA Gas Engine
Dimension
Length - With Trailer
274 in
Dimensions
Height - With Trailer
126 in
Weight - With Trailer, Lube, Oil and Coolant
17074 lb
Width - With Trailer
90 in
BENEFITS & FEATURES
Fuel/Emissions Strategy
Factory certified Non-Road Mobile NSPS SI emissions*
CAT® G3306B TA Gas Engine
Robust high speed diesel block design provides prolonged life and lower owning and operating costs
CAT EMCP 4.4 Control Panel
Fully featured power metering, protective relaying, and engine/generator control and monitoring
Cat Generator
Cat SR4B 445 frame generator designed to match performance and output characteristics of the Cat gas engine.
CAT Integrated Voltage Regulator (IVR)
Three-phase or single phase generator voltage (RMS) sensing with adjustable volts-per-hertz regulation.
Enclosure / Base
Highly corrosion resistant 12 gauge sheet steel construction.
Distribution Panel
Rear Customer Access
Separate control panel and distribution panel access doors.
Environmentally Friendly
Factory certified Non-Road Mobile NSPS SI.
Rental Ready Features
Anti-condensation heater 110-120 VAC.
Cooling System
Provides 40 C (122 F) ambient capability with 0.5 g/bhp-hr NOx per NSPS 2010 at 100% continuous rating.
EQUIPMENT
Standard Equipment
Engine
G3306B TA, I-6, 4-stroke-cycle, gas engine
Air Inlet
Single element, canister-type air cleaner with service indicator
Generator
SR4B 445 frame, three-phase, 480V, random wound, 12-lead design, permanent magnet excited, 0.750 pitch – Class H Coastal insulation protection.
Charging System
UL/CSA listed 120V, 20 Amp battery charger, shock mounted and enclosed in dust proof housing
Control Panel
EMCP 4.4 genset mounted controller
Cooling System
Heavy-duty split core cooling system with low power draw and high ambient capability
Distribution System
NEMA 1 steel enclosure, separate hinged, lockable door with rust resistant pinned hinges
Enclosure
Sound attenuating, 12 gauge sheet metal enclosure limits overall noise to 75 dB(A) @ 7m
Exhaust System
Catalyst w/spark arresting muffler
Fuel System
Dedicated Fuel trains for natural gas and propane fuels including gas pressure regulator.
Lube System
Pump, integral oil cooler, lube oil, filter, filler and dipstick, and oil sampling valve
Mounting System
Generator set soft mounted to the heavy duty, fabricated steel base frame
Starting System
Single electric starting motor, 24VDC
General
Factory testing of standard generator set
CALL NOW TO LEARN MORE

Steve Smith
865-595-3777

Andy Downs
423-463-2131 or 423-698-6943

Jared Ross
865-250-1726