When you have a temporary need for machinery that's suited to a specific construction, industrial or manufacturing application, Stowers CAT can help with our full range of equipment and attachment rentals. Few machines are more versatile and effective in lifting and rigging applications than telehandlers, which offer the perfect reaching advantage over forklifts.
At Stowers CAT, we carry a high-capacity telehandler for rent that's designed to work within all your safety and efficiency parameters. Rent a Landoll PT40 today to receive the greatest value for a cost-effective price.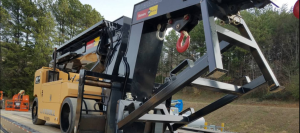 What Is the Capacity of the Landoll PT40?
The Landoll PT40 is a compact machine that's capable of meeting a wide variety of demands in industrial settings. With a lifting capacity of up to 20 tons, this piece of equipment can handle most heavy loads. It can also reach up to 20 feet high, which gives it more flexibility than other types of lifts. Whether you're transporting equipment or repairing a building that's too tall for the average forklift to reach, our industrial telehandlers can take care of the job.
Serving clients and keeping your employees safe are two of the main priorities you need to keep in mind as you search for the ideal equipment for a specific job. Telehandlers are productive, reliable and advanced, which makes your project and fleet easier to manage. The Landoll PT40 comes with a high-efficiency engine that can generate 91 horsepower at 3000 rpm. Meanwhile, features such as wireless remote-control access and automated cooling make this an effective short-term solution for experts in the machinery moving and rigging industry.
Why Rent a Telehandler from Stowers?
Have you ever had to buy a piece of heavy equipment for a single project while knowing you wouldn't be needing it full-time? If so, it may be time to consider renting as an alternative option. Many workers only need telehandler capabilities for a specialized project and may find it more economical to rent a precision telehandler as a short-term solution. At Stowers CAT, we offer many types of rental equipment for industry leaders in need.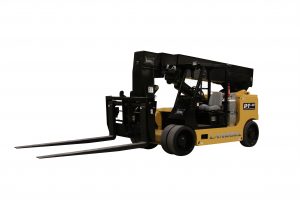 Tennessee
Mississippi
Arkansas
Kentucky
Alabama
Georgia
Florida
South Carolina
North Carolina
Virginia
West Virginia
We work hard for you to make sure that all our telehandler rentals meet the necessary standards of safety and quality. Our machines are meticulously maintained by our in-house team, and we inspect every unit before sending it out into the field. Our precision telehandler is available for rent in the following areas:
If you're looking to make a smaller investment on a temporary piece of equipment rather than face the expenses that come with buying a new telehandler, renting could be the perfect way to save while ensuring machine performance. We'll also be glad to offer service and support for any equipment you rent from our inventory of reputable brand-name products.
Request a Quote Today
We've been serving the industry for over 60 years, helping construction and landscaping workers find the equipment they need at affordable costs. Extend your heavy lifting and reaching capacity today with this high-capacity telehandler for rent from Stowers CAT. Request a quote today or contact us for more information on our rentals.