CTR 426
The CTR 320 and 426 delimbers are designed for maximum productivity, reliability, and component life and help you get the job done quickly and efficiently. Choose the 320 with its three-knife design and 31-inch throat opening for small to medium softwoods and small hardwoods. Or step up to the 426 with its four-knife design and 34 3/8-inch throat opening for larger wood sizes and multiple stem thinning applications. Consider the features below and you'll agree, you can't find a stronger, better-built delimber than CTR.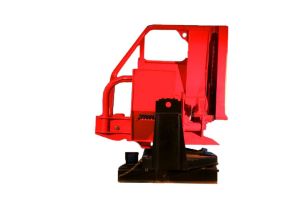 DETAILS
SPECIFICATIONS
Auto Chain Tensioning System
Standard
Bar and Chain Oil Reservoir
8.25 gal (US)
Bar and Chain Oiler
Automatic
Direct Saw Drive Sprocket, Case Hardened, 9 Teeth
4 in
High Flow Topping Saw Motor 340.7 to 416.4 Lpm (90 to 110 gpm)
Optional
Low Flow Topping Saw Motor 151.4 to 208.2 Lpm (40 to 55 gpm)
Optional
Mounting Base
H-D Rotating Cradle
Mounting Base Pin Dia.
3 in
Nose Roller Diameter
16 in
Oregon® Brand 11H Roller Tip Saw Bar
44 in
Saw Chain
Oregon® Brand 11H
Standard Flow Topping Saw Motor 208.2 to 340.7 Lpm (55 to 90 gpm)
Standard
Total Weight - Including Accumulator Box
7500 lb
Turntable Bearing Diameter
22 in
Turntable Bearing Mounting Bolt Measurement
0.75 in
Turntable Bearing Mounting Bolts
Grade 8