569 SM/EHC
Caterpillar has a full line of stationary mount loaders for a wide range of mill yard applications. Four models are available with onboard or remote power. Caterpillar stationary mount loaders are completely pre-wired, tested and ready for on-site electric hookup, including installation kits with the required fasteners for mounting to steel or concrete pedestals. And with the Resilient Pad Mounting system, your workday will be productive and comfortable.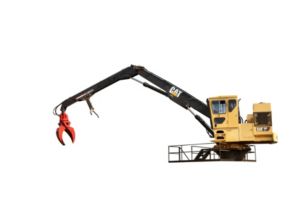 DETAILS
SPECIFICATIONS
Dimensions
Operating Specifications
Knuckleboom Length
32.5 ft
Swing Bearing - Gearing
External
Swing Bearing - Diameter
54 in
Grapple Mounting Knuckle Length
9 in
Electric Power Supply
460 Volt:60 Hz
Operating Weight
18345 lb
Engine
Hydraulic System
Hydraulic Flow
170/204/61 L/min (45/54/16 gpm)
Cylinders - Main
152 mm X 102 mm (6 in X 4 in)
Cylinders - Stick
178 mm X 102 mm (7 in X 4 in)
Cylinders - Live Heel
152 mm X 102 mm (6 in X 4 in)
Hydraulic Pressure - System
2500 psi
Hydraulic Pressure - Swing
2500 psi
Service Refill Capacities
Weights
Operating Weight
18545 lb
BENEFITS & FEATURES
Operator Station
On standard loaders with operator's station, the hydraulic pilot joystick controls and rocker swing pedal are ergonomically designed for ease of operation and maximum loader control required for the high cycle millyard applications. The operator station is designed with comfort in mind. The spacious cabs feature a large, fully adjustable suspension seat with lumbar support. Fold-up armrests are fully adjustable to allow adjustment of the joystick controls to match the operator for ease of operation, increased performance. Excellent visibility of the work area is provided through large tinted cab windows. Overhead visibility is maximized through the large, tinted Lexan skylight. Operator protection is afforded through the front guard. This swing-out guard is designed for quick and simple access to allow cleaning of the front window.
Mounting System
The Resilient Pad Mounting System includes a set of special rubber isolators on each mounting fastener that absorbs stress in two directions. An additional hydraulic accumulator is built into the main boom cylinder circuit to further absorb peak-load shocks.
Enclosed Components
Weatherproof electric service panels include starters, controls, transformers, circuit breakers and fuse blocks.
Motor Options
Electric motors range in horsepower from 75 to 100 hp and are totally enclosed and rated for severe duty. Power supply wiring packages provide for 440V/60Hz US or 575V/60Hz Canadian service.
Boom Length Options
Heavy-duty boom options range in length from 7.6 m to 10.9m (25' to 36') for handling a variety of tree lengths.
EQUIPMENT
Standard Equipment
Motor Power Supply
Electric Motor, 74 kW (100 HP) @ 1800 RPM
460 Volt (60 Hz) Electric Power Supply
Four (4) Ring High Voltage Collector Ring
Service Panel, NEMA 12 Enclosure
Pump Drive, Direct Through Flex Coupling
Across-the-line Magnetic Starting System
Turntable Power Supply Mounting
Hydraulic System
Three (3) In-Line Gear Pumps
Radial Piston Swing Motor
Continuous Rotation
Electro Hydraulic (EHC) Controls
Two Dual Element Return (3 mic)Filtration
Filtration Bypass Indicators
Diagnostic Nipples @ Pump for serviceability
Booms
9.9 m (32'6") Knuckleboom
22.8 cm (9") Grapple Mounting Knuckle