BARBER-GREENE BG-260D
Based upon the industry-proven reputation of the Barber-Greene® BG-260C Asphalt Pavers, the BG-260D establishes new standards for productivity and reliability in the asphalt paver industry.In addition to most Caterpillar Dealers, there are two additional authorized dealers in the United States that specialize in Barber-Greene branded paving equipment. Gateway Equipment Corp. of East Syracuse, New York (315) 437-7336 and East Amherst, New York (716) 689-1133 serves western central and northern New York state. Closner Equipment Company Inc. of San Antonio, Texas (210) 732-2131 and Austin, Texas (512) 272-8200 serves central and southern Texas.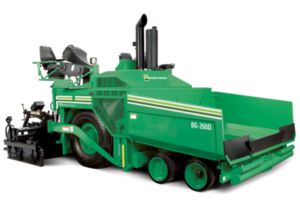 DETAILS
SPECIFICATIONS
Weights
Operating Weight
39320 lb
Operating Specifications
Paving Width Minimum
10 ft
Engine
Engine Model
Caterpillar C7 with ACERT Technology
Dimensions
Fuel Tank
Fuel Tank Capacity
118 gal (US)
BENEFITS & FEATURES
Cat C7 Engine with ACERT™ Technology
Dual Operator Stations
Operator Consoles
Exclusive Material Delivery System
Gateless Feeders
Wheel Undercarriage System
Hydrostatic Drive System
High Ambient Temperature Cooling System
Generator System (Optional)
Auxiliary Power Panel (Optional)
Electric Heat Screeds
Serviceability
EQUIPMENT
Optional Equipment
Tractor Options
Auger and Mainframe Extensions
Oscillating Push Rollers
Truck Hitch
Generator
Auxiliary Power Panel
Ventilation System
Decelerator Pedals
Sonic Feeder Sensor or Proportional Paddle Sensor
Steering Guide
Warning Beacon
Umbrella
Uptime Kit
Washdown System
Front Wheel Assist
Controls and Grade References
Automatic Grade and Slope Control
Non-Contacting Sonic Grade Sensor
Contacting Grade Sensor
Outboard Leveler, 9.15 m (30') and 12.2 m (40')
Inboard Leveler
Mobile Stringline
Fore 'N Aft Leveler
Sonic Averaging Beam
Rigid Ski, 9.15 m (30') and 12.2 m (40')
Screed Choices
Extend-A-Mat™ 10-20B (electric or diesel)
Extend-A-Mat 10-20WB (diesel only)
AS2301 (electric or diesel)
CONNECT. DISCUSS. SOLVE.
CATERPILLAR EQUIPMENT MAINTENANCE ONLINE COMMUNITY
HOW CAN WE HELP?
SHARE YOUR FEEDBACK OR ASK A QUESTION