631G
Caterpillar Wheel Tractor-Scrapers offer fast cycle times, with quick loading, high travel speeds and the ability to load and dump on the run. Rugged construction and easy maintenance assure long life with low operating costs.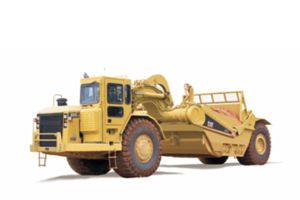 DETAILS
SPECIFICATIONS
Engine
Tractor Engine
Cat® C18 ACERT™
Tractor Engine
Flywheel Power - Tractor/Scraper
373 kW (500 hp)
Net Power
345/373 kW 462/500 hp
Gross Power - Gears 1-2
488 HP
Gross Power - Gears 3-8
526 HP
Net Power - Gears 1-2
462 HP
Net Power - Gears 3-8
500 HP
Scraper Bowl
Scraper Capacity - Heaped
34 yd³
Depth of Cut - Maximum
17.2 in
Width - Cut - To Router Bits
138.3 in
Ground Clearance - Maximum
21.5 in
Cutting Edge Thickness
1.12 in
Hyd. Penetration Force - 631G
57375 lb
Depth of Spread - Maximum
18.9 in
Apron Closure Force
38250 lb
Transmission
Top Speed - Loaded
33 mile/h
Hydraulics
Bowl Cylinder Bore
7.2 in
Bowl Cylinder Stroke
34.4 in
Apron Cylinder Bore
8.2 in
Apron Cylinder Stroke
28.6 in
Ejector Cylinder Bore
8.2 in
Ejector Cylinder Stroke
74 in
Steering Circuit
100 gal/min
Scraper Circuit
91 gal/min
Cushion Hitch Circuit
9 gal/min
Secondary Steering Circuit
100 gal/min
Relief Valve - Steering Circuit
1987 psi
Relief Valve - Implement Circuit
2030 psi
Compensator Settings - Cushion Hitch Circuit
2320 psi
Steering
Width - 180° Turn
40.02 ft
Steering Angle - Right
90°
Steering Angle - Left
85°
Service Refill Capacities - Tractor
Fuel Tank - 631G
215.04 gal (US)
Final Drive - Each
6.1 gal (US)
Cooling System
29 gal (US)
Hydraulic Reservoir
50.2 gal (US)
Wheel Coolant - Each
19.8 gal (US)
Windshield Washer
1.5 gal (US)
Service Refill Capacities - Scraper
Wheel Coolant - Each
19.8 gal (US)
Dimensions
Width - Overall Machine
155 in
Width - Rear Tire Center Lines
97 in
Width - Inside of Bowl
134 in
Width - Outside Rear Tires
143.2 in
Height - Overall Shipping
168.8 in
Height - Top of Cab
146.3 in
Ground Clearance - Tractor
26.2 in
Front of Tractor to Front Axle
132.2 in
Axle to Vertical Hitch Pin
21.6 in
Height - Scraper Blade Maximum
21.5 in
Length - Overall Machine
573.4 in
Rear Axle - Rear of Machine
95.97 in
Weights - Standard, Tandem
Total Shipping
100005.97 lb
Total Operating - Empty
102459.71 lb
Total Operating - Loaded
184658.97 lb
Front Axle Weight - Loaded
97869.7 lb
Rear Axle - Weight - Loaded
86789.28 lb
Weights
Operating Weight
102459.71 lb
Transmission - 631G
BENEFITS & FEATURES
Power Train - Engine
Cat C18 Tractor Engine
The tractor for the 631G is powered by the C18 engine with ACERT™ Technology. The large displacement and high torque rise provide optimal performance in the load, cut, haul and return. Matched to the high efficiency torque converter and electronically controlled power shift transmission, it will provide years of dependable service.
Cat C9 Scraper Engine
The 637G has a C9 engine with ACERT technology which provides additional power to assist in loading as well as improved hauling performance on grades.
Dual Horsepower
Cat engines have dual horsepower capability with the low power setting in torque converter drive and the high power setting in direct drive.
Mechanical Electronic Unit Injection (MEUI)
The MEUI system with variable shaped injection patterns provides for optimum combustion based on altitude and temperature. The Cat MEUI fuel system is a highly evolved fuel system with a proven record of reliability in the field. The system combines the technical advancement of an electronic control system with the simplicity of direct mechanically controlled unit fuel injection pressure. These features allow the C18 to completely control injection timing, duration and pressure.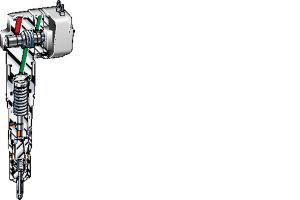 Electronic Control Module
The ECM responds to operator commands and engine sensor input to optimize engine and machine performance. This advanced engine management software controls and protects the engine at all times against cold starts, high altitude operations and air filter plugging by monitoring:
injection timing and pressure
engine cooling fan speed
ether starting aid
hydraulic pumps
NGMR Engine Cooling System
The standard radiator for the tractor is the Next Generation Modular Radiator (NGMR), which features 9 fins per inch rather than 33 fins per inch found on previous models. The increased radiator fin spacing for both the tractor and the scraper reduces clogging in severe applications. Two-piece service doors improve access to clean out debris.
Extended Oil Change Interval
Oil change intervals in the C18 engine can be extended to 500 hours with the use of S•O•SSM analysis.
Power Train - Transmission
Transmission
Electronically controlled Caterpillar planetary powershift transmission with eight forward and one reverse speed. Tractor gears 1 & 2 operate in converter drive for increased torque capability during cut and fill operations. Gears 3-8 operate in direct-drive for drive train efficiency during the haul. All scraper gears operate in converter drive for increased torque capability during the cut and fill.
Final Drives
Outboard-mounted, planetary design final drives reduce torque loads on other power train components. Large-capacity, double-row roller bearings and Caterpillar Duo-Cone® seals deliver exceptional reliability in the toughest applications.
Independent Brake Systems
Expanding-shoe type brakes use a cam-operated design, which is air-applied and spring released. The secondary braking system uses independent front and rear circuits that are automatically applied if the service air pressure drops to 55 psi (380 kPa). Audible and visual action alert indicators inform the operator when the service air pressure drops to 75 psi (518 kPa).
Steering
Full hydraulic power steering provides automotive feel with positive, modulated flow control for constant steering response. An optional supplemental steering system is ground-driven and provides hydraulic power for steering if needed.
Structures
Cushion Hitch
The electronically actuated cushion hitch incorporates a parallelogram-type linkage for exceptional strength. Twin nitrogen accumulators help deliver a smooth ride for enhanced operator comfort.
cushion hitch lock down control for positive cutting edge down pressure when loading or spreading
controlled oil flow dampens rebound oscillation
leveling valve automatically centers piston in cylinder for all loads
steel castings are used extensively to eliminate many welded joints and increase strength
double-kingbolt design withstands high external forces and simplifies installation and removal
Nitrogen Accumulators
Vertically mounted hydraulic cylinder transfers road shocks to nitrogen accumulators. They absorb and dampen road shocks, thus reducing loads from being transmitted to the operator.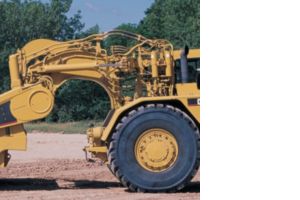 Lockout Switch
An operator-selectable lockout switch, located on the joystick, locks the cushion hitch for improved control of the cutting edge during loading and dumping.
Operator Station
Multi-Adjustable Seat
The Cat Comfort Cloth Seat offers an adjustable seat and armrests for maximum operator comfort.
Swivels and locks in four positions (0º - 10° - 20° - 30º) providing the optimum operating position in the cut or on the haul.
Adjustable 4 in. (102 mm) fore/aft and 8 in. (203 mm) vertical height to accommodate various sized operators.
Static seat belt is standard. A retractable non-cinching seat belt is available as an option.
Revised Steering Column
Increases legroom a full 3.5 in. (89 mm), and reduces knee contact.
Standard Air Conditioning
Standard air conditioning system with relocated louvers enhances airflow in the cab.
Storage And Amenities
Convenient storage location includes space for a lunch box and first aid kit. The cab also has a cup holder as well as an ashtray.
Visibility
The redesigned hood has sloped corners to maximize visibility while accommodating the low emissions engine. The redesigned hood and front shroud are wider to enclose the air-to-air aftercooler (ATAAC), ether starting aid, and lights. The exhaust is located at the back of the hood for good visibility to the right side.
Instrument Display Panel
Features a new quad-gauge layout showing engine coolant temp, transmission / torque converter oil temp, fuel level, and system air pressure.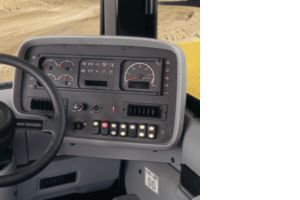 Engine Speed Lock Controller
Enhances operation during long haul cycles by allowing the operator to maintain a desired engine speed without maintaining pressure on the throttle.
Simplified Transmission Control
Simplifies gear selection (1st, 2nd, Drive and Reverse) and allows operator-defined top gear control. Relocating the gear control to the rear increases operator legroom.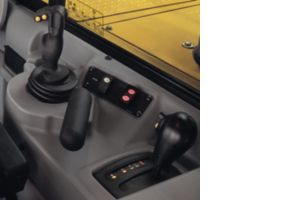 Grab Handle / Hand Rest
The grab handle/hand rest located next to the joystick controller helps operators when adjusting seat swivel, and gives them a place to rest their hand while on the haul and return roads.
Single Lever Implement Control
Simple and easy to operate, the joystick enhances the productivity of operators of all skill levels. Requires less force to control the critical scraper functions and requires less lever travel. 1) Bowl (forward & back) 2) Ejector (side to side) 3) Apron (thumb rocker switch) 4) Transmission Hold 5) Cushion Hitch 6) Rocker switch (not shown - is on front of joystick) • Push-Pull (bail up/down) * Standard open bowl does not have a rocker switch.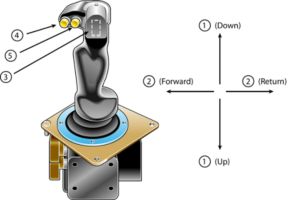 Electronic Controls
Simplified System
The electrical system has been redesigned to utilize three electronic control modules (ECM) on the tractor instead of four.
Improved Serviceability
Combined monitoring systems, easy access diagnostics and more durable components make routine maintenance and servicing simple and fast.
Product Link
Product Link is a wireless system that allows the customer to track machine data such as location, service meter hours as well as machine health information. The system can automatically issue alerts when the machine is operated beyond owner-defined time and location limits. Product Link is available as a factory attachment or it may be installed in the field, in that there is a mounting location for the module as well as an antenna on the machine. A wiring breakout is standard, without having to splice into existing wires.
Fuel Economy
Electronic controls optimize the timing setting for varying conditions. The ADEM A4 controller matches timing to the load on the engine, engine rpm and temperature.
Reduced Exhaust Smoke
The ADEM A4 controller monitors electronic sensors to determine the optimum fuel/air ratio. Fuel is precisely controlled during cranking, starting and acceleration to reduce smoke. The Engine Electronics are faster and more efficient than mechanically controlling the governor rack position.
Scraper Bowl
Redesigned Bowl
The redesigned bowl minimizes falling material lodging between the bowl and the draft arm, which can result in premature wear. The modifications also provide better load retention on level ground or traversing down a grade. Bowl capacity has been increased by 3 yd3 (2.3 m3), allowing more material to be moved.
Low-profile bowl design offers less resistance to incoming materials.
Cellular construction adds strength and dent resistance to bowl sides and floor.
Bulldozer Ejection System
Cat bulldozer ejection system offers constant spreading control with minimal material carry back. A spill guard helps retain material and keep it from spilling over onto the rear of the scraper (optional on single engine open bowl scrapers).
Cutting Edges
May be adjusted according to job conditions. The stinger (drop down) position provides good penetration and efficient flow of material into the bowl, whereas the level cutting edge is used for finish work or very high impact conditions.
Material Application
Well suited to handle a wide variety of material from clay to shot rock.
Push-Loading
To achieve maximum productivity, the 631G should be push loaded by a D9R or D10R Track-Type Tractor. The larger tractor offers quicker loading times with denser loads than the smaller tractor.
Serviceability
Grouped Service Points
Maintenance and service points for the engine are grouped on the right-hand side for easy access. They include the engine air cleaner, engine oil check and fill, fuel filters and priming, coolant level sight glass, window washer bottle, air conditioning dryer cartridge, ether starting aid canister, engine oil filter, fan drive lubrication, and sampling ports for the engine oil and coolant.
Spin-on fluid filters for all but the main hydraulic filter
Cab wiring harness redesigned and relocated for better serviceability
Customer Support
Product Support
You will find nearly all parts at our dealer parts counter. Cat dealers use a world-wide computer network to find in-stock parts to minimize machine down time. To save money use genuine Cat Reman parts whenever possible. You receive the same warranty and reliability as new products at substantial cost savings.
Machine Selection
Make detailed comparisons of the machines under consideration before purchase. Cat dealers can estimate component life, preventive maintenance cost, and the true cost of lost production.
Purchase
Look past initial price. Consider the financing options available as well as day-to-day operating costs. Look at dealer services that can be included in the cost of the machine to yield lower equipment owning and operating costs over the long run.
Customer Support Agreements
Cat dealers offer a variety of product support agreements, and work with customers to develop a plan that best meets specific needs. These plans can cover the entire machine, including attachments, to help protect your investment.
Operation
Improving operating techniques can boost your profits. Your Cat dealer has videotapes, literature and other ideas to help you increase productivity, and Caterpillar offers certified operator training classes to help maximize the return on your machine investment.
Maintenance Services
Talk to your dealer about the range of available maintenance services. Repair option programs guarantee the cost of repairs up front. Diagnostic programs such as S•O•SSM Analysis and Coolant Sampling and Technical Analysis help avoid unscheduled repairs.
Replacement
Repair, rebuild or replace? Your Cat dealer can help you evaluate the cost involved so you can make the right choice.
EQUIPMENT
Standard Equipment
ELECTRICAL
Alarm, backup
Alternator, 75 amp
Batteries (4), 12V Maintenance Free, High Output
Electrical System, 24V
Lighting System
Starting Receptacle
OPERATOR ENVIRONMENT
Air Conditioner (includes heater and defroster)
Cigarette Lighter and Ashtray
Coat Hook
Diagnostic Connection Port (12V)
Dome Courtesy Light
Gauge Group
Horn
Implement Control Joystick
Rearview Mirrors
Radio Ready (two radio openings, speakers, and 5-amp converter)
ROPS Cab with Sound Suppression and Pressurization
Static Seatbelt
Seat, Air Suspension, Caterpillar Comfort, cloth
Steering Wheel - tilt and telescoping
Storage Compartment
Throttle Lock
Transmission Hold
Windows - sliding side, swing out
Windshield - laminated glass
Windshield Wiper/Washer - front and rear
POWER TRAIN
Engine
Braking System
Transmission
OTHER STANDARD EQUIPMENT
Extended Life Coolant, -36° C (-33° F)
Fan hub, permanent lube
Fast Oil Change
Fenders
Rims - 35 inch (2)
Tires, 37.50-R35 radial
Tractor:
CALL NOW TO LEARN MORE

Larry Cummins
865-595-4954

Ed Rottmann
865-595-1060 or 865-599-8225



HOW CAN WE HELP?
SHARE YOUR FEEDBACK OR ASK A QUESTION