R1300G
The R1300G underground loader is designed for high production, low cost-per-ton loading and tramming in underground mining applications. Compact design with agile performance, rugged construction and simplified maintenance ensures excellent productivity, long life and low operating costs. Engineered for performance, designed for comfort, built to last.
SPECIFICATIONS
Engine
Engine Model
Cat® 3306B DITA
Gross Power - SAE J1995
165 HP
Operating Specifications
Nominal Payload Capacity
14991 lb
Static Tipping Load - Straight Ahead - Lift Arms Horizontal
45360 lb
Static Tipping Load - Full Turn - Lift Arms Horizontal
39397 lb
Breakout Force - SAE
26504 lb
Gross Machine Mass
61178 lb
Weights
Empty - Front Axle
17967 lb
Empty - Rear Axle
28220 lb
Loaded - Front Axle
41050 lb
Loaded - Rear Axle
20128 lb
Transmission
Hydraulic Cycle Times
Lower, Empty, Float Down
2.3 s
Bucket Capacities
Bucket Capacities
2.4-3.4 m3 (3.1-4.4 yd3)
Dump Bucket - 3 - Standard Bucket
4.1 yd³
Turning Dimensions
Outside Clearance Radius
226 in
Inner Clearance Radius
111.2 in
Tires
Tire Size
17.5 × R25 VSMS
Service Refill Capacities
Cooling System
17.7 gal (US)
Engine Crankcase - With Filter
6.6 gal (US)
Front Differential and Final Drives
10 gal (US)
Hydraulic Tank
23.2 gal (US)
Rear Differential and Final Drives
11.1 gal (US)
Transmission
11.9 gal (US)
Standards
Standards
ROPS/FOPS Certified Cab
BENEFITS & FEATURES
Power Train – Engine
Engine
The Cat 3306B is a proven engine that delivers reliability and durability. The efficient and powerful engine delivers maximum loading and tramming performance in the most demanding mining applications. Complete system integration of the engine and transmission ensures fuel efficiency and smooth operation.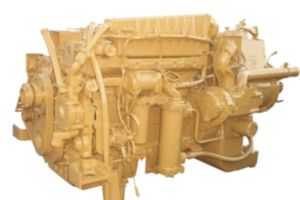 High Torque Rise
Provides unequalled lugging force while digging, tramming and traversing steep grades. Torque rise effectively matches transmission shift points for maximum efficiency and fast cycle times.
Radiator
Modular radiator with swing-out grill provides easy access for cleaning or repair. Built in sight gauge allows for quick, safe coolant level checks.
Pistons
Oil cooled pistons increase heat dissipation and promote longer piston life.
Full-length Water-cooler
Full-length water-cooled cylinder liners provide maximum heat transfer.
Turbocharged and Aftercooled
Jacket water aftercooling provides improved fuel economy by packing cooler, denser air into cylinders for more complete combustion of fuel and lower emissions. The turbocharger enhances performance and efficiency.
Fuel Injection
The high pressure direct injection fuel system provides excellent fuel atomization for unmatched reliability and durability.
Crankshaft
The crankshaft is forged and induction hardened for long‑term durability.
Power Train – Transmission
Power Shift Transmission
The Cat four-speed planetary power shift transmission is matched with the Cat 3306B diesel engine to deliver constant power over a wide range of operating speeds.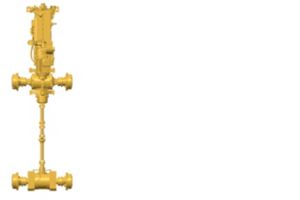 Robust Design
Designed for rugged underground mining conditions, the proven planetary power shift transmission is built for long life between overhauls.
Torque Converter
High capacity torque converter delivers more power to the wheels for superior power train efficiency.
Electronic Auto Shift Transmission
The electronic auto shift transmission increases operator efficiencies and optimizes machine performance. The operator can choose between manual or auto shift modes.
Transmission Neutralizer
Using the left brake pedal, the operator can engage the service brakes and neutralize the transmission, maintaining high engine rpm for full hydraulic flow, enhancing digging and loading functions.
Final Drives
Cat final drives work as a system with the planetary power shift transmission to deliver maximum power to the ground. Built to withstand the forces of high torque and impact loads, double reduction final drives provide high torque multiplication to further reduce drive train stress.
Oscillating Rear Axle
Oscillating rear axle ensures four-wheel ground contact for maximum traction and stability at all times.
Differential
No spin rear differential reduces tire wear and maximizes traction in uneven terrain.
Hydraulics
Hydraulic System
Powerful Cat hydraulics deliver exceptional digging and lifting forces and fast cycle times.
Lift and Tilt System
High hydraulic flow rates provide fast hydraulic cylinder response and powerful lift forces. Large-bore tilt and lift cylinders deliver exceptional strength, performance and durability.
Pilot Controls
Low effort, pilot operated joystick implement control with simultaneous lift and tilt functions optimizes operating efficiency. Optional circuit controls enable ejector bucket to be controlled from a switch on the joystick.
Steering System
STIC™ control system integrates steering and transmission functions into a single controller for maximum responsiveness and smooth control.
Optional Ride Control
The optional ride control system uses a nitrogen filled oil accumulator in the hydraulic lift circuit to act as a shock absorber for the bucket and lift arms. The lift arm and bucket response to movement is dampened over rough ground, reducing fore and aft pitch, improving cycle times and load retention. A smoother, more comfortable ride gives operators the confidence to travel at speeds above 5 km/h (3 mph) during load and carry operations.
Cat Hydraulic Hose
Field proven Cat high pressure XT hydraulic hoses are exceptionally strong and flexible for maximum system reliability and long life in the most demanding conditions. Reusable couplings with O-ring face seals provide superior, leak free performance and prolong hose assembly life.
Structures
Frame Design
The frame is engineered to withstand extreme forces generated during loading and tramming cycles. Precision manufacturing process ensures all structures are consistently built to high quality. Deep penetration and consistent welds throughout the frame ensures structures are solidly fused to provide sturdy platform for the linkage and the axles. The design and manufacturing quality of Cat LHD frames have been proven by our customers, many of whom reuse frames during machine rebuilds to get 2nd and 3rd lives out of their LHD's.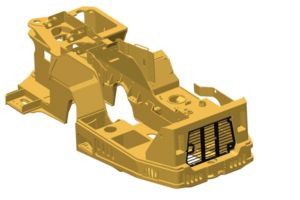 Hitch
Spread hitch design widens the distance between upper and lower hitch plates to distribute forces and increase bearing life. Thicker hitch plates reduce deflection. The wide opening provides easy service access. Upper and lower hitch pins pivot on roller bearings to distribute horizontal and vertical loads over a greater surface area. Shim adjusted preload reduces maintenance time. An on-board steering frame lock pin is fitted to prevent articulation during maintenance and service.
Sealed Pins
Sealed colleted pins are fitted to all major bucket and lift arm hinge points for longer pin and bushing life. This reduces maintenance costs and extends service intervals. The sealed joints retain lubrication and prevent contaminant entry.
Z-bar Loader Linkage
Proven Z-bar loader linkage geometry generates powerful breakout force and an increased rack back angle for better bucket loading and material retention. Heavy duty steel lift arms with cast steel cross tube ensures extreme loads encountered during loading and tramming are efficiently dissipated for long service life.
Operator Comfort
The operator station is ergonomically designed for total machine control in a comfortable, productive and safe environment. All controls, levers, switches and gauges are positioned to maximize productivity and minimize operator fatigue.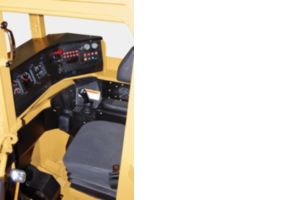 Protective Structure
Integral to the cab and frame, the Rollover Protective Structure (ROPS) and the Falling Objects Protective Structure (FOPS), are resiliently mounted to the frame to isolate the operator from vibration for a more comfortable ride.
Optional Enclosed Cab
Optional sound-suppressed ROPS cab provides a quiet, secure working environment. Large window openings offer excellent visibility in all directions. Enclosed design provides fresh, pressurized, temperature-controlled air circulation with air condition for a more comfortable working environment.
STIC Steering and Transmission Integrated Control
STIC provides effortless control of the complete mobility of the machine by single controller. Simple side-to-side motion articulates the machine. Directional shifting (forward/neutral/reverse) is controlled using a three position rocker switch. The thumb operated buttons control gear selection.
Dual-Pedal Braking
Dual brake pedals function as a brake and a transmission neutralizer so the operator can maintain high engine rpm for full hydraulic flow and fast cycle times.
Monitoring System
Cat Electronic Monitoring System (Cat EMS) continuously provides critical machine data to keep the machine performing at top production levels.
Loader Bucket Systems
Buckets
Aggressive Cat bucket designs deliver unmatched productivity in the most demanding applications. Underground mining buckets are designed for optimal loadability and structural reliability to help lower your cost-per-ton.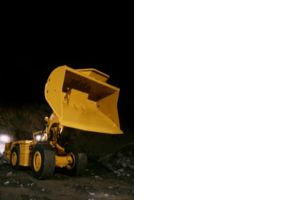 Bucket Selection
Cat underground loader buckets are available in two styles to meet a range of loading, hauling and dumping conditions.
    
Dump buckets
    
Ejector buckets
Bucket Capacities
Buckets are available in a range of sizes and capacities to suit most material types and densities.
Optional Wear Packages
Weld-on wear plates in high wear areas are standard. Additional wear packages, including sacrificial wear strips and Cat heel shrouds protect the edges from damage and reduce the need for costly bucket rebuilds.
Optional Cutting Edges
Cat half arrow and cast half arrow cutting edges extend bucket life in high wear applications. Additional GET option is the Cat weld-on GET. Available weld-on GET offers more wear material to maximize system wear life and bucket protection. Downtime is also reduced by an even wear rate between corners and edge segments, allowing both to be replaced at the same time.
Serviceability
Service Access
Easy access to daily service points simplifies servicing and reduces time spent on regular maintenance procedures.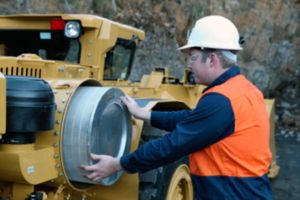 Ground-Level Access
Allows convenient servicing to all tanks, filters, lubrication points and compartment drains.
Air Filters
Radial seal air filters are easy to change, reducing time required for air filter maintenance.
Sight Gauges
Fluid level checks are made easier with sight gauges.
Diagnostics
Cat Electronic Technician (Cat ET) service tool enables quick electronic diagnosis of machine performance and key diagnostic data for effective maintenance and repairs.
Sealed Electrical Connectors
Electrical connectors are sealed to lock out dust and moisture. Harnesses are covered for protection. Wires are color and number coded for easy diagnosis and repair.
Scheduled Oil Sampling
S·O·SSM helps avoid minor repairs becoming major ones. Sample point adapters fitted standard to machine.
Customer Support
Dealer Capability
Cat dealers will provide the level of support you need, on a global scale. Dealer expert technicians have the knowledge, experience, training and tooling to handle your repair and maintenance needs, when and where you need them.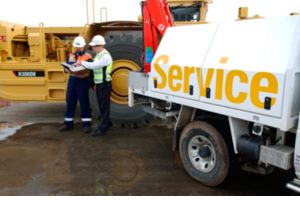 Product Support
When Cat products reach the field, they are supported 24/7 by a worldwide network of reliable and prompt parts distribution facilities, dealer service centers, and technical training facilities to keep your equipment up and running.
Service Support
Cat equipment is designed and built to provide maximum productivity and operating economy throughout its working life. Cat dealers will be with you every step of the way with its unsurpassed worldwide parts support, trained technicians and customer support agreements.
Technology Products
Cat dealers offer a range of advanced technology products designed to improve efficiency, productivity and lower costs.
Replacement
Repair or rebuild? Your Cat dealer can help you evaluate the costs so you can make the right choice.
Safety
Product Safety
Caterpillar has been and continues to be proactive in developing mining machines that meet or exceed safety standards. Safety is an integral part of all machine and systems designs.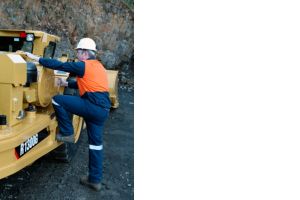 Engine Shut Off Switch
A secondary engine shutoff switch is located at ground level.
Integral ROPS Cab
Integral to the cab and frame, the ROPS is resiliently mounted to the frame to isolate the operator from vibration for a more comfortable ride.
Brake Systems
Four corner oil-cooled braking system provides excellent control. The service brake system is actuated by modulated hydraulic pressure, while the parking brake function is spring applied and hydraulic released. This system assures braking in the event of loss of hydraulic failure.
Standard Safety Features
Anti-skid upper deck surfaces, ground level compartment sight gauges, increased visibility, 3-point access to cab and machine, push out safety glass, suspension seat, inertia reel retractable seat belt, lift arm support pins, hot and cold side of engine, steering frame lock, hinged belly guards.
CAT.COM/SAFETY
For more complete information on safety, please visit www.cat.com/safety
EQUIPMENT
Standard Equipment
ELECTRICAL
Alternator, 95-amp
Auxiliary Start Receptacle
Battery Disconnect Switch, Ground Level
Circuit Breaker, 80-amp
Corrosive Protection Spray
Diagnostic Connector
Electric Starting, 24-volt
Engine Shutdown Switch
External Lighting System, Front, Rear, Halogen Work Lights
Low Maintenance Batteries
Reversing Alarm
Starting and Charging System
OPERATOR ENVIRONMENT
Cat Electronic Monitoring System (Cat EMS)
Electric Horns
Gauges
–Engine Coolant Temperature
–Fuel Level
–Hydraulic Oil Temperature
–Speedometer
–Tachometer
–Transmission Temperature
Indicator Lights
–Alert Warning Light
–Residual Brake Pressure
Pilot Hydraulic Implement Controls, Single Joystick
Open Operator Station ROPS/FOPS Structure with Removable Canopy Structure
STIC Steering
Suspension Tee Seat with Retractable
POWER TRAIN
Cat 3306B DITA Diesel Engine, 6-Cylinder
Crossflow Radiator
Engine Air Intake Precleaner
Fuel Priming Aid
Full Hydraulic Enclosed Wet Disc Brakes (SAFR™)
Heat Shields
Manual Fuel Shut Off Tap
Planetary Powershift Transmission with Automatic Shift Control, 4 Speed Forward/4 Speed Reverse
Rims, 5-piece, Tubeless
Torque Converter
Transmission Neutralizer
Transmission Filter Drain Tap
OTHER STANDARD EQUIPMENT
Brake Light
Catalytic Exhaust Purifier/Muffler Group
Cap, Radiator Manual Release
Decals, International Picto Graphics
Engine and Transmission Belly Guards
Fenders, Front, Rear
Firewall
Hydraulic Oil Cooler, Swing Out
Operator and Maintenance Manual, English
Protection Wear Bars 100 × 50 mm (4 × 2 in)
Radiator Grill, Swing Out
Semi Centralized Lubrication Points
S·O·S port
–Coolant
–Engine Oil
–Hydraulic Oil
–Transmission Oil
Swing Out Radiator Grill
Tires and Rims: A tire must be selected from the mandatory attachments section of the machine price list. Base machine price includes a standard tubeless rim allowance only.
Optional Equipment
OPTIONAL EQUIPMENT
Battery and Engine Shutdown Switch
Brake Release Arrangements, Includes Steering Release
–Recovery Hook
–Recovery Bar
Brake Pressure Gauges
Buckets
–Cutting Edge, Cat Weld On
–Cutting Edge, Half Arrow, Flat
–Ejector Bucket Installed
–Heel Shrouds, Ejector and Dump Buckets
–Lip Fully Welded or Tack Welded
–Mechanically Attached Wear Plate System (MAWPS)
–Various Sizes, Dump (2.4 m³/3.1 yd³ to 3.4 m³/4.4 yd³), Ejector (2.4 m³/3.1 yd³)
–Wear Bars, Ejector and Dump Buckets
–Wear Liner (2.8 m³/3.1 yd³ and 3.1 m³/4.1 yd³ Dump Bucket)
Chain Ready Front Fenders (requires chain ready rims, chains not included)
Covers
–Antivandalism for Shipping
–Rear Grill (Additional Bolt On Guard)
Draw Bar Attachment, Bolt-on
Duo-Cone™ Seal Guards
External Lighting System, Front, Rear, LED Work Lights
Fast Fill System
–Coolant
–Engine Oil
–Fuel
–Hydraulic Oil
–Transmission Oil
Fire Suppression System, Ansul
Fluids
–Arctic Fuel
–Arctic Coolant
Front Light Protectors
Hydraulic System
–Ejector Bucket Ready
–Alternate Implement/Pilot Control Configuration
–Alternate Oil Level Gauge
Lifting Group, Mine Transfer
Lighting
–External Lighting System, Front, Rear, LED Work Lights
Lubrication System
–Automatic
–Centralized
Operators Station ROPS/FOPS Enclosed
–Air Conditioning
–Cab Pressurizer and Filter
–Dome Light
–Door Strut
–Heater
–Radio Ready Compartment for Radio and Speakers
–Wiper Control, Intermittent
Operator and Maintenance Manual
–Chinese
–French
–Indonesian
–Macedonian
–Portuguese
–Russian
–Spanish
Park Brake Automatic Activation
Park Brake Switch Engagement
–Push to Apply
–Pull to Apply
Payload Control System (PCS)
Reflective Tape (Yellow/Green)
Remote Control Interface (excludes Transmitter and Receiver), Includes Warning Lights (Green)
–Cattron
–RCT
Radiator, High Ambient
Reversible Steering
Ride Control System
Rim
–Tube Type
–Tube or Tubeless (chain ready)
–Spare (Tube or Tubeless)
–Rim Identification Numbering
Seat Covers, Tee and Standard
Secondary Steering System
Service Tools
–Recovery Bar (for use with Brake Release, Recovery Bar System)
–Reference Parts Manual for Additional Tooling Available
Switches
–Idle Timer
–Lift Arm Positioner
–Transmission Neutralizer Override Switch
–Transmission Pressure ABA Park Brake Engagement
Tire Arrangements
–Tire, 17.5 × R25 VSMS L5S Bridgestone
–Tire, 17.5 × 25, VSDL Bridgestone
Wear Protection Bars/Plates
–Cab/ROPS
–Hydraulic Tank
–Radiator
–Articulation
CALL NOW TO LEARN MORE

Larry Cummins
865-595-4954

Ed Rottmann
865-595-1060 or 865-599-8225



HOW CAN WE HELP?
SHARE YOUR FEEDBACK OR ASK A QUESTION