527
The Cat 527 Skidder is designed and built specifically for log skidding applications. The 527's extended track roller frame and weight-forward bias make it well suited for mountainous and soft underfoot logging operations. The skidder's ergonomic and spacious operator's environment allow for increased comfort and production. The 527's standard forestry guarding and undercarriage design ensure the durability required in logging applications. Both Cable and Swing-boom Grapple configurations are provided to suit a wide range of skidding applications.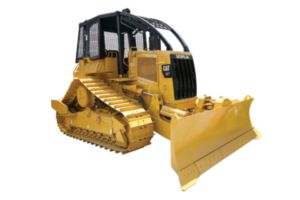 DETAILS
SPECIFICATIONS
Engine
Net Flywheel Power
150 HP
Engine Model
Cat® 3304 DIT
Service Refill Capacities
Cooling System
9.7 gal (US)
Engine Crankcase and Oil Filter
5.8 gal (US)
Final Drive - Each
1.7 gal (US)
Hydraulic Tank
10.5 gal (US)
Recoil Spring Housing - Each
7.1 gal (US)
Transmission
39.1 gal (US)
Winch Sump (527 Winch)
19.5 gal (US)
Weights
Operating Weight - Cable
41217 lb
Operating Weight - Grapple
48281 lb
527CA Winch with Freespool
Cable Size - Optional
0.88 in
Cable Size - Recommended
0.75 in
Drum Capacity - Optional Cable
180 ft
Drum Capacity - Recommended Cable
267 ft
Maximum Linepull
69200 lb
Maximum Linespeed
143 ft/min
Undercarriage - Cable
Track on Ground
112.05 in
Width - Shoe - Optional
24.02 in
Undercarriage - Grapple
Track on Ground
126.34 in
Transmission
Torque Converter Type
Skidder
Travel Speed - Forward 1
2.3 mile/h
Travel Speed - Forward 2
4.1 mile/h
Travel Speed - Forward 3
7.1 mile/h
Travel Speed - Reverse 1
2.8 mile/h
Travel Speed - Reverse 2
5.1 mile/h
Travel Speed - Reverse 3
9 mile/h
Blades
527 PAT - Blade Capacity*
3.07 yd³
527 PAT - Blade Height
36.3 in
527 PAT - Blade Width
136.22 in
5P-PAT - Blade Capacity*
4.93 yd³
5P-PAT - Blade Height
47.24 in
5P-PAT - Blade Width
128.82 in
Blade Type
5P-PAT, 527 PAT
Dimensions
CA - Overall Width without Blade and with 559 mm (22 in) Shoes
107.09 in
GR - Overall Width without Blade and with 760 mm (30 in) Shoes
118.9 in
BENEFITS & FEATURES
Power Train
Undercarriage
Application Flexibility
Operator Station
Hydraulics
Customer Support
Serviceability
EQUIPMENT
Standard Equipment
ANTIFREEZE
50% concentration of extended life coolant, freeze protection to –37° C (–34° F), anti-boil protection to 108° C (226° F)
ELECTRICAL
Hour meter
Work lamps, Halogen, 3-front and 2-rear
Back-up alarm
Warning horn
HYDRAULICS
Load sensing hydraulics
Single lever blade control
GUARDS
Engine enclosures, heavy-duty
Fenders, heavy-duty
Extreme-service crankcase
Fuel tank, heavy-duty
Radiator, heavy-duty punched hole
Front brush sweeps
Precleaner guard
OPERATOR ENVIRONMENT
Decelerator
Electronic Monitoring System
Gauges:
Seat, Angled suspension
Seat belt
POWER TRAIN
3304 DIT engine
24-volt direct electric start torque converter
3-speed Powershift transmission
Precleaner with prescreener
Muffler
Fuel priming pump
UNDERCARRIAGE
End guiding guards
Hydraulic track adjusters
Segmented Sprocket
Optional Equipment
BULLDOZER
5P PAT Blade (Power Angle Tilt)
527 Power Angle Tilt (527CA only)
ELECTRICAL
Alternator, 50-amp 24-volt (527CA)
Alternator, 75-amp 24-volt (527GR)
GRAPPLE – (527GR)
Swing Boom
Grapple Bunching, 0.93 m² (10 ft²)
Grapple Sorting, 0.83 m² (9 ft²)
GUARDS
Vandalism Protection, Canopy
Vandalism Protection, Cab
Track Guard, 7 Roller
Track Guard, 8 Roller
Track Guard, Rear
Sweep Screen
OPERATOR ENVIRONMENT
Canopy, Open ROPS
Cab, Enclosed ROPS/FOPS
UNDERCARRIAGE
7-Roller track frames
8-Roller track frames
WINCH – (527CA)
31 388 kg-force (69,200 lb-force) Line pull
Winch w/Freespool and 4 Roller Fairlead
Winch w/Freespool and Raised 4 Roller Fairlead
Winch Omission
CALL NOW TO LEARN MORE

Larry Cummins
865-595-4954

Ed Rottmann
865-595-1060 or 865-599-8225



HOW CAN WE HELP?
SHARE YOUR FEEDBACK OR ASK A QUESTION