793F (TIER 4)
793F Mining Truck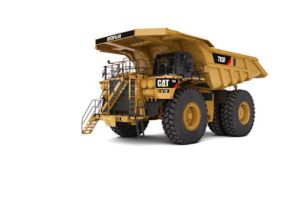 DETAILS
SPECIFICATIONS
Engine
Gross Power - SAE J1995
2650 HP
Note (1)
Power ratings apply at 1,750 rpm when tested under the specified condition for the specified standard.
Note (2)
Ratings based on SAE J1995 standard air conditions of 25° C (77° F) and 99 kPa (29.61 Hg) dry barometer. Power based on fuel having API gravity of 35 at 16° C (60° F) and an LHV of 42.780 kJ/kg (18,390 Btu/lb) when engine used at 30° C (86° F).
Weights - Approximate
Body Weight Range
26 862-47 627 kg (59,220-105,000 lb)
Operating Specifications
Nominal Payload Capacity
250 ton (US)
Gross Machine Operating Weight
386 007 or 390 089 kg (851,000 or 860,000 lb)
Top Speed - Loaded
37.3 mile/h
Turning Circle - Clearance Diameter
107 ft
Turning Diameter - Front
93 ft
Final Drives
Total Reduction Ratio
28.8:1
Transmission
Suspension
Rear axle - Oscillation
±4.9 degrees
Effective Cylinder Stroke - Front
5.1 in
Effective Cylinder Stroke - Rear
4.2 in
Body Hoists
Body Lower Time - Float
20 s
Body Power Down - High Idle
17.5 s
Body Raise Time - High Idle
19 s
Pump Flow - High Idle
224 gal/min
Relief Valve Setting - Raise
2955 psi
Brakes
Brake Surface - Front
13921 in²
Brake Surface - Rear
20847 in²
Weight Distributions - Approximate
Capacity - HP - 100% Fill Factor
Heaped (SAE 2:1)*
162-191 m3 (212-250 yd3)
Struck
112.6-151 m3 (147-197.5 yd3)
Service Refill Capacities
Brake Hoist System - Includes Tank
347 gal (US)
Cooling System
284 gal (US)
Diesel Exhaust Fluid Tank
62 gal (US)
Rear Axle - Housing
260 gal (US)
Steering System - Including Tank
77 gal (US)
Torque Converter - Transmission Sump
27 gal (US)
Torque Converter/Transmission System - Including Sump
55 gal (US)
ROPS
ROPS Standards
ROPS (Rollover Protective Structure) cab offered by Caterpillar meets ISO 3471:2008 for Operator and ISO 13459:2012 for Trainer.
Sound
Sound Standards (1)
The operator sound pressure level measured according to work cycle procedures specified in ISO 6394 and 6396 is 74 dB(A) for cab offered by Caterpillar, when properly installed and maintained and tested with doors and windows closed.
Steering
Steering Standards
ISO 5010:2007
Body Hoists
Note (1)
Twin, two-stage hydraulic cylinders mounted outside main frame, double-acting cylinders in second stage.
Note (2)
Power raise in both stages, power down in second stage.
Note (3)
Automatic body lower modulation reduces impact on frame.
Capacity - HP - 100% Fill Factor
Note (1)
Contact your local Cat dealer for body recommendation.
Dimensions (Approximate)
Centerline Front Tire Width
18.4 ft
Centerline of Rear Dual Tire Width
16.28 ft
Engine Guard Clearance
4.35 ft
Front Canopy Height
23.21 ft
Height - Top of ROPS
18.75 ft
Inside Body Width
24.06 ft
Loading Height - Empty
20.28 ft
Note
Shown with 162 m3 (212 yd3) HP Body.
Outside Body Width
26.06 ft
Overall Canopy Width
28.09 ft
Overall Height - Body Raised
45 ft
Overall Tire Width
24.95 ft
Rear Axle - Clearance
3.71 ft
Rear Axle - Tail
13.11 ft
Engine
Emissions
Meets Tier 4 Final emission standards.
Note (3)
No engine derating required up to 3200 m (10,500 ft) altitude.
Operating Specifications
Note
Refer to the Cat Mining Truck 10/10/20 Overload Policy for maximum gross machine weight limitations.
ROPS
FOPS Standards
FOPS (Falling Objects Protective Structure) meets ISO 3449:2005 for Operator and ISO 13459:2012 Level II FOPS for Trainer.
Sound
Sound Standards (2)
Hearing protection may be needed when operating with an open operator station and cab (when not properly maintained or doors/windows open) for extended periods or in a noisy environment.
Weights - Approximate
Note (1)
Chassis weight with 100 percent fuel, hoist, body mounting group, rims and 40.00R57 tires.
Note (2)
Body weight varies depending on how body is equipped.
BENEFITS & FEATURES
Emissions
Meets U.S. EPA Tier 4 Final emission standards, and features the Caterpillar Selective Catalytic Reduction (SCR) system that provides the least Total Fluid Consumption cost with greater reliability.
High Performance Engine
The Cat® C175-16 engine offers you the perfect balance between power, robust design and economy.
Enhanced Serviceability
Improved serviceability points and grouped service locations mean your truck spends more time on the haul road than in the shop.
Robust Braking
Cat oil-cooled, multiple disc brakes on all four corners offer you exceptional, fade-resistant braking.
Power Shift Transmission
A smooth shifting six speed transmission using ECPC gives operators a comfortable ride, constant power and improved fuel efficiency.
Reliable Mechanical Drive System
The 793F's power train gives you the fastest truck on steep grades, poor underfoot conditions and on haul roads with high rolling resistance.
Comfortable Cab
Operators find the large, spacious cab offers unmatched visibility and exceptional comfort.
Truck Body
A variety of Caterpillar designed and built bodies provide you optimal performance and reliability.
EQUIPMENT
Standard Equipment
ELECTRICAL
Alarm, Back-up
Brushless Alternator, 225 ampere
Batteries, 210-amp hour, low maintenance, 12-volt (2)
Converter, 12-volt electrical
Electrical System, 24-volt, 10, 15 and 20 amp
Jump Start Receptacle
Lighting System

Back-up and Hazard Lights
Directional Signals (front and rear LED)
Front Stair Access/Service Deck
Stop/Tail Lights (LED)
Engine Compartment
VIMS, Blue Light (LED)
Headlights, with Lo-Hi Beam Selector
Brake and Retarder Light Status Ready
OPERATOR ENVIRONMENT
Air Conditioner with Automatic Climate Control
12-volt DC Power Supply (3)
Coat Hook
Cup Holder
Diagnostic Connection Port
Dome Courtesy Light
Entertainment Radio Ready

5 amp Converter, Speakers and Wiring Harness

Gauge/Indicators

Gauge Panel:
– Transmission Fluid Temperature
– Brake Oil Temperature
– Engine Coolant Temperature
– Fuel Level
– Torque Converter Oil Temperature
Electric Engine Control Fault Indicator
Electric Hour Meter
Speedometer
Tachometer
Diesel Exhaust Fluid Level Indicator

Heater/Defroster, 11 070 kCal (45,930 Btu)
Hoist, Body Control (electric)
Horn
Integrated Object Detection System
Heated Mirrors, Right and Left
ROPS Cab, Insulated/Sound Suppressed
Seat, Operator, Air Suspension
Seatbelt, Operator, Three Points, Retractable
Seatbelt, Trainer, Two Points, Retractable
Stairway and Walkway Access, 600 mm (23.6 in)
Steering Wheel, Tilt, Padded, Telescopic
Storage Compartments
Tinted Glass
Transmission Gear Indicator
VIMS Message Center with Advisor
Window, Operator, Electric Powered
Windshield Wiper, Intermittent Control and A/C Condenser Filled Washer Bottle
Plug and Play Radio 12V Unswitched Power Supply Outlets
Fire Suppression Ready Cab
POWER TRAIN
Cat C175-16 meets Tier 4 Final emission standards

Air Cleaner with Precleaner (4)
Air-to-Air Aftercooler (ATAAC)
Automatic Starter Protection
Ether Starting Aid (automatic)
Multi-Point Oil Pressure Sensing
Turbocharging (4)/Aftercooled

Engine Aftertreatment System

Pump Electronic Tank Unit (PETU)
Clean Emissions Module (CEM)

Braking System

Automatic Retarder Control, Adjustable
Brake Release Motor (towing)
Engine Overspeed Protection
Extended Life Brake Disc Material
Oil-cooled, Multi-disc (front and rear)
– Service, Retarding, Parking, Secondary
Park Brake Integrated with Gear Selector
Secondary, Emergency

Advanced Productivity Electronic Controls Strategy (APECS)
Transmission

6-speed, Automatic Powershift with Electronic Control (ECPC)
Body-up Reverse Neutralizer
Body-up Shift Inhibitor
Controlled Throttle Shifting
Directional Shift Management
Downshift/Reverse Shift Inhibitor
Individual Clutch Modulation
Lock-up Torque Converter
Neutral Coast Inhibitor
Neutral Start Switch
Programmable Top Speed
Pre-lubrication/Engine
Rear Axle Continuous Lubrication/Filtration
OTHER STANDARD EQUIPMENT
Auto Lubrication System with 41 kg (90 lb) barrel, auto shutoff, and grease filter
Aux "Buddy" Dumping Quick Connect
Aux Steering Quick Connect (towing)
Driveline Guard
Fast Fill Diesel Exhaust Fluid System
Fast Fill Diesel Fuel System
Fuel Filter with Water Separator
Ground Level Battery Lockout
Ground Level Engine Shut-down
Ground Level Engine Start Lockout
Ground Level Transmission Lockout
Ground Level VIMS Data Port
Hi-speed Crankcase Oil Change
Hydraulic Filters, 1,000 hour
Reservoirs (3 separate)

Brake/Hoist, Steering/Fan, Transmission/Converter

Rock Ejectors
Service Points, Ground Level
Sight Level Gauges for Hydraulic/Engine Oil
S•O•SSM Sample Ports
Supplemental Steering (automatic)
Tie Down Eyes
Tow Hooks (front)/Tow Pin (rear)
Traction Control System
Vandalism Protection Locks
Vital Information Management System (VIMS)

Includes VIMS Payload Monitor with MAX Payload and Speed Manager
– (Recommend using download cable 127‑9797 and PC based software JERD2175. Supplemental software "VIMS Supervisor" YERA1403. Order separately. Computer not provided.)

Primary Access Anti-slip High Visibility Demarcations
Tie Off Points
Rubber-lined Battery Box Lid
Portable Fire Extinguisher Mounting
SL-V Grease Injectors
Fuel Tank Mud Guards
ANTIFREEZE
Extended Life Coolant to –35° C (–30° F)
Optional Equipment
OPTIONAL EQUIPMENT
Additional Retarding for Downhill Hauls
Body Heat
Cat Comfort Air Suspension Trainer Seat
Antifreeze/Coolant Protects to –50° C (–58° F)
Brake Wear Indicator Gauge
Cabin Air Precleaner
Center Tow Bumper Attachment
Electric Powered Window, Right Side
Electric Starting System
Engine Coolant and Oil Heater for Cold Weather Starts
Additional Lighting
High Visibility Reflector Group
Workshop Horn
Working at Heights
Emergency Stop
Four Mirror Package
Hydraulic Tank Mud Guards
Engine Delay Shutdown Timer
Extended Life Wheel Stations
External Digital Payload Display
Fast Fill Service Center with Live S•O•S and Keypad
Cat Comfort Heated Operator Seat
High Intensity Discharge (HID) Lighting (front and rear)
Hub Odometer (km and miles)
Portable Fire Extinguisher
Rear Axle Lubrication Cooler
Retractable Front Sun Visor
Rim Guard
Rims (813 mm/32 in)
Road Analysis Control (RAC)
Throttle Lock
Walkway and Handrail for Rear Cab Access
Wheel Chocks
Work Area Vision System (WAVS)
CALL NOW TO LEARN MORE

Larry Cummins
865-595-4954

Ed Rottmann
865-595-1060 or 865-599-8225