789D
Caterpillar's exclusive design ownership provides advantages by creating a total hauling unit that delivers the best integration of high production, availability, and payload in combination with low operating cost and long life. The Cat® 789D continues the tradition of Caterpillar's proven 789 Truck with high productivity and lowest in class cost per ton.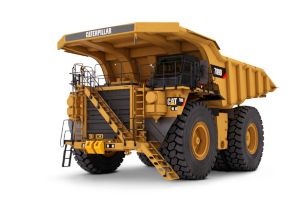 DETAILS
SPECIFICATIONS
Engine
Gross Power - SAE J1995
2100 HP
Rated Net Power - ISO 9249
1969 HP
Weights - Approximate
Gross Machine Operating Weight (GMW)
715000 lb
Body Weight Range
23 920 kg-45 547 kg (52,850 lb-100,414 lb)
Empty Operating Chassis Weight (EOCW)
218542 lb
Operating Specifications
Nominal Payload Capacity
200 ton (US)
Standard Combi Body (SAE 2:1)
200 yd³
Standard Dual Slope Body (SAE 2:1)
141 yd³
Standard Gateless Coal Body (SAE 2:1)
250 yd³
Standard MSD Body (SAE 2:1)
170 yd³
Standard X Body (SAE 2:1)
161 yd³
Final Drives
Differential Ratio
2.35:1
Total Reduction Ratio
25.46:1
Transmission
Suspension
Effective Cylinder Stroke - Front
4 in
Effective Cylinder Stroke - Rear
3.5 in
Rear axle - Oscillation
±5.6°
Body Hoists
Pump Flow - High Idle
193 gal/min
Relief Valve Setting - Raise
2500 psi
Body Raise Time - High Idle
18.9 s
High Idle Body Lower Time - Float
17.3 s
High Idle Body Lower Time - Power
15.6 s
Brakes
Brake Surface - Rear
18024 in²
Standards
SAE J1473 OCT90 ISO 3450:1996
Brake Surface - Front
12662 in²
Weight Distributions - Approximate
Service Refill Capacities
Brake Hoist System
241 gal (US)
Cooling System
192 gal (US)
Differential - Final Drives
154 gal (US)
Fuel Tank - Optional
1000 gal (US)
Fuel Tank - Standard
550 gal (US)
Steering System
50 gal (US)
Transmission Tank
20 gal (US)
Tires
ROPS
Sound
Sound Standards
Standards
Steering
Turning Diameter - Front Wheel
90.32 ft
Vehicle Clearance - Turn Circle
99.18 ft
Steering Standards
SAE J1511 OCT90 ISO 5010:1992
Optional Engine
Rated Net Power - ISO 9249
1791 HP
BENEFITS & FEATURES
Power Train - Engine
Power Train - Transmission
Engine/Power Train Integration
Structures
Operator's Station
Cat® Brake System
Truck Body Systems
Monitoring System
Safety
Sustainability
Serviceability
Customer Support
EQUIPMENT
Standard Equipment
POWER TRAIN
Diesel engine/turbocharged/aftercooled:
Braking system:
Transmission:
ELECTRICAL
Alarm, backup
Alternator, 105 amp
Batteries, 12V (2), 93 amp-hour
Converter, 12V electrical
Electrical system, 24V, 15 amp
Lighting system:
OPERATOR ENVIRONMENT
STANDARD CAB
DELUXE CAB
DELUXE COLD WEATHER CAB
Air conditioner
Auxiliary power connection/cigarette lighter
Diagnostic connection port
Dome courtesy light
Entertainment Radio Ready:
Gauges/indicators:
Electric hour meter
Electric engine control fault indicator
Engine idle shutdown
Mirrors, right and left
Speedometer
Tachometer
Transmission gear indicator
VIMS message center with universal gauge
VIMS keypad
Heater/defroster (11 070 kCal/43,930 BTU)
Horn
Hoist, body control (electric)
Integrated object detection system
ROPS cab, insulated/sound suppressed
Seatbelt, operator, 75 mm/3" wide
Seatbelt, trainer, two points
Stairway and walkway access, 600 mm (24 in)
Steering wheel, tilt, padded, telescopic
Window, operator, electric powered
Windshield wiper, intermittent control and washer
FLUIDS
Extended Life Coolant to -35° C (-30° F)
OTHER STANDARD EQUIPMENT
Air line dryer
Auto lubrication system
Auxiliary "buddy" dumping quick connect
Auxiliary steering quick connect (towing)
Body mounting group
Center mounted rims (6) (29×57) (used for 37.00-R57 tires)
Driveline guard (fully enclosed)
Fast fill fuel system
Ground level VIMS data port
Ground level battery disconnect
Rock ejectors
Supplemental steering (automatic)
Tie off points
Tow hooks (front)
Tow pin (rear)
Traction Control System
Vital Information Management System
Optional Equipment
BODY
Dual slope body:
Dual slope body attachments:
X body:
X body attachments:
MSD II body:
MSD II body attachments:
Combination body:
Combination body attachments:
Gateless coal body:
Gateless coal body attachments:
Body lighting group - rear:
ELECTRICAL
Lockout transmission, ground level
Auxiliary work lights (1) RH side, (1) LH side
POWER TRAIN
Prelube, engine
Oil renewal system
FILTRATION CONFIGURATIONS
OTHER ATTACHMENTS
Information management:
Cold weather:
Service center:
Miscellaneous:
CALL NOW TO LEARN MORE

Larry Cummins
865-595-4954

Ed Rottmann
865-595-1060 or 865-599-8225



HOW CAN WE HELP?
SHARE YOUR FEEDBACK OR ASK A QUESTION