772G
In 1963, Caterpillar introduced the 769, a revolutionary off-road truck that was purpose built for the rigors of mining and heavy construction. Fifty years later, our trucks have never been better. We've taken the best of our rugged, dependable heritage and combined it with technologies that help our environment, make your operators more productive and dramatically improve the economics of your haul fleet. This 772G has an updated traction control system to keep you moving when the ground conditions aren't perfect, you'll see improvements in fuel use through new and flexible fuel saving strategies, and we're making the operating experience best in class with automotive quality shifting, noise reduction and cab updates. Our heritage and new use of technology are combined in this truck for one purpose - the continued success of your business.
SPECIFICATIONS
Engine
Engine Model
Cat® C18 ACERT™
Rated Engine Speed
1700 r/min
Gross Power - SAE J1995
605 HP
Net Power - SAE J1349
550 HP
Net Power - ISO 9249
550 HP
Engine Power - ISO 14396
598 HP
Net Torque - SAE J1349
2221 ft-lb
Weights - Approximate
Target Gross Machine Operating Weight
181000 lb
Target Gross Machine Weight
181000 lb
Operating Specifications
Nominal Payload Class (100%)
51.6 ton (US)
Top Speed - Loaded
49.2 mile/h
Body Capacity - SAE 2:1
40.8 yd³
Maximum Payload Class (110%)
56.7 ton (US)
Not to Exceed Payload (120%)
61.9 ton (US)
Target Payload Capacity
51.6 ton (US)
Transmission
Final Drives
Differential Ratio
2.74:1
Total Reduction Ratio
13.14:1
Brakes
Brake Surface - Front
216 in²
Brake Surface - Rear
7794 in²
Brake Standards
ISO 3450:1996
Body Hoists
Pump Flow - High Idle
118 gal/min
Relief Valve Setting - Raise
2750 psi
Relief Valve Setting - Lower
500 psi
Body Raise Time - High Idle
7.5 s
Body Lower Time - Float
10 s
Body Power Down - High Idle
10 s
Capacity - Dual Slope - 100% Fill Factor
Heaped 2:1 (SAE)
40.8 yd³
Capacity - Flat Floor - 100% Fill Factor
Heaped 2:1 (SAE)
40.9 yd³
Weight Distributions - Approximate
Front Axle - Empty
51.4 %
Front Axle - Loaded
34.2 %
Rear Axle - Loaded
65.8 %
Suspension
Rear axle - Oscillation
8.9 °
Empty Loaded Cylinder Stroke Front
9.2 in
Empty Loaded Cylinder Stroke Rear
5.8 in
Service Refill Capacities
Cooling System
33 gal (US)
Differential - Final Drives
47 gal (US)
Steering Tank
14.5 gal (US)
Steering System - Including Tank
23 gal (US)
Brake Hoist System
60 gal (US)
Brake/Hoist Hydraulic Tank
38 gal (US)
Torque Converter - Transmission System
17 gal (US)
Tires
Standard Tire
21.00R33 (E4)
ROPS
FOPS Standards
FOPS (Falling Objects Protective Structure) meets ISO 3449:2005 Level II FOPS criteria.
ROPS Standards
ROPS (Rollover Protective Structure) for cab offered by Caterpillar meets ISO 3471:2008 ROPS criteria.
Sound
Sound Standards (1)
Hearing protection may be needed when operating with open operator station & cab for extended periods or in noisy environment.
Sound Standards (2)
Exterior sound pressure power level for standard machine measured according to tests specified in ISO 6395:2008 is 115 dB(A).
Sound Standards (3)
Operator Equivalent Sound Pressure Level (Leq) is 74 dB(A) when ISO 6396:2008 is used to measure the value for an enclosed cab.
Steering
Turning Diameter - Front
57.7 ft
Steering Standards
ISO 5010:2007
Turning Circle - Clearance Diameter
66.6 ft
Dimensions
Height - Top of ROPS
12.8 ft
Inside Body Depth - Maximum
5.7 ft
Overall Body Length
26.8 ft
Loading Height - Empty
11.6 ft
Overall Height - Body Raised
27.1 ft
Centerline Front Tire Width
10.4 ft
Engine Guard Clearance
2 ft
Outside Body Width
12.9 ft
Inside Body Width
11.9 ft
Front Canopy Height
13.7 ft
Rear Axle - Clearance
1.9 ft
Centerline of Rear Dual Tire Width
8.7 ft
Overall Tire Width
12.9 ft
BENEFITS & FEATURES
Emission Controls
Our goal in designing our U.S. EPA Tier 4 Final/EU Stage IV solution was to first provide our customers with a product that meets applicable emission standards and secondly make it simple to operate, maintain and manage. With dozens of Cat products using similar systems, we've designed parts commonality and ease of use into our solution. For the 772G specifically, you will add DEF fluid (Diesel Exhaust Fluid) to a small tank next to the fuel tank. This tank holds 27 liters fluid (approximately 6 gallons), 21 liters usable fluid of DEF and is filled at the same intervals as the fuel tank. The rest of the process is automatic and hands free to your operator. The systems and components of our solution use Selective Catalytic Reduction to control emissions, and they are purpose built for the applications you'll use them in. For cold environments, the system is heated, and for hot environments, the system is cooled. Our solution has three stages; NOx reduction in the engine is achieved by reintroducing a very small percentage of cooled exhaust gas back through the combustion chamber. With mandated low sulfur diesel fuel in today's diesel engines, the exhaust is less corrosive and poses fewer risks to engine life. Our reintroduction of an exhaust mixture lowers combustion temperatures controlling NOx production. Exhaust gases leaving the engine are first routed through a diesel particulate DPF filtration system to reduce particulate matter. The system will then control any remaining NOx by injecting diesel exhaust fluid (DEF) into the exhaust stream. This mixture will undergo selective catalytic reduction, ammonia reduction - eventually breaking down the NOx into inert nitrogen gas and water.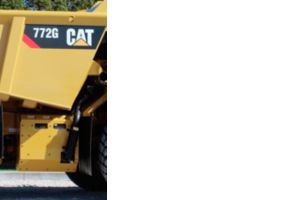 Performance
In addition to the shift quality, fuel efficiency and performance benefits of APECS, there are several key safety functions being performed by this technology:
Reverse shifts are speed controlled to reduce risk to the operator and the truck's power train components. The shift from forward to reverse will only be executed at truck speeds below 4.8 km/h or 3 mph. Once the truck is in reverse, the truck can go 16.7 km/h (10.4 mph). If this is too fast for your job site conditions, you can limit the speed setting for Reverse.
To further protect the transmission, the truck will automatically regulate engine speed during directional shifts.
Coasting at high speeds will limit lubrication of the transmission. To avoid this, APECS will only shift to neutral at or below speeds of 8 km/h or 5 mph.
Second gear start is a new feature for G Series trucks. It allows the truck to bypass first gear and take off in second gear. This option works well on mostly level and solid underfoot conditions. As the truck pulls away, it has plenty of torque in second gear, and will use less fuel by avoiding the short term but high engine speed demands of first gear. As the truck traverses the haul road and first gear becomes necessary, the truck will automatically drop down into first gear without additional intervention.
When in first gear, the 772G locks up the torque converter to produce maximum available rimpull.
Brake Performance
An important differentiator for Cat trucks is their outstanding brake performance. The design principle is one of long life and excellent performance in quarry, mine and earthmoving applications.
Truck Bodies
The goal of our body designs is to provide rated payloads on each haul. Since no two job sites are alike, we offer two body designs, optional side boards for lightweight materials, and two liner options to protect your investment and achieve the best possible wear life.
Manufacturing and Design
Cat trucks are manufactured in Decatur, Illinois, where our facility has seen significant updates and is a flag ship for manufacturing at Caterpillar. Because reliability starts with clean parts, our assembly areas are in a dedicated building separate from fabricating. The assembly area is well lit, clean and contamination controlled. Our expert welders work on rotating platforms that provide ergonomic and thorough weld capability on our frames. All of our trucks are checked during design for ease of assembly, manufacture and serviceability. We follow up with process and quality checks at each assembly station using the Andon system, and additional quality inspections are made at the end of the assembly line and at the dealership before it is delivered to you.
Operator Experience
A truck is only as productive as its operator. To that end, we have updated the 772G with some key features to help old and new operators be comfortable and confident while operating the truck.
VIMS
We've made our Vital Information Management System (VIMS) standard because it's important. With VIMS on board, you can access production data, machine health and truck operation statistics. With this data you can make informed decisions on operator training, haul road efficiency and scheduled service intervals. In addition, VIMS reports on event logging, idle time and fuel use. VIMS information is available through the Advisor display inside the cab. Portals to connect and download the data are on the front bumper and inside the cab.
Monitoring Your Payload and Tires
The Truck Payload Management System communicates to the loader operator using red and green lights to indicate when target payloads are on board. In addition, the system will store up to 2,400 payload and cycle time data points that are reported through VIMS. TKPH/TMPH calculates tire condition. It will warn the operator when the design limits are being approached, and it can be programmed to derate the truck to preserve tire life.
Pass Match
Caterpillar offers loading tools that match your application and material types as well as your production requirements. Like the 772G, these machines are designed with important input from our customers and long hours of validation in the field. Whether your individual needs require a front shovel, an excavator or a wheel loader, Caterpillar has the model size, buckets and ground engaging tools to help you load the 772G quickly and efficiently. The 772G can be reasonably pass matched with these Cat loading tools. The number of passes will be determined by bucket size and material density.
Wheel Loaders: The 980, 986 are ideal Cat wheel loader options for the 772G with approximately 4 passes each.
Hydraulic Shovels: Cat models can include the 6015 at 4 passes and the 6018 at 2 passes.
Hydraulic Excavators: Cat models can include the 385 and 390 at 4-5 passes.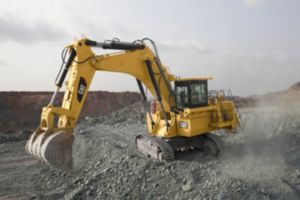 Simple Service
Your Cat G Series truck is designed to provide operators and technicians with easy access to common service points like engine lockout, machine system lockout, fluid level sight gauges, grease fittings and access to the engine for regularly scheduled maintenance.
Engine oil and filter change interval is 500 hours under normal operating conditions
Hydraulic filters have a 1,000 hour life under normal operating conditions
VIMS trend analysis can track machine health and operation
A brake wear indicator is standard
Automatic lubrication is available as optional equipment
New bumper-mounted ground-level access to fuses and breakers, ET and VIMS ports in right side service center
The radiator and cooling cores are aluminum and modular offering easy cleaning or replacement
Oil sampling ports are provided for quick and clean collection for analysis
Fuel system features electric priming
Fast fill fuel is optional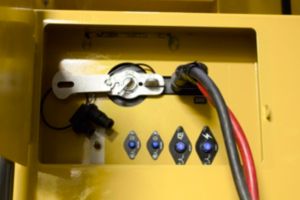 Customer Support
When you purchase a Cat machine, you have both Caterpillar and your Cat dealer standing with you. The resources available to you by working closely with your Cat dealer are extraordinary. With capabilities that range from complete service agreements, to site support to production studies to our global parts networks, we are committed to you, your business and making sure your equipment is running at peak efficiency. Whether you need a rental machine, operator training, assistance with financing or a machine rebuilt, our dealers have the experience, people and application knowledge to help you succeed. For more information about our services, our company, our dealers and the services we can provide, please reach out to your local Cat dealer, or visit us at one of the following web sites:
www.finance.cat.com
www.safety.cat.com
www.mining.cat.com
www.Caterpillar.com
www.Cat.com
CALL NOW TO LEARN MORE

Larry Cummins
865-595-4954

Ed Rottmann
865-595-1060 or 865-599-8225