501HD
Cat® track harvesters are equipped with dependable Cat engines, load sensing hydraulics and factory installed attachments. The forward-mounted cab and rear engine placement give the operator excellent visibility over the entire harvest area. The unique front entry cab allows for easy entry and exit and the cab tilts for servicing. The telescoping boom's V-shaped bottom extends the life of the wear pads and minimizes side-to-side movement as the boom telescopes in and out.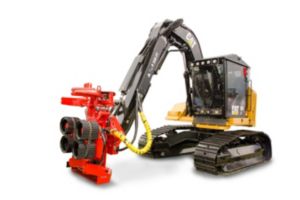 DETAILS
SPECIFICATIONS
Engine
Engine Model
Cat® C6.6 ACERT™ Tier 3
Gross Power - 1,800 rpm
163 HP
Hydraulic System
Hydraulic System Pressure
5000 psi
Hydraulic Oil Flow at 2,200 rpm
81 gal/min
Pump Size - Carrier and Implement
8.54 in³
Operating Specifications
Maximum Reach - With Head
27 ft
Maximum Tractive Effort
43400 lb
Travel Speed - High
1.9 mile/h
Travel Speed - Low
1.1 mile/h
Service Refill Capacities
Cooling System
6.25 gal (US)
Hydraulic System
60 gal (US)
Hydraulic Tank
60 gal (US)
Weights
Operating Weight - Without Head
40000 lb
Operating Weight - Without Attachment
40000 lb
Standards
FOPS/OPS/ROPS
Cab meets FOPS/OPS/ROPS requirements
Undercarriage
Number of Rollers
2 upper, 8 lower
Size/Pitch (D-5 size)
7.5 in
Reach
Fixed Linkage Boom Reach - Pin
19.85 ft
Telescopic Boom Reach - Pin
26 ft
Power Train
Engine Model
Cat® C6.6 ACERT™
Gross Power - 1,800 rpm
163 HP
Rated Power - 2,200 rpm
156 HP
Torque - Maximum
504 ft-lb
Operating Weights
Ground Pressure - Standard Pads
7.11 psi
Operating Weight - With Attachment (est.)
45000 lb
Operating Weight - Without Head
40000 lb
Boom System
Fixed Linkage Lift Capacity - Gross - Maximum Reach
8500 lb
Fixed Linkage Reach - Maximum
19.8 ft
Reach with Dangle Head on Telescopic Boom
27 ft
Reach with PF-48 Fixed Head on Fixed Linkage
23.3 ft
Telescopic Boom Lift Capacity - Gross - Maximum Reach
5071 lb
Telescopic Boom Reach - Maximum
26 ft
Shipping Dimensions*
BENEFITS & FEATURES
Power Train
Cat C6.6 Engine
The Cat C6.6 engine with ACERT™ Technology gives exceptional power and fuel efficiency, while meeting Tier 3, Stage IIIA emission requirements. This engine includes electronic governing, cold mode start strategy, automatic altitude compensation, electronic diagnostics and fault monitoring.
Exceptional Cooling Capability
A side by side antifreeze, hydraulic, and charge air cooling package allows efficient heat rejection. The cooling package is located away from the harvesting front where less debris and dust exposure minimizes cleaning requirements.
Cold Climate Capability
A thermal bypass in the hydraulic cooler line allows for quicker cold weather warm up of components by diverting oil back to the tank until the temperature of the oil requires cooling. An optional cold weather starting aid heats engine antifreeze and circulates it through the engine, hydraulic tank, and cab for easier start ups.
Large Fuel Carrying Capacity
The 378 L (100 gal) fuel capacity allows extended operating shifts and includes a lockable compartment lid for security.
Hydraulics
Hydraulic Pump is Powerful, Responsive, Quiet
Designed for continuous, efficient and reliable operation, the harvester's axial piston hydraulic pump meets stringent requirements for noise, efficiency, controllability and durability.
Valves are Load Sensing, Pressure Compensated
The valve system has proven reliability in forestry applications with its fuel efficient load sensing pressure compensated technology. Each section is designed specifically for the flow and pressure of the function, therefore optimizing machine functionality and fuel efficiency. Ramped and proportional carrier functions save mechanical wear and tear on structures. Hydraulic valve configurations are available for operating either fixed or dangle style harvesting heads.
Automated control system
The IQAN computer based control system provides precise control of machine functions through fully proportional hydraulic valves.
Electric Hydraulic Oil Fill Pump
The hydraulic oil site gauge provides easy visibility to know when hydraulic oil needs to be added. An easy accessible service hose allows hydraulic oil to be pumped through the hydraulic filtering system and into the tank. This reduces maintenance time and helps to maintain oil cleanliness requirements.
Operator Station
Safe Front Entry System
The unique front entry cab allows for easy and safe access onto the track frame. Foot pedals are attached to the door to swing out of the way and are deactivated when the door is open. The reverse slope front window keeps snow and debris from falling onto the window. Accumulated moisture can be removed with the front window wiper/washer.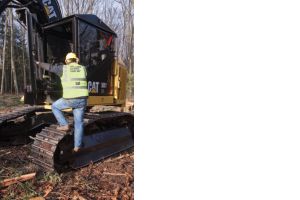 Unobstructed Visibility
The engineered cab forward and rear engine design gives exceptional operator visibility, including to the boom side of the cab, so that potential trees to be harvested can be seen without swinging the cab for required visibility.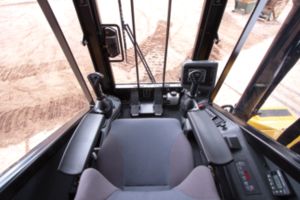 IQAN-MD3 control system
The carrier control system provides full function graphics display for easy monitoring of machine parameters. Operators can enter individual response preferences to customize the joystick controls.
Heated Air Suspension Seat
The heated air suspension seat features lumbar support and neck rests that provide optimum comfort. Armrests are adjustable in all directions and angles for full arm support, a reinforced seat structure designed for track machines absorbs added shock loads and optional four-way seat isolator provides additional vibration dampening.
Channeled Air Flow System
A 40,000 BTU air conditioning and heater system includes channeled air flow to louvered vents for full coverage of the operator and defrosting/defogging of windows. An automatic control system maintains consistent temperature for a constant comfort level.
Molded Consoles and Headliner
The molded consoles and headliner incorporated storage compartments and trays eliminate cab clutter. Two 12-volt power points provide flexibility in mounting additional electric and electronic equipment.
Structures and Undercarriage
Strong X Body Design
The full length of the track frames are tied to the car body for strength and durability when maneuvering amongst stumps and rocks. The high walker design provides excellent ground clearance.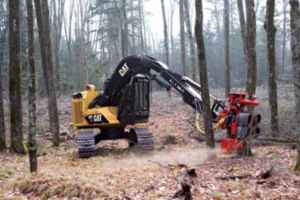 Easy to Clean
The rounded upper surfaces of the track frames shed dirt and debris for easier cleaning and reduced wear.
Integral Track Guards/Guides
Full length track guards provide complete chain support on uneven ground for reduced wear.
Final Drives
High torque final drives provide the carrier with a 1.1 to 1 tractive effort to weight ratio for easy mobility in the woods while maintaining good speed to efficiently navigate from tree to tree.
Rollers
The 2 top rollers and 8 bottom rollers are identical for parts commonality.
Engine Mounted Behind Boom
The rear mounted engine provides effective counter balance for lift capabilities at full reach.
Tanks Mounted in Counterweight
Fuel and hydraulic tanks are incorporated into the rear counterweight for increased balance on a low tail swing carrier.
Wide Boom Mounting Base
The base of the boom has been widened to provide the strength required for side loads when pulling trees out of the standing forest.
Heavy Duty Guarding
The engine and hydraulic compartments are well protected from falling debris and have sloped surfaces for easy cleaning.
Boom and Stick
Fixed Linkage Boom
The fixed linkage boom provides 7.1 m (23.3 ft) reach to the tree with a PF-48 fixed head.
Telescopic Boom
The telescopic boom for dangle heads provides 8.2 m (27 ft) reach to the tree. The 5 sided "V" bottom stick design provides increased strength for higher lift capacity and extended wear pad life for long serviceability.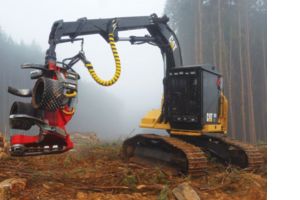 Steel Tube Lines
Steel tube hydraulic lines provide extended life and dissipate heat. Cover plates on the stick booms protect pipes from damage.
Versatility
Attachments
From thinning to final cut harvesting, a selection of harvesting heads are available, including fixed and dangle styles.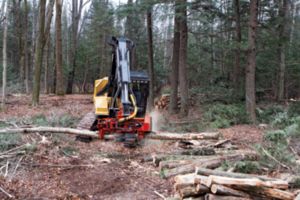 Owning and Operating Costs
ACERT Technology, Fuel Economy
Based on ongoing testing, the fuel economy of Cat engines with ACERT Technology is 3 to 5 percent better than current competing technologies. This fuel economy is directly related to the complete combustion of fuel due to the integration between the electronic control that monitors conditions, the air management system that controls air volume and the fuel injection system that delivers the amount of fuel as needed.
Designed for Forest Applications
The undercarriages are specifically designed for harvesting applications, providing the strength and durability that allows for a long service life. Engine and hydraulic canopies are durable to withstand working in the woods, and their sloped designs allow for easy shedding of debris for simplified cleaning.
Automatic Idle Down
The harvester control system includes an automatic engine idle down feature to reduce fuel consumption during periods of inactivity.
Serviceability
Rear Mounted Fuel and Hydraulic Tanks
The fuel and hydraulic tanks are located within the counterweight, allowing the entire side of the machine to be opened to access the complete hydraulic system from pump to valves.
Forward Tilting Cab
The forward tilting cab allows easy access for under cab components and provides a platform for engine service.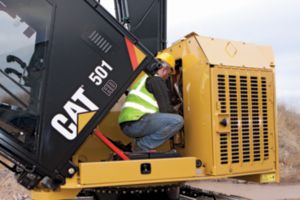 Easy Fluid Changes
An electric refill pump to add oil into the hydraulic tank maintains system cleanliness by passing all oil through the filtering system.
Boom Grease Lines
Booms have grease lines extending from all pivot points down to the base of the main boom for on ground service.
Hinged Covers
The covers over the engine and hydraulic components open for easy access, and feature sloping surfaces for easy cleaning.
Debris Shedding Track Frames
The upper surfaces of the track frames are sloped for easier cleaning of dirt and debris.
Customer Support
Caterpillar is known the world over for the quality of customer support from its dealer network - the industry's best. No matter where you are, the expertise of a Cat dealer is always nearby. Your local Cat dealer is your forestry consultant who can recommend the machines, work tools and services to maximize your operation and provide the support to keep you at top productivity.
24-hour parts availability, where and when you need them, to minimize expensive downtime.
Customer Support Agreements to lower your operating costs.
State-of-the-art diagnostic programs, such as S·O·SSM oil analysis, inspection services and trend reporting to help avoid unscheduled repairs.
Financing programs for buying, renting or leasing Cat equipment.
Cat insurance to cover equipment losses from theft, collision, flood, upset or overturn, fire, vandalism and more.
Product Link to manage your equipment fleet through remote monitoring.
For more information on Cat products, dealer services and industry solutions, visit us at www.cat.com.
Sustainability
Structures
Major structures and components are built to be rebuilt, reducing waste and replacement costs.
ACERT™ Technology
ACERT™ Technology reduces engine emissions at point of combustion with less moving parts for lower operating costs.
EQUIPMENT
Standard Equipment
ELECTRICAL
12V system
Master disconnect
Circuit breaker protection
150 Amp alternator
Two 12V maintenance free batteries
Full lighting package - 12 cab mounted halogen light fixtures
IQAN programmable control system
MD3 full color graphics display screen
OPERATOR ENVIRONMENT
Pressurized OPS-FOPS-ROPS cab
Dual joystick control
Reverse slope windshield
Skylight
Seat belt
Isolation mountings
Tinted 12.7 mm (1/2 in) polycarbonate windows
Heated air suspension seat
40,000 BTU AC/Heater system with auto temp control
Window defroster vents
Two 12V power points
Dome light
Radio ready - includes speakers and AM/FM antennae
Cup holder
Front entry door
Travel alarm
Electric cab tilt
Fire extinguisher mounting pad
3 escape routes
POWER TRAIN
Cat C6.6 ACERT™ engine meets Tier 3 emissions requirements
Infinitely variable travel speed
49° C (120° F) ambient temperature cooling package
Removable debris screen
Swing out A/C condenser
378 L (100 gal) fuel tank
Fuel water separator
HYDRAULICS
140 cc (8.54 in3) variable displacement pump
Closed circuit load sensing valves
228 L (60 gal) hydraulic tank
Electric hydraulic oil fill pump
UNDERCARRIAGE
Fully guarded forestry duty high walker undercarriage
8 lower rollers, 2 upper rollers
Rock guard - shoe supports
610 mm (24 in) DG grouser pads with mud and snow relief
Relief sprockets
2 speed track motors
Automatic track brakes
Interchangeable upper and lower rollers
Heavy duty "D" tow rings
BOOMS AND STICKS
Fixed boom arrangement with 3 bar linkage
Telescopic boom arrangement with "V" bottom design
ANTIFREEZE
50% concentration extended life coolant
Optional Equipment
TRACK SYSTEMS
610 mm (24 in) SG grouser pads with mud and snow relief
760 mm (30 in) DG grouser pads with mud and snow relief
OTHER EQUIPMENT
AM/FM/CD/Satellite Radio receiver
Sun shades
Five above door HID work lights
Four way seat isolator
Cold weather engine coolant and hydraulic tank warm up system
Harvesting heads
CALL NOW TO LEARN MORE

Larry Cummins
865-595-4954

Ed Rottmann
865-595-1060 or 865-599-8225