584
The Cat® 584 forwarder meets the demanding requirements of forest harvesting in many variable applications. These structurally superior units provide unbeaten comfort, controllability, and serviceability to get the job done in a safe, productive, and efficient manner.
DETAILS
SPECIFICATIONS
Engine
Engine Model
Cat® C7 ACERT™
Operating Specifications
Maximum Speed - 6WD
14 mile/h
Load Capacity - 6WD
39683 lb
Tractive Ability - 6WD
48784 lb
Maximum Speed - 8WD
14 mile/h
Low Speed - 6WD
4.6 mile/h
Transmission
Transmission
hydrostatic, 2-speed drop box
Weights
Operating Weight - 6WD
44600 lb
Bunk Area
Optional Bunk Area
67.3 ft²
Loader and Grapple
Slewing Torque - Gross
30240 lb/ft
Grapple Type - Optional
Epsilon FG43S
Lifting Torque - Gross
111975 lb/ft
Loader Type
Epsilon X120F
Grapple Type
Epsilon FG37
Hydraulic System
Working Pressure - Maximum
3120 psi
Service Refill Capacities
Hydraulic Fluid Reservoir
46 gal (US)
Standards
ROPS
ISO 3471:1994, ISO 8082:2003
FOPS
ISO 3449:2005 (LEVEL II), ISO 8083:2006
OPS
ISO 8084:2003, SAE J1084, SEP2002, BC WCB G603, MAR90
Wheels/Tires
Size - 6WD
700/70 × 34 (front), 750/55 × 26.5 (rear)
BENEFITS & FEATURES
Power Train
Cat® C7 Engine
The Cat C7 engine with ACERT™ technology gives exceptional power and fuel efficiency. Meets Tier 3, Stage IIIA emission requirements. Tier 3 refers to EPA (U.S.) standards. Stage IIIA refers to European standards. Engines include electronic governing, cold mode start strategy, automatic altitude compensation, electronic diagnostics and fault monitoring.
Modulated Fan Speed
The engine fan speed control is modulated by the IQAN system based on system temperatures to provide fuel savings and precise temperature control.
Hydrostatic Drive System
The forestry designed hydrostatic drive system gives exceptional power, efficiency and controllability unequaled in the industry for consistently high performance in all terrain applications.
Exceptional Cooling Capability
Enlarged cooling capacities provide the high heat rejection capability required for long distance hauling and utilizing the high tractive effort capabilities.
Tough Suspension
Leading design geared bogies and rigid front axle (6WD) are utilized for superior strength and maximum serviceability.
Structures
Solid Working Platform
Caterpillar design and manufacturing techniques assure outstanding durability and service life. The front and rear frame structures are manufactured to stand up in the most demanding forest applications.
Oscillation and Articulation
Extreme duty center articulation and oscillation points are designed for long service life. The cast knuckle articulation includes tapered roller bearings and hardened expander center joint pins.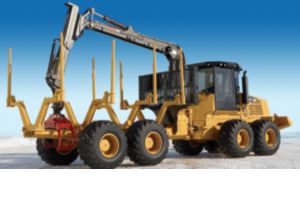 Loader
The forwarder loader is designed for hard, demanding work. Decades of experience can be seen in the innovative details, durable structure and reliable technology. Speed and smoothness are combined to get the work done safely, reliably, and without downtime.
Hydraulics
Hydraulic Pump Is Powerful, Responsive, Quiet
Designed for continuous, efficient and reliable operation, the forwarders axial piston hydraulic pump meets stringent requirements for noise, efficiency, controllability and durability. High load bearings are designed to ensure excellent reliability and long life. A spring assisted servo piston ensures rapid on-stroke performance, especially in low standby pressure conditions. The rigid casing design ensures that all internal forces are well supported. Hydrostatic swash plate balancing together with a rigid support mechanism enhances the power density and reduces noise emissions.
Valves Are Load Sensing, Pressure Compensated
The valve system has proven reliability in forestry applications with its fuel efficient load sensing pressure compensated technology. The valve has been given excellent simultaneous operating characteristics, which enable several machine functions to be operated responsively at the same time, regardless of the sizes of individual loads. Each section is designed specifically for the flow and pressure of the function, therefore optimizing machine functionality and fuel efficiency. Ramped and proportional crane functions saves mechanical wear and tear on boom structures. Steering sensors provide feedback through the IQAN control system to cushion stop points of the cylinders.
Operator Station
Maximum Production, Comfortable Work
Spacious purpose built forestry cab with excellent sight lines to the work area. The forward positioned side posts provide maximum visibility for the loader working range. The ventilation system provides superb air flow for heating and cooling functions. Refined instrumentation and plenty of storage areas allow an uncluttered working environment.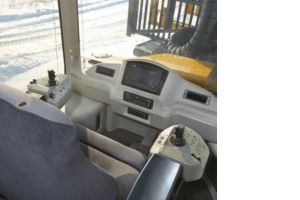 State-Of-The-Art Controls
The forwarder utilizes the latest technology with CAN-Bus controlled IQAN, switch panels, and engine control. The IQAN MDL master control has a 165 mm (6.5 in) transflective TFT color display which includes excellent on‑screen diagnostics. Units are configured for English or metric display. Low effort ergonomic joy stick controls provide easy effort control of the loader functions. Loader functions are configurable for SAE or Forestry patterns. Loader control allows input into 3 selectable and adjustable operator interphases, plus a factory default. An automotive style, tuned hydrostatic propel system allows for all types of terrain and load characteristics.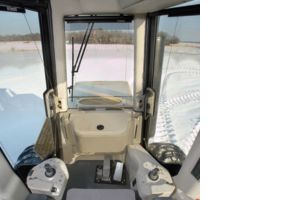 Serviceability
Tilting Hood Provides Easy Access
A forward tilting front hood assembly together with the side tilting cab design provide full access to the engine, hydrostat, and hydraulic components.
Better Diagnostics, Grouped Service Points
Simplified service and electronic diagnostics help to increase productivity and machine availability. Grouped lubrication points and lines reduce service times.
Easy Fluid Changes
Removable cover plates allow full access for cleaning and service. An electric refill pump to add oil into the hydraulic tank maintains system cleanliness by passing all added oil through the filtering system. A vacuum pump on the hydraulic tank reduces exposure to oil loss during service and repair.
Support
Before, During and After Your Purchase
Your Cat dealer is ready to assist you with your purchasing decision and everything after. Factory trained dealer technicians service every aspect of your forwarder. Preventative maintenance agreements are available for repair before failure options. Scheduled oil sampling programs can be utilized to match your oil samples against Caterpillar set standards. For more information on Cat products, dealer services and industry solutions, visit us at www.cat.com.
EQUIPMENT
Standard Equipment
Electrical
24V system
Master disconnect
Circuit breaker protection
200 Amp Alternator
2 12V Batteries
12 cab mounted halogen lights
2 boom mounted halogen lights
2 rear deck mounted halogen lights
IQAN MDL full function control system with on-screen diagnostics, switch panels and engine control
Operator Environment
Pressurized ROPS-FOPS-OPS cab
Isolation mountings
Electric cab tilt
Tinted 12.7 mm (½ in) polycarbonate windows
Air suspension seat
Air conditioner/heater with auto temp control
Window defroster vents
Horn
2 12V power ports
Dome light
Radio ready
Cup holder
Hydraulic step and access platform
Power Train
Cat C7 ACERT engine
Hydrostatic drive system
2-speed drop box
Rear axle disconnect
8.5C drive line components
NAF axle modules
Hydraulics
200 cc (12.2 in³) variable displacement implement pump
Closed circuit load sensing valves
Hydraulic driven cooling fan
Vacuum pump
Electric refill pump
Brake System
Driving brake/work brake
Parking brake
Loader
Epsilon X120F80 with G141 rotator
8.0 m (26.25 ft) reach
Epsilon FG37 grapple
Load Deck
5.41 m (17.75 ft) load deck
Shock cushioned head board mounting
Hydraulic extendable head board
Adjustable load stake spacing
Bolt-on tail piece
Optional Equipment
Wheels/Tires
650/65 × 26.5, carrier width is 3180 mm (125.19 in)
CALL NOW TO LEARN MORE

Larry Cummins
865-595-4954

Ed Rottmann
865-595-1060 or 865-599-8225