815F SERIES 2
The new 815F Series 2 Soil Compactor offers greater power, productivity and compaction. Combine this with the finest customer support system in the world - the Caterpillar® dealer network of service and parts - and you get the lowest operating cost with the best up-time in the industry!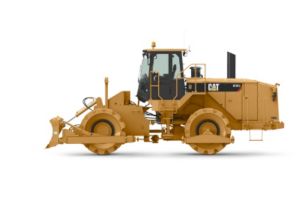 DETAILS
SPECIFICATIONS
Engine
Engine Model
Cat® C9 ACERT™
Transmission
Steering
Wheels
Hydraulic System
Relief Valve Setting
2255 psi
Lift Cylinder Bore x Stroke
101.6 mm x 627 mm 3.99 in x 24.68 in
Tilt Cylinder Bore x Stroke (option)
101.6 mm x 167 mm 3.99 in x 6.6 in
Axles
Brakes
Standards
Meet OSHA regulations
Cab
ROPS/FOPS
Meet SAE and ISO standards
Sound Performance
Standards
Meet required sound standards
Blades
Moldboard - Length
11.98 ft
Height - Including Cutting Edge
2.82 ft
Maximum Depth of Cut
0.71 ft
Maximum Lift Above Ground
2.67 ft
Blade Tip Angle - Total
59.2 °
Blade Tilt Angle - Right - Mechanical
6.5 °
Blade Tilt Angle - Left - Mechanical
5 °
Width - Over End Bits
12.3 ft
Weights
Operating Weight
45765 lb
Service Refill Capacities
Cooling System
14.5 gal (US)
Transmission
13.2 gal (US)
Differential - Final Drives - Front
17.1 gal (US)
Differential - Final Drives - Rear
17.1 gal (US)
Hydraulic Tank
23.2 gal (US)
Dimensions
Height - Top of Cab
10.98 ft
Height - Top of Exhaust Pipe
10.58 ft
Height - Top of Hood
7.86 ft
Height - Bottom of Ladder
1.52 ft
Centerline of Rear Axle to Hitch
5.49 ft
Length - With Blade on Ground
22.46 ft
Width - Over End Bits
12.34 ft
Width - Over Drums
10.64 ft
Centerline of Rear Axle to Edge of Rear Bumper
6.14 ft
Height - Rear Bumper
2.53 ft
Operating Specifications
Turning Radius Blade - Outside
21.2 ft
Turning Radius Blade - Inside
9.7 ft
Shipping Specifications
BENEFITS & FEATURES
Blade
Tamping Wheels and Tips
Structures
Serviceability
Power Train
Optional Features
Operator Station and Controls
Complete Customer Support
EQUIPMENT
Standard Equipment
ELECTRICAL
Alarm,backup
Alternator (80 amp)
Batteries, maintenance-free (2)
Diagnostic connectors
Lighting system, halogen (front, rear and cab-mounted)
Starting and charging system (24-volt)
Starting receptacle for emergency starts
OPERATOR ENVIRONMENT
Blade control system locks
Cab, pressurized and sound suppressed (ROPS/FOPS)
Coat hook
Cigar lighter and ashtray
Caterpillar Monitoring System
Dome light (cab)
Fuses, blade style (in-cab)
Heater and defroster
Horn, electric (steering wheel mounted)
Hydraulic steering
Lunchbox and beverage holders
Mirrors, rearview (interior mounted)
Seat, mechanical suspension
Seat belt, retractable, 76 mm (3 in) wide
Steering column, adjustable
Wet-arm wipers/washers (front and rear)
POWER TRAIN
Brakes, fully hydraulic, enclosed, wet-disc
Engine, Cat® C9 ACERT™
Fuel priming pump
Muffler
Radiator, Next Generation Modular (NGMR)
Starting aid (ether)
Torque converter
Transmission, planetary (3 forward/3 reverse speeds)
OTHER STANDARD EQUIPMENT
Cat O-ring face seals/couplings
XT™ hoses
Cleaner bars
Guards
Hood, metallic with lockable service doors
Hitch, drawbar with pin
Hydraulic oil cooler
Oil sampling valves
Trunnion
Tamper wheels
Vandalism protection caplocks
BULLDOZERS
Bulldozer blade, hydraulics and linkage are not included in standard equipment
ANTIFREEZE
Premixed 50 percent concentration of Extended Life Coolant with freeze protection to -34°C (-29°F)
CALL NOW TO LEARN MORE

Larry Cummins
865-595-4954

Ed Rottmann
865-595-1060 or 865-599-8225



HOW CAN WE HELP?
SHARE YOUR FEEDBACK OR ASK A QUESTION