AP300F PAVER
The AP300F is a small to mid-sized paver with a paving range from 1.75 m to 4.0 m (5.6 - 11.1 ft), making it a perfect fit for urban streets, cycle and walking paths, shoulders, as well as other small and medium job sites. A reduction option reduces the paving width to 700 mm (27 in) for trenches and other narrow applications. Technologically advanced features such as eco-mode, auto-fill, single-touch feeder activation, and automated travel mode make this paver and screed combination extremely productive and versatile for large and small contractors.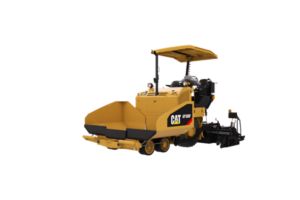 DETAILS
SPECIFICATIONS
Weights
Operating Weight - With SE34 VT
18078 lb
Operating Weight - With SE34 V
17637 lb
Operating Specifications
Standard Paving Range
1.75 m to 3.42 m (5.6 ft to 11.1 ft)
Dimensions
Truck Entry Height
21.5 in
Truck Entry Width
10.3 ft
Operating Specifications
Maximum Paving Speed
200 ft/min
Maximum Paving Width
13.1 ft
Minimum Paving Width
27.5 in
Engine
Dimensions
Operating Height - With Canopy
11.2 ft
Service Refill Capacities
Dimensions
Operating Specifications
Maximum Travel Speed
10 mile/h
Service Refill Capacities
Washdown Spray Tank
6.2 gal (US)
BENEFITS & FEATURES
High Efficiency Powertrain
Automation Enhances Material Flow
Comfort and Visibility
Application Versatility
Simplified Service
CALL NOW TO LEARN MORE

Larry Cummins
865-595-4954

Ed Rottmann
865-595-1060 or 865-599-8225



HOW CAN WE HELP?
SHARE YOUR FEEDBACK OR ASK A QUESTION