8.6M (11.2)YD GENERAL DUTY
Cat General Duty buckets have the General Duty wear package. This wear package has hardened plates and gives optimized payload by giving protection only in the areas that need it most.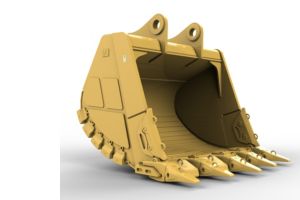 DETAILS
SPECIFICATIONS
Material Density
2781 lb/yd³
Liner Package
General Duty
BENEFITS & FEATURES
Versatile
General Duty buckets are designed for use in a variety of topsoils and clays with some amount of rock.
Sized for your machine
A full line of buckets is matched perfectly for the 6015B machine with buckets made for materials ranging from coal to heavy rock.
Hammerless GET
6015B buckets are fully supported by Cat with a variety of C70 hammerless GET options.
Fully rebuildable
Cat General Duty buckets have our General Duty wear package with replaceable external wear bars available as a kit or individually.