6.6M (8.6)YD HEAVY DUTY
Cat Heavy Duty buckets have the Heavy Duty wear package, shown here in gray, it utilizes hardened plates on the exterior of the bucket in the highest wear areas. Additionally the HD buckets come standard with CapSure cutting edge segments and side bar protectors.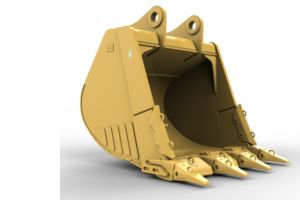 DETAILS
SPECIFICATIONS
Material Density
3033.9 lb/yd³
BENEFITS & FEATURES
Productivity and Versatility
A full line of buckets is matched perfectly for the 6015B machine with buckets made for materials ranging from coal to heavy rock.
Efficient
Pass matched to Cat and Unit Rig Trucks for an efficient system at your site.
Hammerless GET
6015B buckets are fully supported by Cat with a variety of C70 hammerless GET options.
Fully rebuildable
Cat Heavy Duty buckets have our Heavy Duty wear package with replaceable external wear bars available as a kit or individually. Full lip shrouds are included with the bucket.