2.3 M3 (3.0 YD3), PIN ON
Cat® Loader General Purpose Buckets increase productivity due to their bigger, tougher design.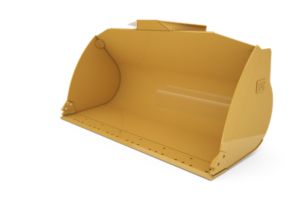 DETAILS
SPECIFICATIONS
BENEFITS & FEATURES
Productive Design
General Purpose Buckets are built larger and tougher to increase productivity over standard buckets.
Wedge Floor Design
The wedge floor design increases floor strength to accommodate increased breakout force of Z-bar linkage Wheel Loaders.
Shell Tine Constructions
The bucket hinges are an integral part of a structure that extends down under the bucket shell to the cutting edge. This structure efficiently transmits cutting edge loads back to the lift arms, shielding the bucket shell from bending forces and keeping it up out of the dirt.