914 MM (36 IN)
Heavy Duty Buckets for Cat® Mini Excavators are designed for maximum performance and value over a broad range of applications in abrasive applications such as mixed dirt, clay, and rock.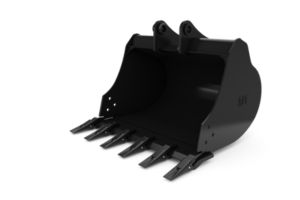 DETAILS
SPECIFICATIONS
Base Edge Thickness
0.8 in
BENEFITS & FEATURES
Application
Ideal for utility trenching, digging footings, backfilling and general excavating in construction, landscaping and utility applications.
Bucket Design
Formed back wrapper design enhances bucket loadability and production.
Superior Bucket Fill
Optimum wrapper angle and no sharp corners promote superior bucket fill and reduce material packing.
Bucket Shape
Enhanced bucket shape allows material to flow more easily. Tapered bucket sidewalls allow for easy dumping of sticky material.