1.6 M3 (2.1 YD3), BOLT-ON CUTTING EDGE
Cat® Flat Floor Buckets are Performance Series, General Purpose Buckets that incorporate a specially designed long floor and a rear cutting edge to provide optimum results and productivity when performing light grading or back-dragging—while retaining all the premium loading-characteristic of the Performance Series.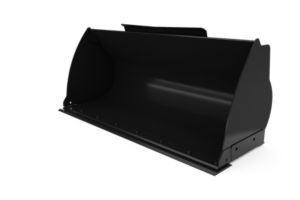 DETAILS
SPECIFICATIONS
Base Edge Thickness
0.8 in
Cutting Edge Thickness
0.7 in
Interface Type
ISO Coupler
BENEFITS & FEATURES
Application
Ideal for rough grading, utilizing the rear cutting edge, loading and handling.
Rugged Design
Additional wear plates on bottom surface of bucket improves bucket life in course aggregate applications.
Performance Series Technology
Performance Series Technology - Innovations in bucket design that improve load-ability of buckets, increasing productivity and decreasing fuel costs.
Maximum Machine Usage
Bucket capacity and loading characteristics are matched to machine capabilities to ensure maximum usage and productivity.