XQ425
The Cat® XQ425 provides world class performance and enhanced usability. This model is powered by the fuel-efficient Cat C13 ACERT® engine equipped with the Cat NOx Reduction System. Equipped with the new EMCP 4.4 control panel, the XQ425 features a user-friendly interface and automatic generator set paralleling. A principle advantage of the control system offers simpler and faster voltage changes. Providing greater flexibility when moving between multiple job sites with differing frequency and voltage needs, the auto-configuration capability eliminates the time required when reprogramming units and potential errors. Additional features include lower noise levels and improved part load fuel consumption.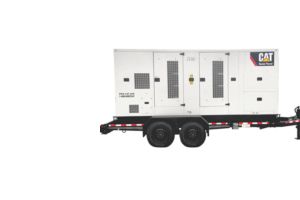 DETAILS
SPECIFICATIONS
Generator
Rating
375 ekW (470 kVA) Standby
Engine
Dimensions
Height - With Trailer
126.1 in
Height - Without Trailer
104 in
Length - With Trailer
283.7 in
Length - Without Trailer
208.7 in
Weight - With Trailer, Lube, Oil and Coolant
17930 lb
Weight - Without Trailer, With Lube Oil and Coolant
14700 lb
Width - With Trailer
102 in
Width - Without Trailer
60 in
Engine
Cat® Diesel Engines
C13 ATAAC, I-6 4-stroke water cooled diesel
BENEFITS & FEATURES
FUEL/EMISSIONS STRATEGY
Meets U.S. EPA Tier 4 Final and CARB Certified for Non-Road Mobile applications at all 50 and 60 Hz ratings
SINGLE-SOURCE SUPPLIER
Factory designed and fully prototype tested with certified torsion vibration analysis available
CAT® C13 Tier 4 Final DIESEL ENGINE
Utilizes ACERT™ Technology and Cat NOx Reduction System (NRS)
CAT CEM (Clean Emissions Module)
Aftertreatment module consists of Diesel Oxidation Catalyst (DOC), Diesel Particulate Filter (DPF), and Selective Catalytic Reduction (SCR)
DIESEL EXHAUST FLUID (DEF) Tank
12 gallon DEF tank with on tank fill and integrated pump, level sensor and heating elements
CAT EMCP 4.2 CONTROL PANEL
Fully featured power metering, protective relaying and engine/generator control and monitoring
CAT SR4B SERIES GENERATOR
Designed to match performance and output characteristics of Cat diesel engines
CAT DIGITAL VOLTAGE REGULATOR (Cat
ENCLOSURE
Highly corrosion resistant 12 gauge sheet steel construction
DISTRIBUTION PANEL
Switchable via linkboard from 480/277V 3 phase to 240/139V 3 phase (can be adjusted down to 208/120V 3 Phase)
REAR CUSTOMER ACCESS
Separate control panel and distribution panel access doors
REDUCED ENVIRONMENTAL IMPACT
EPA Tier 4 Final technology
110% spill containment of onboard engine fluids
RENTAL READY FEATURES
Anti-condensation heater 110-120 VAC
EQUIPMENT
Standard Equipment
Air Inlet
Air cleaner, two stage cyclonic/paper with dust cup and service indicator
Charging System
UL/CSA listed 120 V, 20 Amp battery charger, shock mounted and enclosed in dust proof housing
Control Panel
EMCP 4.2 genset mounted controller
Cooling System
Package mounted radiator with vertical air discharge provides 43° C ambient capability at prime +10% rating
Distribution System
NEMA 1 steel enclosure, separate hinged, lockable door with rust resistant pinned hinges
Enclosure
Sound attenuating, 12 gauge sheet metal enclosure limits overall noise to 77 dB(A) @ 7m (23')
Engine
EPA Tier 4 Final certified Cat C13 ATAAC heavy duty diesel engine
Clean Emissions Module
Cat Clean Emissions Module comes with integrated DOC, DPF & SCR and is located in separate compartment
DEF System
12 gal plastic DEF tank provides 24 Hrs run time @ 75 % Prime + 10% rating similar to fuel system. DEF tank is equipped with integrated pump, level sensor to display the DEF level in EMCP panel and electrically heated lines from DEF tank to CEM. Equipped with Low and critically low level alarms with a critically low shutdown
Fuel System
520 gal (1970 L) double wall fuel tank, UL142, ULC, and Transport Canada certified, 27 hr runtime @ 75% prime +10% rating, internal fuel fill
Generator
SR4B 450 frame, three-phase, random wound, 12-lead design, permanent magnet excited, 0.750 pitch
Lube System
Pump, integral oil cooler, lube oil, filter, filler and dipstick, and oil sampling valve
Mounting System
Generator set soft mounted to the heavy duty, fabricated steel base frame
Starting System
Single electric starting motor, 24V
General
Canadian Standards Authority (CSA) certified
Optional Equipment
CAT EMCP 4.4 CONTROL PANEL
Simple user friendly interface and navigation
Automatic set-point adjustment integrated with voltage and frequency selection
UL508A recognized
Convenient service access for Cat Service tools (not included)
Integration with the Cat DVR provides enhanced system monitoring
Ability to view and reset diagnostics of all controls networked on primary CAN datalink eliminates need for separate service tools for troubleshooting
True RMS AC metering, 3 phase
Multiple stored setpoint group selection via switched input eliminates need to reprogram control when switching voltages and frequencies
EMCP 4.4 ENGINE OPERATOR INTERFACE
Controls
Digital indication for
Shutdowns with common indicating light for
Emergency stop pushbutton
Panel illuminating lights
Display navigation keys including two shortcut keys for Engine Parameters, Generator Parameters, Control and main menu
Fuel level monitoring and control
EMCP 4.4 GENERATOR PROTECTIVE RELAYING
Generator protective features provided by EMCP 4.4
MODES OF OPERATION
Provides for
Single Unit Stand-Alone Mode
Multi-Unit Mode
CALL NOW TO LEARN MORE

Andy Downs
423-463-2131 or 423-698-6943

Neal Reinhardt
865-595-1034 or 865-771-1036



HOW CAN WE HELP?
SHARE YOUR FEEDBACK OR ASK A QUESTION