G3412
From natural gas-fueled combined heat and power (CHP) systems and emergency power for facilities, to renewable biogas energy to support the local grid, or electricity generated from coal mine gases, Caterpillar has a wide range of reliable gas power solutions.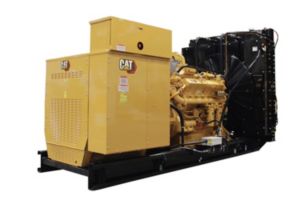 DETAILS
SPECIFICATIONS
Generator Sets Specification
Maximum Continuous Rating
453 ekW
Generator Set Specifications
Fuel Type
Natural Gas, Biogas, Field Gas, Propane
Generator Sets Specifications
Maximum Electrical Efficiency
37.30%
Maximum Standby Rating
500
Engine Specifications
Generator Set Dimensions
Dry Weight - Genset
9664 lb
BENEFITS & FEATURES
Emissions
Meets most worldwide emissions requirements down to 0.5 g/bhp-hr Nox level without aftertreatment
Full Range of Attachments
Wide range of bolt-on system expansion attachments, factory designed and tested Flexible packaging options for easy and cost effective installation
World Wide Product Support
Cat dealers provide extensive post-sale support including maintenance and repair agreements. Cat dealers have over 1,800 dealer branch stores operating in 200 countries. The Caterpillar S•O•S℠" program cost effectively detects internal engine component condition, even the presence of unwanted fluids and combustion by-products
CAT SR4B Generator
Designed to match performance and output characteristics of Caterpillar gas engines. Industry leading mechanical and electrical design. High efficiency
CAT EMCP4.2 Control Panel
The EMCP controller features the reliability and durability you have come to expect from your Cat equipment. EMCP4.2 is a scalable control platform designed to ensure reliable generator set operation, providing extensive information about power output and engine operation. EMCP4.2 systems can be further customized to meet your needs through programming and expansion modules.
Proven System
Field proven in a wide range of apllications worldwide, fully protype tested, and certified torsional vibration analysis available
CAT G3412 Gas Engine
Robust high speed block design provides prolonged life and lower owning operationg costs. Designed for maximum performance on low pressure pipeline natural gas. Simple open chamber combustion system for reliability and fuel flexibility. Leading edge technology in ignition system and air/fuel ratio control for lower emission and engine efficiency. One electronic control module handles all engine functions: ignition, governing, air/fuel ratio control and engine protection
CAT electronic control system
Simple user friendly interface and navigation. Digital monitoring, metering and protection setting. Fully-featured power metering and protective relaying. Remote control and monitor capability options
CALL NOW TO LEARN MORE

Andy Downs
423-463-2131 or 423-698-6943

Neal Reinhardt
865-595-1034 or 865-771-1036