G3306
Cat® G3306 Industrial Gas Engine. Ratings: 108-157 bkW (145-211 bhp) @ 1800 rpm are NSPS site compliant capable with customer-supplied aftertreatment. Some ratings also have standard emission settings available for export only. For specific emission information, please consult your local Cat Dealer.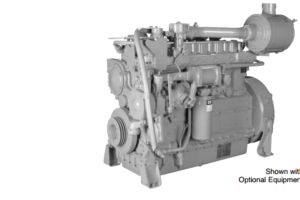 DETAILS
SPECIFICATIONS
Power Rating
General
Displacement
10.5 L (638 in³)
Aspiration
Turbocharged Aftercooled (TA)
Engine Configuration
Engine - Continuous
Engine Dimensions - Approximate
Weight - Net Dry
948 kg (2090 lb)
BENEFITS & FEATURES
Engine Design
Proven reliability and durability
Ability to burn a wide spectrum of gaseous fuels
Robust diesel strength design prolongs life and lowers owning and operating costs
Broad operating speed range
Full Range of Attachments
Large variety of factory-installed engine attachments reduces packaging time
Quality
Every Cat engine is manufactured to stringent quality standards in order to assure customer satisfaction.
World-class Product Support Offered Through Global Cat Dealer Network
Scheduled maintenance, including SOSSM sample
Customer Support Agreements (CSA)
Caterpillar Extended Service Coverage (ESC)
Superior dealer service network
Extended dealer service network through the Cat Industrial Service Distributor (ISD) program
World-class Product Support Offered Through Global Cat Dealer Network
Scheduled maintenance, including SOSSM sample
Customer Support Agreements (CSA)
Caterpillar Extended Service Coverage (ESC)
Superior dealer service network
Extended dealer service network through the Cat Industrial Service Distributor (ISD) program
EQUIPMENT
Standard Equipment
Air Inlet System
Air cleaner
Air cleaner rain cap
Service indicator
Control System
Hydra-mechanical governor
Cooling System
Thermostats and housing
Jacket water pump
Aftercooler water pump
Aftercooler core
Exhaust System
Watercooled exhaust manifolds
Dry exhaust elbow
Flywheels & Flywheel Housings
SAE No. 1 flywheel
SAE No. 1 flywheel housing
SAE standard rotation
Fuel System
Gas pressure regulator
Natural gas carburetor
Ignition System
Altronic V ignition system
Lube System
Crankcase breather — top mounted
Oil cooler
Oil filter
Oil pan — full sump
Oil filler and dipstick
General
Paint — Cat yellow
Crankshaft vibration damper and pulley
Lifting eyes
Optional Equipment
Charging System
Battery chargers
Charging alternators
Ammeter gauge
Ammeter gauge and wiring
Control System
PSG Woodward governor
Vernier and positive locking control
Cooling System
ATAAC conversion
Aftercooler group
Expansion tank
Heat exchanger and expansion tank
Radiator
Blower fan for customer supplied radiators
Suction fan for customer supplied radiators
Fan drives for customer supplied radiators
Fan adapter for customer supplied radiators
Belt tightener
Exhaust System
Flexible fittings
Elbows
Flanges
Pipes
Rain caps
Mufflers
Fuel System
Low pressure gas conversion
Fuel filter
Ignition System
Altronic III
CSA shielded ignition
Wiring harness
Dual timing
Instrumentation
Gauges and instrument panels
Power Take-Offs
Auxiliary drive pulleys and auxiliary pump
Enclosed clutch and clutch support
Flywheel stub shaft
Front stub shaft
Protection System
Mechanical shutoff
Gas valves
Starting System
Air starting motor
Air pressure regulator
Air silencer
Electric starting motors with start switch installed/ shipped loose
Starting aids
Battery sets
CALL NOW TO LEARN MORE

Andy Downs
423-463-2131 or 423-698-6943

Neal Reinhardt
865-595-1034 or 865-771-1036