ENGINE PARALLELING AND INTEGRATION CONTROL (EPIC)
Caterpillar offers standard paralleling solutions, which can be provided in a wide variety of market applications. The Engine Paralleling and Integration Control (EPIC) product line provides standard paralleling controls in a remote cabinet separate from the engine generator set and separate from switchgear (breakers and bus). EPIC allows for operating generator sets in pre-configured Emergency Standby, Prime power and Parallel with Utility configurations. It eliminates the need for traditional hardwired components such as synchronizers, power factor controllers, load share modules, cross-current compensation devices, annunciators, switches and meters by replacing them with the industry proven Caterpillar EMCP 3.S dedicated controller and color touch screen interface, and is an alternative to switchgear mounted controls.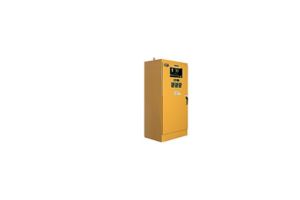 DETAILS
SPECIFICATIONS
Technical Summary
Configuration
Remote modular paralleling control system (Master Control Panel for the first 2 gensets, separate add-on control panels for up 8 more gensets, and optional control panel for 1 utility breaker)
Modes of Operation
Emergency Standby with redundant master control, Utility paralleling, peak shaving, and closed transition to/from Generator Power (with optional utility control panel)
Application
LV and MV (208V-27kV)
Generator Protective Devices
ANSI Protective Devices
15/25. 27/59, 81 O/U, 32, 40, 90 (Industrial Grade)
Utility Protective Devices
ANSI Protective Devices
15/25. 27/59, 81 O/U, 32,47 (Industrial Grade)
Environmental Parameters
Certifications
UL / cUL 508A
Control Panel Enclosure
NEMA 12
Operating Temperature
0°C to 55°C
Storage Temperature
-20°C to 60°C
BENEFITS & FEATURES
Product Features
Easy Connectivity to Generator Mounted Electrically Operated Circuit Breaker or Freestanding Switchgear with Electrically Operated Breaker
High Speed Ethernet Supervisory Network
Redundant Master Technology
Bumpless Backup of Master Control Functions
Password Protection for Critical Settings
Automatic Start/Stop
Automatic Load and VAR Sharing
Automatic "Dead Bus" Coordination
Automatic Power Factor Control when in Parallel with Utility Power
Programmable Load Shed / Load Add Functions
Touch Screen (HMI) Display
EQUIPMENT
Standard Equipment
Instant Auto Selector Switch
Allows user to return sysem to automatic in the event of a touchscreen failure
Optional Equipment
Generator Control Panel (for 3-10 gensets)
With breaker position indications and circuit breaker control switch
Utility Control Panel (for utility paralleling and control)
With utility close lockout switch, breaker position indications, and circuit breaker control switch
Supplemental Hardware 25 Device
Provides additional discrete synchronization protection
Data Table Interface
Accommodates interface with a building management system
Generator Demand Priority Control
An automatic priority sequencing function to modulate the number of gensets online to control load percentages per machine, assist with fuel efficiency, and maintain adequate reserve capacity
CALL NOW TO LEARN MORE

Andy Downs
423-463-2131 or 423-698-6943

Neal Reinhardt
865-595-1034 or 865-771-1036



HOW CAN WE HELP?
SHARE YOUR FEEDBACK OR ASK A QUESTION