CG132B-12
The Cat CG132B family of gas engines are perfectly tailored to the challenges of the power plant in an age of global value chains.Highly efficient with low operating and installation costs and lubricant consumption, the Cat CG132B gas generator set is available with outputs from 400kW to 800kW and comes with the Total Plant and Energy Management (TPEM) system.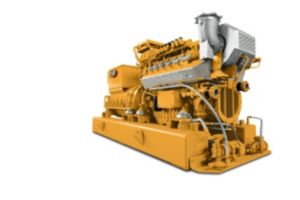 DETAILS
SPECIFICATIONS
Gas Generator Sets Specification
Maximum Continuous Rating
600 kW
Fuel Type
Natural Gas, Biogas
Maximum Electrical Efficiency
43.3% / 42.4%
Maximum Standby Rating
600 kW
Engine Specifications
Generator Set Dimensions
Dry Weight - Genset
15432 lb
BENEFITS & FEATURES
High Efficiency, Lower Operating Costs
Highest efficiency in its output class.
Up to 42.5% improved electricl efficiency.
Low installation, Building and Operating Costs
Compact design with integrated fuel tanks for daily refilling.
Lower setup costs than comparable engines.
Reduced investment costs through expanses product scope and TPEM digital control system
Long maintenance intervals (up to 80,000 hours)
Optimized oil management
Optimized Lubrication Consumption
Consumes less than 0.1g/kW of oil
Up to 66% lower lubricant consumption than comparable models
Longer lubricant change (up to 4,00 hours) and oil change intervals
Flexible Fuel Usage
Our gas-mixer technology and Total Electronic Management System let you use a wide variety of gases, including problematic gases like digester, landfill and sewage gases
Flexible Fuel Usage
Our gas-mixer technology and Total Electronic Management System let you use a wide variety of gases, including problematic gases like digester, landfill and sewage gases
EQUIPMENT
Standard Equipment
Air Inlet
One-element single-stage air cleaner with enclosure and sevice indicator
Turbocharger with a water-cooled bearing case for all cylinder
Control Panels
TPEM (Total Plant & Energy Management System)
Cooling
Jacket water and SCAC thermostats
Electrical jacket water and aftercooler coolant pump
flange connections for JW inlet and outlet
ANSI/DN customer flange connections for JW inlet and outlet
Exhaust
Closed crankcase ventilation system
PEARL/Low resistence exhaust system
Exhaust waste gate for the CG132B-16
Fuel system
Electronic fuel metering valve
Pre-chamber spark plugs
Independently controlled cylinder monitoring and ignition system
Generator
Reactive droop
Bus bar connections
Winding temperature detectors
Anti-condensation space heater
3-phase sensing and KVAR/PF control
closed-coupled generator result in no torque transmission to the base frame
grid code generator
Starting/Charging
24V starting motors
24V starting motors
Battery disconnect switch
Battery disconnect switch
General
Crankshaft vibration damper and guard
Optional Equipment
Air Inlet
Mounting stand
Air cleaner with precleaner
CALL NOW TO LEARN MORE

Andy Downs
423-463-2131 or 423-698-6943

Neal Reinhardt
865-595-1034 or 865-771-1036