C7 ACERT™ (HAZARDOUS LOCATION)
Cat C7 ACERT hazardous location engines are the ideal solution for specialized and demanding operations in the oilfield. Engines are hazardous-location certified from the factory to minimize installation design, time, and cost. Decades of field operation and intense research and development allow Cat C7 ACERT hazardous location engines to deliver excellent performance with low operating costs and emissions. Hazardous location engines are certified to operate in potentially explosive environments. Applications powered by C7 ACERT engines include pump skids, acidizing units, cementing units, coil tubing units, and hydraulic power units. Cat engines are backed by the worldwide network of Cat dealers ready to support your operation with technical support, service, parts, and warranty. C7 ACERT hazardous location engines, with ratings 153-172 bkW (205-230 bhp) @ 2200 rpm meet IMO Tier II, U.S. EPA Marine Tier 3, EPA Non-road Tier 3 equivalent and EU Stage IIIA equivalent emission standards. They are available using U.S. EPA and EU Flexibility, and for other regulated and non-regulated areas.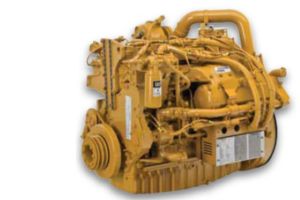 DETAILS
SPECIFICATIONS
General Specifications
Governor and Protection
Electronic ADEM™ A4
Aspiration
Turbocharged-Aftercooled
Flywheel and Flywheel Housing
SAE 1,2, or 3
Flywheel Teeth
156 (SAE 1), 134 (SAE 2), 126 (SAE 3)
Rotation from Flywheel End
Counterclockwise
Emissions
Emissions
EPA & CARB Non-Road Tier 3, EU Stage IIIA, EPA Marine Tier 2, IMO Tier II
Dimensions
Capacity for Liquids
Lube Oil System - Refill
36 gal (US)
Cooling System
78.2 gal (US)
BENEFITS & FEATURES
Cat® Hazardous Location Engine
Cat Petroleum Hazardous Location Engines are third-party certified from Caterpillar - Class I Division 2 (NEC 500), - Class I Zone 2 (NEC 505), and - ATEX Directive (94/9/EC) Group II, 3G environments (Zone 2) with Gas Group IIA, Electrical IIC, and Temperature Class T3
Technology
- Electrical harness containing point-to-point wiring without splices in any power/signal wires - Electrical harnesses and connectors are overmolded and are routed through urethane tube for protection against impact and vertical flame propagation. - To meet safety requirements, connectors require the use of a special tool to be disconnected and bear the "do not disconnect while energized" warning. - Optional ATEX and NEC certified 25-foot customer harness - ECU is certified as part of the engine to restricted breathing per EN 60079-15. ECU is protected with a stainless steel guard. - Fuel injector connections at valve cover bases are protected with stainless steel guards
Advanced Digital Engine Management
ADEM A4 engine management system integrates speed control, air/fuel ratio control and ignition/detonation controls into a complete engine management system. control system with integrated digital ignition, engine protection and monitoring
Air System
- Remote aftercooler (REMAC, air-to-air) and separate circuit (water-to-air) aftercooler options available to match any application requirement. - Water-cooled exhaust manifold and turbo maintain ATEXcompliant skin temperature during operation - Air Inlet shut-off enables emergency shut-off for operator
Improved Serviceability
- Front, right, and rear dipsticks - Remote oil and fuel filters - 12V and 24V electronic systems to improve application flexibility
Custom Packaging
Trust a Cat factory custom package to meet your exact petroleum application needs. Cat engines, generators, enclosures, controls, radiators, transmissions — anything your project requires — can be custom designed and matched to create a one-of-a kind solution. Custom packages are globally supported and are covered by a one-year warranty after startup.
Full Range of Attachments
Large variety of factory-installed engine attachments reduces packaging time
Testing
Every engine is full-load tested to ensure proper engine performance
Product Support Offered Through Global Cat Dealer Network
More than 2,200 dealer outlets - Cat factory-trained dealer technicians service every aspect of your petroleum engine - Cat parts and labor warranty - Preventive maintenance agreements available for repair-beforefailure options - S•O•S SM program matches your oil and coolant samples against Caterpillar set standards
Over 80 Years of Engine Manufacturing Experience
Ownership of these manufacturing processes enables Caterpillar to produce high quality, dependable products.
Over 80 Years of Engine Manufacturing Experience
Ownership of these manufacturing processes enables Caterpillar to produce high quality, dependable products.
Web Site
For all your petroleum power requirements, visit www.catoilandgasinfo.com.
EQUIPMENT
Standard Equipment
Air Inlet System
Turbocharger, separate circuit (SCAC) or remote (REMAC) aftercooler
Single, right-side, center-mounted turbo with water-cooled turbine housing
Air inlet, RH side, rear facing, 101.6 mm (4 in.) connection type
Control System
Electronic governing, PTO speed control
Programmable ratings
Cold mode start strategy
Automatic altitude compensation
Fuel cooled ECU
Power compensation for fuel temperature
Programmable low and high idle
Electronic diagnostics and fault logging
Programmable monitoring system (engine speed, temperature, pressure)
J1939 broadcast (diagnostic and engine status)
Certified electrical control system
Derated engine: automatic ambient temperature compensation
Cooling System
Thermostats and housing, front-facing outlet — 51 mm (2.01 in) connection
Jacket water pump — belt-driven, centrifugal
Water pump — inlet RH front vertical inlet (pointing down) — 63 mm (2.48 in)
Exhaust System
Single, right-side, center-mounted turbo with water-cooled turbine housing
Exhaust manifold — water-cooled
Front turbo exhaust
Flywheels and Flywheel Housing
Mandatory selection of: SAE No. 1, SAE No. 2, or SAE No. 3 flywheel and housing SAE standard rotation
Fuel System
HEUI fuel system
Fuel filter — secondary, LH front (2-micron high performance)
Fuel transfer pump — left front
Fuel priming pump — left front
Lube System
Crankcase breather — top rear
Crankcase fumes disposal — RH
Oil cooler — RH
Oil filter — RH
Oil pan — front sump, 31 L (33 qt) oil change capacity
Oil filler — front top valve cover
Oil level gauge — LH rear
Engine oil pump — gear-driven
Oil valve sampling, RH
Power Take-Offs
Crankshaft drive pulley — 2 grooves, 190 mm (7.5 in) diameter, 22.3 mm (0.88 in) wide
General
Vibration damper
Lifting eyes
Literature
No paint
Mandatory Options
Flywheel housing and flywheel
Primary filter/water separator
Turbo orientation
Optional Equipment
Air Inlet System
Precleaner
Air inlet elbow
Charging System
Cooling System
Flywheels and Flywheel Housing
Instrumentation
Gauges and instrument panels
Lube System
Oil pans
Drain and cover
Remote oil filters
Lubricating oils
Mounting System
Structural steel base
Engine support — front and rear
Power Take-Offs
Rear enclosed clutches
Hydraulic pump drives
Crankshaft pulleys
CALL NOW TO LEARN MORE

Andy Downs
423-463-2131 or 423-698-6943

Neal Reinhardt
865-595-1034 or 865-771-1036



HOW CAN WE HELP?
SHARE YOUR FEEDBACK OR ASK A QUESTION