C32 TIER 3 / IMO II
Cat C32 Auxiliary / Diesel Electric Propulsion (US EPA Tier 3 / IMO II)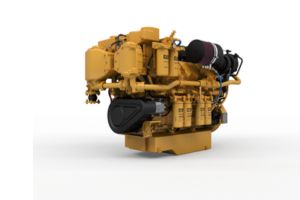 DETAILS
SPECIFICATIONS
Power Rating
Engine Specifications
Aspiration
Turbocharged-aftercooled aspiration
Configuration
Vee 12, 4-stroke-cycle diesel
Rotation
Counterclockwise from flywheel end
Dimensions & Weights
Maximum Engine Dry Weight
7160 lb
Minimum Engine Dry Weight
6950 lb
Engine Specifications
Emissions
U.S. EPA Tier 3 / IMO II emissions certified
Cooling
Heat exchanger or keel cooled
Flywheel Housing
SAE No. 0 with SAE No. 18 flywheel (136 teeth)
Governor
Electronic (A4 ECM)
Oil Change Interval
750 hrs
Rated Engine Speed
1800 rpm
Refill Capacity
Lube Oil System w/Oil filter change: 146 L (38.5 gal)
BENEFITS & FEATURES
SCAC
Separate-circuit aftercooling – no sea water in aftercooler
Fuel System
Reliable electronic controlled unit injector fuel system. Enhanced control of fuel injection optimized through crank timing and the A4 ECM technology. Advanced combustion technology to optimize fuel consumption and meet emissions without aftertreatment.
Power Reserve
Industry leading power reserve
Certifications
Wide range of available Marine Society certifications
Warranty
Industry-leading warranty coverage for factory packaged components
Service
Global dealer network for service in any location
EQUIPMENT
Standard Equipment
AIR INLET SYSTEM
Separate circuit aftercooled (SCAC)
COOLING SYSTEM
Heat exchanger or Keel Cooling
Watercooled exhaust manifold and turbocharger
Hard seawater lines – no flexible hoses
Flanges for cooling connections, ANSI or DIN
FUEL SYSTEM
Duplex fuel filters with hybrid fuel lines
Fuel transfer and priming pump
LUBE SYSTEM
Oil fill, simplex filter and dipstick
Deep or shallow sump oil pan
MOUNTING SYSTEM
Adjustable front support mounting system
GENERAL
Right or left hand service sides
Customer wiring and service tool connector
Optional Equipment
AIR INLET SYSTEM
Closed crankcase fumes disposal
ALARM AND PROTECTION
MECP I control panel
MGCP II or MGCP IIIB control panel with Cat® Alarm and Protection System
FUEL SYSTEM
Primary fuel filter with water separator, fuel cooler
POWER TAKE-OFFS
Front drives including stub shaft and pump drive
Rear SAE A or B pump drives
STARTING SYSTEM
Starting motors – air, electric or dual
CALL NOW TO LEARN MORE

Andy Downs
423-463-2131 or 423-698-6943

Neal Reinhardt
865-595-1034 or 865-771-1036



HOW CAN WE HELP?
SHARE YOUR FEEDBACK OR ASK A QUESTION