C280
Cat C280 Marine Auxiliary Engines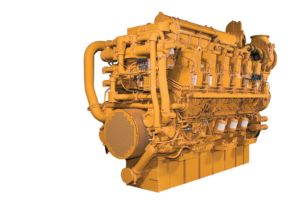 DETAILS
SPECIFICATIONS
Power Rating
Engine Specifications
Configuration
In-Line 6, Vee 8, Vee 12, Vee 16, 4-Stroke-Cycle Diesel
Dimensions & Weights
Maximum Dry Weight
62832 lb
Minimum Dry Weight
34496 lb
BENEFITS & FEATURES
A3 ECU - Advantages
CAN J1939 data link Waterproof connectors, Maintenance-free, Backup ECU for redundant governing
A3 ECU - Electronic Advantages
Load feedback, Programmable droop, Adjustable gain, Adjustable fuel/air ratio control, Histograms of engine operation, Cat Messenger display presents diagnostics and other engine parameters
A3 ECU - Data Advantages through J1939 Link
Engine speed, Boost pressure, Throttle position, Fuel consumption rate, Inlet manifold temperature, Diagnostic codes and events, Configuration, Desired engine speed, Battery voltage, Engine load, Lifetime totals — engine hours, fuel burned, idle fuel, idle hours, Trip totals — average fuel rate, idle fuel, idle hours, engine hours, fuel burned, trip reset
Customer Interface Panel
Interfaces with standard Cat® Marine Monitoring System (PLC in Price List) Provides visual indication of ECU functionality, Accepts 4 — 20 mA or PWM remote throttle speed input, Marine alarm and protection
Electronic Unit Injectors
"Drop-in" installation, No threaded fuel connections, High pressure inside injector only, Does not require double wall fuel lines or leak collection device, Injector synchronization not required
EQUIPMENT
Standard Equipment
AIR INLET SYSTEM
R INLET SYSTEM Aftercooler, fresh water, corrosion resistant coated (air side) Air inlet shutoff Breather, crankcase, top-mounted Turbocharger, rear-mounted, engine oil lubricated
CONTROL SYSTEM
Single Caterpillar A-III Electronic Engine Control Modules with Electronic Unit Injector Fuel System Rigid Wiring Harness (10 amp 24volt power required to drive Electronic Engine Control Modules)
COOLING SYSTEM
Engine coolant water drains
EXHAUST SYSTEM
Dry, gas tight, exhaust manifold
FUEL SYSTEM
Distillate fuel (requires viscosity ranging from 1.4 cSt to 20 cSt at 38 degrees C) Fuel transfer pump (mounted on left hand side) Duplex fuel filters Electronically Controlled Unit Injectors
LUBE SYSTEM
Centrifugal oil filters with single shutoff. Service side engine mounted on cylinder block inspection covers. Includes installed oil lines and single shutoff valve. Filters centrifuge bypass oil from the main lubricating oil pump. Can be serviced with the engine running. Oil filler and dipstick Valve, oil pressure regulating Valves, crankcase explosion relief
GENERAL
Paint, Caterpillar yellow Pumps, gear driven: fuel, oil, jacket water, aftercooler/oil cooler water
SVCE TOOLS/SHIP PROT/FACTORY SUPPORT
Service literature. Included standard with each engine are two (2) complete sets of service literature listed below: 1. Custom parts book CD (serial number specific) 2. Service manual, which includes: Operation & Maintenance, Specifications, Systems Operation, Testing and Adjusting, Disassembly and Assembly manual. Available in paper media and English language only. 3. Technical manual (parts/service information for special equipment). Available in paper media in English language only. NOTE: Custom parts book CD and service manual can be re-ordered through the normal Caterpillar literature ordering system. The technical manual can only be re-ordered through the Project Services at the Caterpillar Lafayette Engine Center facility.
Optional Equipment
COOLING SYSTEM
Jacket Water Heaters
Heat Recovery System
Heat Recovery Thermostats
Cooling System Connection Groups
De-Aerator
CONTROL SYSTEM
Load Sharing module
Direct Rack Module
EXHAUST SYSTEM
Outlet Expander
Flexible Exhaust Fittings
Weld Flange - Optional
FUEL SYSTEM
Fuel Priming Pump
Duplex Primary Fuel Strainer
Fuel System Connections
LUBE SYSTEM
Oil Pan Drain Valve
Prelubrication Connections
Lube Oil Heater
MARINE SOCIETY REQUIREMENTS
PROTECTION SYSTEM
PLC Monitoring System Options
ECP Relay System Options
ECP Mechanical Gauge Instrument Panel
Turbocharger Speed Sensor
Cylinder Pressure Relief Valve
Oil Mist Detector
Protection System Components
Magnetic Pickup
SPARE PART KITS
Intake and Air System
Basic Engine
Cylinder Head
Fuel System
Cooling System
Instrumentation
Cylinder Valve Kits
ENGINE TESTING
Basic System Testing
Special Witness Test
Torsional Vibration Analysis
SERVICE TOOLS / SHIPPING PROTECTION / FACTORY SUPPORT
Commissioning
Service Tools
Factory Packaging
Shipping Protection-Shrink Wrap or Tarp
Shipping Protection-Export Boxing
AID Emblem
Storage Preservation
CALL NOW TO LEARN MORE

Andy Downs
423-463-2131 or 423-698-6943

Neal Reinhardt
865-595-1034 or 865-771-1036



HOW CAN WE HELP?
SHARE YOUR FEEDBACK OR ASK A QUESTION