C18 (SRMP) MARINE GENERATOR SET
The C18 SRMP is the latest generator and brings commonality with our petroleum products as well as interfacing improvements. We have also taken this opportunity to add new price list options. All engine ratings and emissions certifications are the same, however we have been able to increase the power output of the generator for 12 of the 14 ratings.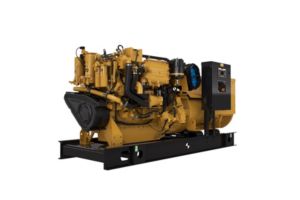 DETAILS
SPECIFICATIONS
Generator Set Specifications
Minimum Rating
260 ekW (325 kVA)
Maximum Rating
565 ekW (706 kVA)
Speed
50 Hz - 1500 rpm, 60 Hz - 1800 rpm
Engine Specifications
Configuration
In-line 6, 4-Stroke-Cycle Diesel
Aspiration
Turbocharged - aftercooled
Generator Set Configurations
Emissions
EPA Tier 3, IMO II, EU IW
Generator Set Dimensions - Keel and Hex Cooled
Generator Set Dimensions - Radiator Cooled
Generator Specifications
IP Rating
IP23 (standard), IP 44 (optional)
Voltage Regulator
CDVR (Digital Voltage)
Generator Set Dimensions - Keel and Hex Cooled
Weight - Approximate
9747 lb
Generator Set Dimensions - Radiator Cooled
Weight - Approximate
13396 lb
BENEFITS & FEATURES
Separate circuit aftercooling system
The primary advantage of the separate circuit aftercooling system (SCAC) is that no sea water circulates through the aftercooler
Emissions
EPA Tier 3 compliant, IMO II and EU IWW compliant
Cooling system
Heat exchanger and Keel cooled options for all ratings
Turbo Configurations
Single turbo configurations for all ratings
Competitive size and weight
Marine Certifications
All major MCS type approvals available from factory
EQUIPMENT
Standard Equipment
Air inlet system
Separate circuit after-cooled (SCAC)
Heavy-duty inlet air filter
Cooling system
SCAC pump, gear driven, for HEX cooled engines only
Jacket water pump, gear driven
SCAC and JW shunt tanks for maintaining proper pump inlet pressures
Exhaust system
Water-cooled exhaust manifold & turbocharger
Round flanged exhaust outlet
Fuel system
Hybrid fuel lines
MEUI™ fuel system
Fuel filter, front service
Fuel transfer and priming pumps
Lube system
Center sump oil pan, deep
Front and top service oil filler locations
Front service dipstick
Mounting system
Vibration Isolators
Formed C-channel rails
Control system
Electronic fuel/air ratio control
SRMP permanent magnet 12-lead generator
Digital voltage regulator
Class H insulation, Class F temperature rise, IP23 protection
Optional Equipment
Exhaust system
Dry Elbows
Water-Cooled Elbows
Flexible Fitting
Flange
Muffler
Muffler, Spark Arresting
Fumes disposal (closed system)
Charging system
Battery Chargers 10 amp
Battery sets: 24V 950-1300 CCA
Charging alternator 24V 105 amp
Control system
Caterpillar alarm and protection
EMCP 4.2 control panel
MGCP III B control panel
Fuel system
Duplex fuel filter – front service
Fuel cooler
Primary fuel/water separator
Instrumentation
Generator service side - LH, RH
Generator terminal box extension
Load sharing module (option for type approved module)
Lube system
Spare pump kits
Duplex oil filter – front service
Manual sump pump
Protection system
Generator protection - IP44
Starting system
Starting motors - electric and/or air
Jacket water heaters
CALL NOW TO LEARN MORE

Andy Downs
423-463-2131 or 423-698-6943

Neal Reinhardt
865-595-1034 or 865-771-1036



HOW CAN WE HELP?
SHARE YOUR FEEDBACK OR ASK A QUESTION