ATC-800 CONTROLLER
The ATC-800 Controller is a programmable microprocessor-based monitoring device for use on Cat transfer switches. Data access and programming operations are performed using the ATC-800's touch sensitive function buttons in conjunction with an easy-to-read illuminated alphanumeric LED display. Both the functional buttons and the display window are part of the device's door mounted front panel. A built in Help button provides user assistance in the form of message displays. The communication option permits monitoring and control of several transfer switches, locally or remotely from a single point. Depending on the application, the user can customize the ATC-800 to meet the particular application. The ATC-800 is equipped to display historical information either via the front panel or over mod bus communications to a personal computer. Source 1 and Source 2 run time, available time and connect time are available, as well as load energized time, number of transfers, date, time and reason for the last 16 transfers.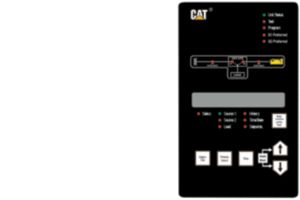 DETAILS
SPECIFICATIONS
Technical Summary
Rating Range
120 to 600V, single phase and three phase @ 50/60 Hz
Transfer Type
Switch application dependent
Switch Type
Switch application dependent
ATC Controller Specifications
Input Control Voltage
120Vac (50/60 Hz) (operating range 65 to 160 Vac)
Voltage Measurements of Utility Source 1, Source 2 and Load
(VAB, VBC, VCA for Three Phase System)
Voltage Measurement Range
0 to 700 Vac
Voltage Measurement Accuracy
+/-1% of full scale
Frequency Measurements Of
Source 1 and Source 2
Frequency Measurement Range
40 Hz to 80 Hz
Frequency Measurement Accuracy
+/- 0.1 Hz
Undervoltage Dropout Breaker Style 50 to 97% of Nominal System Voltage
Contactor Style - 78 to 97%
Undervoltage Pickup
(Dropout +2%) to 99% of Nominal System Voltage
Underfrequency Dropout Range
90 to 97% of Nominal System Frequency
Underfrequency Pickup Range
(Dropout +1 Hz) to 99% of Nominal System Frequency
Overfrequency Dropout Range
103 to 110% of Nominal System Frequency
Overfrequency Pickup Range
101% to (Dropout +1 Hz) of nominal system frequency
Operating Temperature Range
-20 to 70 degree C (-4 to +158 degree F)
Operating Humidity
Up to 90% Relative Humidity (non-condensing)
Enclosure Compatibility
NEMA 12 (std mounting)
NEMA 3R
UV Resistant Faceplate
Ratings
System Voltage Application
120 to 600 Vac (50/60 Hz) (single or three phase)
BENEFITS & FEATURES
Product Features
True rms three-phase voltage sensing on Source 1, Source 2 and load
Frequency sensing on Source 1 and Source 2
Preferred source selection
Programmable set points stored in nonvolatile memory
Modbus communication to personal computer either on site or remote
Viewable historical data on the most recent transfers (up to 16 events) are viewable at switch. Unlimited history storage (remote) available when used with remote software
Load sequencing (optional)
Engine start contacts (2 sets)
Engine test switch with user-selectable test mode and fail-safe
Alarm contact (multiple alarm functions available)
Pretransfer signal (optional)
Heartbeat monitor (flashing light signifies that the ATC-800 is operating properly)
Instrumentation:

Voltmeter (accuracy ±1%)
Reads line-to-line on Sources 1 and 2 and load
Frequency meter (40–80 Hz, accuracy ±0.1 Hz)
Source available time (both sources)
Source available time (both sources)
ATC-800 Programming
Buttons provide easy access to all commonly used ATC-800 functions. When Source 1 is connected and the ATS is operating normally, the automatic indicator light will be flashing and the display window will be blank.
Using the Display Select button, the operator can step through each of the six display families:
Source 1
Source 2
Load History
Time/Date
Set Points
Initial Programming
Factory programming will load all standard features and customer-specified options per the default settings.
Customer Programing
Customers may reprogram set points and other parameters to match their application using the Program switch located on the rear of the unit. Once the programming mode has been activated and the Program light is flashing, the user may access Set Point settings by pressing the Display Select button until the Set Points LED is illuminated.
Values for individual set points may then be altered by pressing the Increase (arrow up) or Decrease (arrow down) buttons. Once a parameter has been reset, the user advances to the next set point by pressing the Step button. While the ATC-800 is in the Program mode, the device continues to operate in accordance with the previously programmed set points and parameters.
The unit is never offline and preset values do not change until programming has been completed. Once reprogramming is complete, the user may return the Program switch to the Run position. At this point, all new values are stored in the ATC-800 nonvolatile memory and the unit returns to Automatic mode.
Open Transition / In Phase Monitor
In-phase monitor is a feature that will allow a transfer between two sources only when the phase difference between the two sources is near zero. This is an open transition transfer that prevents in-rush currents from exceeding normal starting currents in the case where motor loads are being transferred.
Open Transition / Delayed with Load voltage
Load voltage decay transfer is a feature that, after opening the switch for the original source, holds in the neutral position until the voltage on the load is less than 30% of rated voltage. This operation is an open transition that prevents in-rush currents from exceeding normal starting currents in the case where motor loads are being transferred.
Operation
The Cat ATC-800 transfer operates in the following modes:
Loss of normal power
Open transition to alternate source
Normal power restored
Open transition back to normal source
Test (user selectable)
Load transfer—open transition to and from alternate source
No-load transfer—starts alternate power source and allows to run unloaded; no transfer takes place
Applicable Testing
UL Recognized Component
Meets Seismic Requirements of Uniform and CBC 2007 and IBC 2006 (exceeding requirements of worst case Zone 4 levels
Complies with UL 991 environmental tests
Complies with IEC 61000-4-2, 61000-4-3,61000-4-4,and 61000-4-5
Complies with CISPR 11, Class A
Complies with CSA 22.2-178
Complies with FCC Part 15, Subpart B, Class A
CALL NOW TO LEARN MORE

Andy Downs
423-463-2131 or 423-698-6943

Neal Reinhardt
865-595-1034 or 865-771-1036