3516C
The Cat® 3516C is offered at 1506 bkW (2100 bhp) @ 1750 rpm. This engine is available using EPA (U.S.) Flex provisions and for other global regulated and non-regulated areas. It offers unsurpassed performance and durability in a multitiude of industries and applications, including Bore and Drill Rigs, Chippers, Grinders, and Shredders, Cranes, Dredgers, Forestry, Material Handling, Mining and Pumps.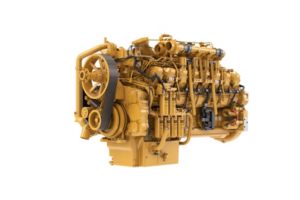 DETAILS
SPECIFICATIONS
Power Rating
Emission Standards
Emissions
U.S. EPA Tier 2 Nonroad Equivalent Emission Standards (Not Currently EPA Certified)
General
Engine Configuration
V-16, 4-Stroke-Cycle Diesel
Aspiration
Turbocharged Aftercooled
Displacement
78 L (4760 in³)
Rotation from Flywheel End
Counterclockwise
Lube System - Refill
807 L (852 qt)
Engine Dimensions - Approximate
Length
3278 mm (129.1 in)
Weight - Net Dry - Basic Operating Engine Without Optional Attachments
7840 kg (17284 lb)
BENEFITS & FEATURES
Reliable, Quiet and Durable Power
World-class manufacturing capability and processes coupled with proven core engine designs assure reliability, quiet operation, and many hours of productive life.
Fuel Efficiency
Fuel consumption optimized to match operating cycles of a wide range of equipment and applications while maintaining low operating costs.
Quality
Every Cat engine is manufactured to stringent quality standards in order to assure customer satisfaction.
World-class Product Support Offered Through Global Cat Dealer Network
Scheduled maintenance, including SOSSM sample
Customer Support Agreements (CSA)
Caterpillar Extended Service Coverage (ESC)
Superior dealer service network
Extended dealer service network through the Cat Industrial Service Distributor (ISD) program
World-class Product Support Offered Through Global Cat Dealer Network
Scheduled maintenance, including SOSSM sample
Customer Support Agreements (CSA)
Caterpillar Extended Service Coverage (ESC)
Superior dealer service network
Extended dealer service network through the Cat Industrial Service Distributor (ISD) program
EQUIPMENT
Standard Equipment
Air Inlet System
Air to Air Aftercooled (ATAAC)
Four turbochargers, center mounted
Control System
ADEM A4 ECM Electronic Engine Control, RH (10 amp DC power required)
Cooling System
Thermostats and housing
Gear driven centrifugal jacket water pump
Connections for radiator cooling
Exhaust System
Exhaust manifold, dry
Four turbochargers with watercooled bearings
Two exhaust outlets, 203 mm (8 in) round flange
Flywheels and Flywheel Housing
SAE No. 00 flywheel (183 teeth)
SAE No. 00 flywheel housing
Fuel System
Fuel filter, LH spin-on type
Fuel transfer pump
Electronically controlled unit injectors
Instrumentation
No standard instrument or gauge panel
Lube System
Crankcase breather, top mounted
Oil cooler
Oil filler and dipstick, LH
Oil pump
Oil filter, LH, spin-on type
Front sump oil pan, 500-hour change interval
Protection System
ADEM A4 ECM monitoring system to provide customer programmable engine
Deration strategies to protect against adverse operating conditions
Emergency stop logic inputs provided at 40 pin customer interface connection
Starting System
Dual 24V electric starting motor, LH, unwired
General
Paint: Caterpillar yellow
Vibration damper
Lifting eyes
CALL NOW TO LEARN MORE

Andy Downs
423-463-2131 or 423-698-6943

Neal Reinhardt
865-595-1034 or 865-771-1036