3406C
The Cat® 3406C Industrial Diesel Fire Pump Engine is offered in ratings ranging from 218-359 bkW (292-482 bhp) @ 1750-2300 rpm. These ratings are non-certified and available for global non-regulated areas. They are FM Approved and UL Listed. Additional 3406C ratings with or without radiators are available, but not FM approved or UL listed. Starting on demand is a must for a fire pump engine - always. Cat® fire pump engines have a reputation for reliable starts and long efficient service.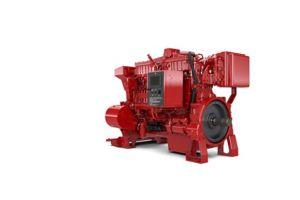 DETAILS
SPECIFICATIONS
Power Rating
Rated Speed
1750-2300 rpm
Emission Standards
Emissions
Non-Certified. Available for global non-regulated areas. FM Approved, UL Listed
General
Engine Configuration
Inline 6, 4-Stroke-Cycle Diesel
Displacement
14.6 L (893 in³)
Aspiration
Turbocharged Aftercooled
Rotation from Flywheel End
Counterclockwise
Cooling System - Capacity
32.2 L (34 qt)
Lube System - Refill
34.1 L (36 qt)
BENEFITS & FEATURES
Reliable, Quiet and Durable Power
World-class manufacturing capability and processes coupled with proven core engine designs assure reliability, quiet operation, and many hours of productive life.
Quality
Every Cat engine is manufactured to stringent quality standards in order to assure customer satisfaction.
World-class Product Support Offered Through Global Cat Dealer Network
Scheduled maintenance, including SOSSM sample
Customer Support Agreements (CSA)
Caterpillar Extended Service Coverage (ESC)
Superior dealer service network
Extended dealer service network through the Cat Industrial Service Distributor (ISD) program
World-class Product Support Offered Through Global Cat Dealer Network
Scheduled maintenance, including SOSSM sample
Customer Support Agreements (CSA)
Caterpillar Extended Service Coverage (ESC)
Superior dealer service network
Extended dealer service network through the Cat Industrial Service Distributor (ISD) program
EQUIPMENT
Standard Equipment
Air Inlet System
Dry or watercooled manifold and turbocharger
Charging System
Charging Alternator, 24 volt, 35 amp
Control System
Hydra-mechanical governor
Cooling System
Thermostats and housing
Jacket water pump, gear driven, centrifugal
Heat exchanger
Expansion tank
FM Required Raw Water Cooling Loops: 1.5" iron, horizontal or vertical, 1.5" 316 stainless steel, horizontal or vertical
Optional Radiator, not UL listed or FM approved
Exhaust System
Exhaust manifold, water-cooled (wet) or dry
Exhaust elbow, dry, 152 mm (6 in), 4 bolt flange
Flywheels and Flywheel Housing
SAE No. 1 flywheel
SAE No. 1 flywheel housing
SAE standard rotation
Fuel System
Fuel filter, LH
Fuel transfer pump
Primary fuel filter / water separator
Instrumentation
Instrument panel, LH
Engine oil pressure gauge
Fuel pressure gauge
Water temperature gauge
Service meter
Lube System
Crankcase breather
Oil cooler
Lube oil filter
Oil filler in valve cover and dipstick, both RH
Rear sump oil pan
Oil filler in valve cover
Dipstick
Protection System
Stop-Start System, automatic (compatible with NFPA 20 requirements, able to be energized from either of two battery sources and capable of manual starter actuation)
General
Vibration damper and guard
Lifting eyes
Paint - fire pump red, optional radiator painted black
CALL NOW TO LEARN MORE

Andy Downs
423-463-2131 or 423-698-6943

Neal Reinhardt
865-595-1034 or 865-771-1036