12CM46DF
Based on the successful CM43C Cat medium speed engine, Caterpillar Motoren, Kiel designed the CM46DF to meet and exceed the CM43C reliability and lifetime expectations, while maintaining it's class leading position regarding operational efficiency and reliability. Applying the same design philosophies, the CM46DF will share the same footprint with the CM43C providing the opportunity to retrofit CM43C engines. With it's clean design, the CM46DF does allow fast and easy access to system and components, supporting the operation, service and maintenance simplicity Cat products are known for. The CM46DF generator set is designed to operate on gaseous fuel with methane numbers down to MN 50 and liquid fuels as MGO, MDO, heavy fuels and crude oil. The CM46DF is certified to IMO Tier II standards and meets proposed IMO Tier III emissions levels while operating in gas mode. Care and attentionwas paid to customers demand for a safe and reliable operation at varying engine loads and gas qualities.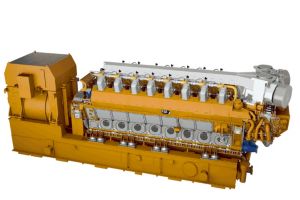 DETAILS
SPECIFICATIONS
Engine Specifications
Maximum Rating
14040 kV·A
Dimensions
Engine Specifications
Aspiration
Turbocharged- Aftercooled
Engine Control
Electronic
BENEFITS & FEATURES
Ease of installation
Standard modular design allows for ease of installation and reduced complexity. Low installation cost with auxiliary systems mounted on engine and cooling water system with simple plug-in connections.
Improved Serviceability
Large inspection openings for convenient access to core engine components. The core engine components are designed for reconditioning and reuse at overhaul. All products are supported by the worldwide dealer network with factory-trained technicians which means that parts and support are never out of reach. This generator set has a segmental camshaft and split connecting rod design for quick piston and camshaft removal.
EQUIPMENT
Standard Equipment
Engine
Motor-driven barring gear, fitted on engine
Emergency shutdown equipment with push button for manual emergency stop
Cylinder Head
Fuel injector and integrated gas admission valve with easy service and maintenance access
Cylinder pressure sensors for highest operational reliability and efficiency, replacing conventional knocking sensor technology
Piston, rings and liners designed for operation on gas and liquid fuels
Turbocharger
Optimized engine efficiency in gas and diesel operation
Blow-off valve and waste gate technology for optimized air-fuel ratio control
Gas System
Double-walled gas piping to support an inherently safe engine room concept
Leakage detection
Gas valve unit
Segmented gas detection system on request
Micro Pilot Fuel Injection System
Gear driven high pressure fuel pump and filter system with easy service access
Reliability combined with service and maintenance simplicity, through individual ignition fuel injector and "in-cylinder head" integrated ignition fuel return pipes
Exhaust System
Front-mounted turbocharger at free end with transition nozzle (0 degrees from the vertical and away from engine), with compressor cleaning device
Expansion joint separate
Separate silencer and spark arrester
Fresh Cooling Water System
HT pump, fitted on engine
LT pump, separate, vertical design, electric motor driven
HT thermostat, remote-mounted, electric controlled
Cooling water preheating equipment, fitted on base frame
Lubricating Oil System
Safety filter fitted on engine
Force pump, fitted on engine
Pre-lubrication pump, fitted on base frame, electric motor driven
Automatic back-flushing filter
Duplex filter with differential pressure indication, fitted on engine
Pressure control valve, fitted on engine
Thermostat, remote-mounted, electric controlled
Connections
Set of connecting parts between flange coupling and flywheel
Flexible flange coupling between engine and generator
Base frame with flywheel guard and incorporating lube oil sump tank, for engine and generator
Mounting of engine and generator on the base frame
Set of bonded rubber rails for resilient mounting of the base frame
Set of flexible pipe connections
Instrumentation
Gauge board with liquid-dampened pressure gauges for: fuel, lubricating oil, fresh water, starting air and charge air.
On-engine thermometers for fuel, lubricating oil, fresh water and charge air
Electric remote speed indicator
Turbocharger and remote speed indicator
Exhaust gas temperature indicator
Monitoring
Manual control on engine, including: control panel with start/stop key, speed setting device, mechanical shutdown device, changeover of control functions from engine to remote control
Starting solenoid valve on engine, 24 V DC
Separate electronic speed governor
CALL NOW TO LEARN MORE

Andy Downs
423-463-2131 or 423-698-6943

Neal Reinhardt
865-595-1034 or 865-771-1036



HOW CAN WE HELP?
SHARE YOUR FEEDBACK OR ASK A QUESTION