G3516B
Oil and gas drilling is a complex task that requires specialized power generation equipment. Cat 3500 generator sets are specifically designed for drilling operations of electric AC rigs. They combine decades of field experience of the 3500 platform with technology in electronics to ensure highest performance, low emissions, and simplified operator interface.Cat engines are backed by the worldwide network of Cat dealers ready to support your operation with technical support, service, parts, and warranty.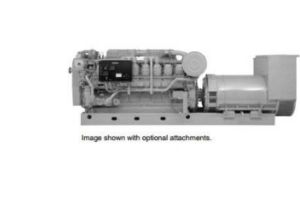 DETAILS
SPECIFICATIONS
Engine Specifications
Aspiration
Turbocharged-Aftercooled
Engine Control and Protection
ADEM A3
Oil Change Interval
500 h
Dimensions
Capacity for Liquids
Cooling System - Engine
61.5 gal (US)
Lube Oil System - Refill
107 gal (US)
BENEFITS & FEATURES
Product Design
- Robust design provides prolonged life and lower owning and operating costs- Designed for maximum performance on low pressure pipeline natural gas• One electronic control module handles all engine functions: ignition, governing, air fuel ratio control, and engine protection- Gas engines can be configured to run from many gases directly from the field. Some gas, depending on quality, may need to be treated prior to being injected into the cylinder. Using the locally sourced natural gas reduces fuel transport costs as well as site traffic and dust normally associated with the transportation of diesel fuel to drilling sites. - Fuel costs contribute a significant portion of the charges incurred over the life of the engine.- Using a gas engine instead of a diesel can greatly lower the overall cost of operation.
Committed to Sustainable Development
- Gas engines can be placed in most areas with little or no aftertreatment and reach very low emission levels- Meets most worldwide emissions requirements down to 0.5 g/bhp-hr NOx level without aftertreatment.
Safety
- Proven reliability and durability- Rugged engine, generators, radiator, and bases are a result of years of experience in the oilfield- Assembled, tested, and validated as a package to minimize vibration and maximize component life- Generator designed to accommodate the rigors of oilfield applications– Cat® SR4B generator is designed to match performance and output characteristics of Cat engines– Two-bearing, anti-friction, close coupled design to provide additional robustness against alignment issues– Insulation system provides virtually twice the instantaneous surge withstand capacity by using Mica turn taped magnet wire instead of glass covered magnet wire– Three-point mounting system provides protection to the generator set's driveline and alignment
Custom Packaging
For any petroleum application, trust Caterpillar to meet your project needs with custom factory generator sets and mechanical packages. Cat engines, generators, controls, radiators, and transmissions can be custom designed and matched in collaboration with our local dealers to create unique solutions. Custom packages are globally supported and are covered by a one year warranty after startup.
Testing
- Every Cat generator set is full-load tested to ensureproper engine performance.- Standard configurations are assembled, tested, andvalidated as a package to ensure performance, reliabilityand durability.
Product Support Offered Through Global Cat Dealer Network
- More than 2,200 dealer outlets- Cat factory-trained dealer technicians service everyaspect of your Cat petroleum product- Worldwide parts availability, service, and warranty- Preventive maintenance agreements available for repairbefore-failure options- S•O•SSM program matches your oil and coolant samplesagainst Caterpillar set standards to determine:• Internal engine component condition• Presence of unwanted fluids• Presence of combustion by-products• Site-specific oil change interval
Over 80 Years of Engine Manufacturing Experience
Ownership of these manufacturing processes enablesCaterpillar to produce high quality, dependable products.
Web Site
For all your petroleum power requirements, visit www.catoilandgasinfo.com.
EQUIPMENT
Standard Equipment
Air Inlet System
Corrosion-resistant aftercooler core
Air Inlet shutoff
Regular duty air cleaner
Control System
ADEM A3 ECU, left-hand mounted
Direct rack control 0-200 mADC, space heater and jacket water heater connection and controls
Cooling System
Separate-circuit aftercooled
Outlet controlled jacket water thermostat
Jacket water pump – gear driven
Dual outlet
Aftercooler water pump – gear driven
Aftercooler water thermostat
Exhaust System
Dry exhaust manifold
Dual turbochargers, water cooled bearings
Flywheel and Housing
SAE No. 00 flywheel
SAE No. 00 flywheel housing
SAE standard rotation
Fuel System
Fuel filter simplex (LH) with priming pump (LH)
Fuel transfer pump
Fuel return line with flexible connection
Electronic unit injectors
Generator Attachments
Barrel-mounted petroleum terminal box with air filter andpressure differential switch
Instrumentation
Emergency stop button
Analog gauges:
Service port connector
Customer connection terminal blocks
EMCP 4.3 Control Panel
140 mm (5.5 in) Graphical Display
Communication
Controls
Generator Set Protection
Outputs
Inputs
Other Features
Lubrication System
Crankcase breather
Oil cooler
Shallow oil pan
Oil drain extension, 2 in NPT female connection
Simplex oil filter
Mounting System
4.19 m (165 in) length, 412 mm (16.2 in) height tubes, 1.18 m (50.5 in) wide
Protection System
Engine alarms, derate, and shutdown in abnormal operation
Starting System
TDI air starting motor, RH – 1034 kPa (150 psi)
Optional Equipment
Air Inlet System
Heavy duty air cleaner
Remote air inlet adapter – rectangular
Remote air inlet adapter – round
Control System
Engine control options:
Load sharing governor, 2301A
Cooling System
Radiator options:
Coolant level sensor
Coolant conditioner
Cooling system connection options (for use with customer-suppliedradiator):
Fan drive and belt guard (for use with remote and customersuppliedradiators)
Fan pulley options (for use with customer-supplied radiator):
Exhaust System
1200 rpm model only:
1500 rpm model only:
Fuel System
Custom fuel filter
Primary fuel filter
Primary fuel filter with water separator
Generator Attachments
Cable access box
Air filter
Bearing RTDs
Low voltage extension box
Manual voltage control
Instrumentation
Communications module PL1000T
Communications module PL1000E
Thermocouples installed, one per cylinder
Lubrication System
Custom oil filter
RH installed centrifugal oil filter
SAE15W40, Caterpillar DEO, 500 hour
Crankcase fumes disposal
Oil level regulator
Mounting System
Bases
Vibration isolators, rails
Power Take-off
Alternator, 24V, 68A
Front accessory drive
Pulleys
Protection System
Explosion relief valves (3)
Metal particle detector switch
Metal particle detector with annunciator
Starting System
Custom starting motor
Air pressure regulator
General
LH installed engine barring group
Jacket water heater, UL recognized, 120-240V, singlephase, 6 kW, LH and RH mounted
Jacket water heater, UL recognized, 120-480V, singlephase, 12 kW, LH and RH mounted
Jacket water heater lines
CALL NOW TO LEARN MORE

Andy Downs
423-463-2131 or 423-698-6943

Neal Reinhardt
865-595-1034 or 865-771-1036



HOW CAN WE HELP?
SHARE YOUR FEEDBACK OR ASK A QUESTION