G3512H
G3512H Generator Set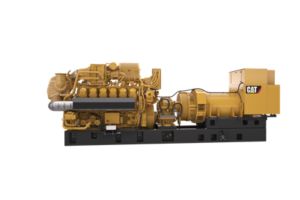 DETAILS
SPECIFICATIONS
Gas Generator Sets Specification
Maximum Continuous Rating
1515 ekW / 1505 ekW
Maximum Electrical Efficiency
44.90%
Maximum Standby Rating
1515 ekW / 1505 ekW
Engine Specifications
Generator Set Dimensions
Dry Weight - Genset
31085 lb
BENEFITS & FEATURES
Emissions
Meets most worldwide emissions requirements down to 0.5 g/bhp-hr Nox level without aftertreatment
Full Range of Attachments
Wide range of bolt-on system expansion attachments, factory designed and tested Flexible packaging options for easy and cost effective installation
World Wide Product Support
Cat dealers provide extensive post-sale support including maintenance and repair agreements. Cat dealers have over 1,800 dealer branch stores operating in 200 countries. The Caterpillar S•O•S℠ program cost effectively detects internal engine component condition, even the presence of unwanted fluids and combustion by-products
Cat SR5 Generator
Designed to match performance and output characteristics of Caterpillar gas engines. Industry leading mechanical and electrical design. High efficiency
Cat EMCP4 Control Panel
The EMCP controller features the reliability and durability you have come to expect from your Cat equipment. EMCP4 is a scalable control platform designed to ensure reliable generator set operation, providing extensive information about power output and engine operation. EMCP4 systems can be further customized to meet your needs through programming and expansion modules.
EQUIPMENT
Standard Equipment
Air Inlet
Package Mounted Air Cleaner with service indicator
Control Panels
EMCP 4.3 Genset Controller
Dedicated customer wiring terminals
Cooling
Engine driven water pumps for jacket water and after cooler
Exhaust
Center section cooled turbocharger with Cat flanged outlet
Fuel system
Basic pressure and regulation and filtration
Generator
High efficiency low voltage Cat generator, permanent magnet excitation, digital regulation, IP23 water ingress protection, & form wound construction.
General
Paint - Caterpillar Yellow except rails and radiators gloss black
Crankshaft vibration damper and guard
Operation and maintenance manuals
Parts book
Optional Equipment
Air Inlet
Heavy Duty air cleaner with precleaner
Control Panels
Remote monitoring software
Cooling
Electric jacket water and aftercooler pumps
Package mounted (<1000kW), horizontal, or remote radiators
Combined heat and power skid with heat exchangers, electric pumps, expansion tank, controls, and auxiliary oil resevior
Exhaust
Exhaust silencers, CO catalyst, NOx catalyst
Fuel System
NFPA37, EN746-2, CSA B149.1, AS 5601/3814 compiant fuel train including monitoring, safety shutoff devices, and flexible conduit
Generator
Medium and High Voltage Cat generator, Coastal Protection, Oversized, and Premium options
CALL NOW TO LEARN MORE

Andy Downs
423-463-2131 or 423-698-6943

Neal Reinhardt
865-595-1034 or 865-771-1036



HOW CAN WE HELP?
SHARE YOUR FEEDBACK OR ASK A QUESTION