C9.3 ACERT™
The Cat® C9.3 ACERT™ Industrial Diesel Power Unit is offered in ratings ranging from 224-298 bkW (300-400 bhp) @ 1800-2200 rpm and meet U.S. EPA Tier 4 Final, EU Stage IV emission standards. Conveniently pre-configured for a wide range of applications, the Cat® Industrial Power Unit is a complete power package containing a radiator, flywheel, alternator and alternator wiring completely pre-assembled for fast, straightforward installation in a number of OEM, customer and packager applications. These fuel efficient units are ready made for irrigation, industrial, mining and other pump applications.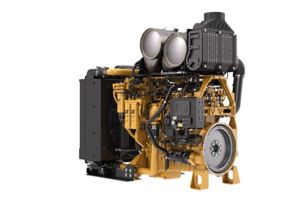 DETAILS
SPECIFICATIONS
Power Rating
Rated Speed
1800-2200 rpm
Emission Standards
Emissions
U.S. EPA Tier 4 Final, EU Stage IV
General
Engine Configuration
Inline 6, 4-Stroke-Cycle-Diesel
Displacement
9.3 L (567.5 in³)
Aspiration
Turbocharged Aftercooled (TA)
Rotation from Flywheel End
Counterclockwise
Cooling System - Capacity
64 L (68 qt)
Lube System - Refill
30 L (31.7 qt)
Power Unit Dimensions - Approximate
Height
1554-1741 mm (61.2- 68.5 in)
Length
1845-2042 mm (72.6-80.4 in)
Weight - Approximate, Net Dry - Standard Configuration Without Oil, Cooling, Clutch, Compressor, A/C
1678-1839 kg (3699-4055 lb)
Width
1094-1118 mm (43.1-44 in)
Aftertreatment Dimensions - Approximate
Diameter
304.8-330.2 mm (12-13 in)
Height
392.21-570 mm (15.44-22.4 in)
Weight
130-212 kg (287-467 lb)
Width
714.4-870 mm (28.12-34.25 in)
PETU Dimensions - Tier 4 Final, Stage IV Only
Volume Capacity
48.4 L (51.1 qt)
Weight
19.42 kg (42.8 lb)
BENEFITS & FEATURES
Reliable, Quiet and Durable Power
World-class manufacturing capability and processes coupled with proven core engine designs assure reliability, quiet operation, and many hours of productive life.
High Performance
Simple and efficient turbocharger with balance valve provides optimal air management and improved fuel efficiency.
Fuel Efficiency
Fuel consumption optimized to match operating cycles of a wide range of equipment and applications while maintaining low operating costs.
Fuel & Oil
Tier 4 Interim or Tier 4 Final, Stage IIIB or Stage IV engines require Ultra Low Sulfur Diesel (ULSD) fuel containing a maximum of 15 ppm sulfur, and new oil formulations to support the new technology. Cat® engines are designed to accommodate B20 biofuel. Your Cat dealer can provide more information regarding fuel and oil.
Broad Application Range
Industry leading range of factory configurable ratings and options for agricultural, material handling, construction, mining, aircraft ground support, and other industrial applications.
World-class Product Support Offered Through Global Cat Dealer Network
Scheduled maintenance, including SOSSM sample
Customer Support Agreements (CSA)
Caterpillar Extended Service Coverage (ESC)
Superior dealer service network
Extended dealer service network through the Cat Industrial Service Distributor (ISD) program
Tier 4 Final, Stage IV Aftertreatment Features

Regeneration. Cat Regeneration System maximizes fuel efficiency during regeneration. Transparent regeneration maximizes uptime. Aftertreatment life is twice as long as engine rebuild
---
Mounting. Industrial power units have standard horizontal mounting.
---
Service. Minimum 5000-hour diesel particulate filter ash service interval. PETU filter service is 5000 hours.
---
EQUIPMENT
Standard Equipment
Air Inlet System
Turbocharged
Air-to-Air Aftercooled
Mid-mount turbocharged system with front and rear exhaust configurations (Tier 4 Final, Stage IV)
Control System
Electronic control system
Over-foam wiring harness
Automatic altitude compensation
Power compensated for fuel temperature
Configurable software features
Engine monitoring system SAE J1939 broadcast and control
Integrated Electronic Control Unit (ECU)
Remote fan control
Cooling System
Vertical or RH thermostat outlet
Centrifugal water pump
Guidance on cooling system design available through your dealer to ensure equipment reliability
Flywheels and Flywheel Housing
Dual rear PTO configuration
Available SAE No. 1 power take off with optional SAE A, SAE B or SAE C power take off drives. Engine power can also be taken from the front of the engine with optional attachments. (Tier 4 Final, Stage IV).
Fuel System
Electronic high pressure common rail
Primary fuel filter
Secondary fuel filters
Fuel transfer pump
Electronic fuel priming
Lube System
Open crankcase ventilation system
Oil cooler
Oil filler
Lube oil filter
Oil dipstick
Gear driven oil pump
Choice of front, rear or center sumps
Open crankcase ventilation system with fumes disposal (optional OCV filter system) (Tier 4 Final, Stage IV)
Power Take Off (PTO)
SAE A, SAE B or SAE C power take off (PTO) drives. Engine power can also be taken from the front of the engine on some applications.
General
Vibration damper
Lifting eyes
U.S. EPA Tier 4 Interim, EU Stage IIIB Aftertreatment / Clean Emissions Control Equipment
Cat Regeneration System
Clean Emissions Module (CEM), consisting of Diesel Particulate Filter (DPF) and Diesel Oxidation Catalyst (DOC)
NOx Reduction System (NRS)
Flex pipe connection kit with 90° rotatable elbows to attach to Cat Regeneration System Inlet
Available in 12 volt or 24 volt systems
U.S. EPA Tier 4 Final, EU Stage IV Aftertreatment/ Clean Emissions Control Equipment
Cat Regeneration System
Clean Emissions Module (CEM), consisting of Diesel Particulate Filter (DPF) and Diesel Oxidation Catalyst (DOC)
Aftertreatment Electronic Control Unit (ECU)
NOx Reduction System (NRS)
Pump Electronic Control Unit (PETU)
Available in 12V or 24V systems
Selective Catalytic Reduction (SCR)
CALL NOW TO LEARN MORE

Andy Downs
423-463-2131 or 423-698-6943

Neal Reinhardt
865-595-1034 or 865-771-1036