C4.4 (60 HZ)
Caterpillar is leading the power generation marketplace with Power Solutions engineered to deliver unmatched flexibility, expandability, reliability, and cost-effectiveness.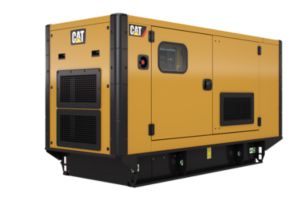 DETAILS
SPECIFICATIONS
Generator Set Specifications
Generator Set Configurations
Emissions/Fuel Strategy
Non Regulated, EU Stage II
Engine Specifications
Engine Model
C4.4, In-line 4, 4-cycle diesel
Fuel System
Electronic (adjustable)
BENEFITS & FEATURES
Design Criteria
The generator set is designed to meet ISO8528-5 transient response and NFPA 110.
Cooling system designed to operate in 50˚C / 122˚F ambient temperatures with an air flow restriction of 0.5 in. water.
Single-Source Supplier
Fully prototype tested with certified torsional vibration analysis available
CE Certification
CE Certification available
World Wide Product Support
Cat dealers provide extensive post-sale support including maintenance and repair agreements. Cat dealers have over 1,800 dealer branch stores operating in 200 countries. The Caterpillar S•O•S℠ program cost effectively detects internal engine component condition, even the presence of unwanted fluids and combustion by-products
General
Single wall 8 hour wide fuel tank
Circuit breaker, IEC, 3 pole
Industrial Silencer (10dBA)
EQUIPMENT
Standard Equipment
Air Inlet System
Air cleaner; light duty with disposable element
Cooling System
Radiator and cooling fan with guards
Coolant drain line with valve
Fan drive, battery charging alternator drive
Caterpillar Extended Life Coolant
Exhaust System
Stub pipe, gaskets, raincap & SAE exhaust flange for customer use; shipped loose
Fuel System
Standard Open set Fuel tank / base supplied Base, formed steel with single wall integral 8-hour fuel tank
Generators and Attachments
12 leads
IP23 Protection
Voltage Regulator (single phase sensing)
Tower Panel, IP22, bottom cable entry
Segregated low voltage (AC/DC) wiring panel
Circuit breaker, IEC, 3 pole, mounted in Tower Panel
Governing System
Mechanical and electrical governing system - model dependant
Lube System
Lubricating oil
Oil drain line with valve
Mounting System
Captive linear vibration isolators between base and engine-generator
Includes lifting provision and drag points
Termination points for coolant and lube oil drain lines
Starting/Charging
12V Battery with rack & cables
General
Engine and alternator pre-paint, Caterpillar yellow
Optional Equipment
Alternator System
R frame auxilliary winding
Optional LC frame alternator
Optional LC frame alternator with coastal insulation protection
Permanent magnet
3 Phase sensing
Quadrature droop kit
Anti-condensation heater
Certifications
Global certification for CIS
European certificate for upgrade to STD for CE
Circuit Breakers
4 Pole Circuit breaker upgrades to 250A, 400A and 630A
Pad-lockable breaker device
Control Panels
EMCP 4.2
Volt free contacts
Speed adjust potentiometer
Voltage adjust potentiometer
Panel mounted audible alarm
Earth fault (2 wire only)
Earth leakage (2 wire only)
Overload shutdown via breaker
Battery charger
Emergency stop with key
Control panel heater
Cooling System
Coolant heater
Low coolant temperature alarm
Low coolant level shutdown
Enclosures
Sound attenuated level 2 enclosure
sount attenuated level 1 enclosure (galvanised)
Rental pack (CAE only)
Fuel System
Open set narrow tankbase
Compact skidbase for open sets
Skidbase for CALG enclosure sets
Bunded fuel tank
Low fuel level shutdown
Low fuel level alarm
High fuel level alarm
Mounting Options
Electronic governor
Battery removal
External single point lift - enclosure
Residential silencer
Silencer installation kit
General
Stone guards / rad trans flange
CALL NOW TO LEARN MORE

Andy Downs
423-463-2131 or 423-698-6943

Neal Reinhardt
865-595-1034 or 865-771-1036



HOW CAN WE HELP?
SHARE YOUR FEEDBACK OR ASK A QUESTION