C4.4 (60 HZ)
Caterpillar is leading the power generation marketplace with Power Solutions engineered to deliver unmatched flexibility, expandability, reliability, and cost-effectiveness.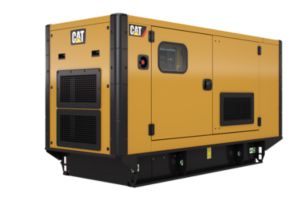 DETAILS
SPECIFICATIONS
Generator Set Specifications
Generator Set Configurations
Emissions/Fuel Strategy
U.S. EPA Certified for Stationary Emergency Use Only (Tier 3 Nonroad Equivalent Emission Standards)
Generator Set Specifications
Engine Specifications
Engine Model
C4.4, In-line 4, 4-cycle diesel
Generator Set Specifications
Engine Specifications
Fuel System
Electronic (adjustable)
BENEFITS & FEATURES
Design Criteria
The generator set is designed to meet ISO8528-5 transient response and NFPA 110.
Cooling system designed to operate in 50˚C / 122˚F ambient temperatures with an air flow restriction of 0.5 in. water.
Cat Diesel Engine
Reliable, rugged, durable design
Field-proven in thousands of applications worldwide
Four-stroke-cycle diesel engine combines consistent performance and excellent fuel economy with minimum weight
Generator
Matched to the performance and output characteristics of Cat engines
Industry leading mechanical and electrical design
Industry leading motor starting capabilities
High Efficiency
IP 23 Protection
Cat EMCP Control Panel
The EMCP controller features the reliability and durability you have come to expect from your Cat equipment. The EMCP 4 is a scalable control platform designed to ensure reliable generator set operation, providing extensive information about power output and engine operation. EMCP 4 systems can be further customized to meet your needs through programming and expansion modules. The EMCP4.1 is fitted as standard.
Single-Source Supplier
Fully prototype tested with certified torsional vibration analysis available
World Wide Product Support
Cat dealers provide extensive post-sale support including maintenance and repair agreements. Cat dealers have over 1,800 dealer branch stores operating in 200 countries. The Caterpillar S•O•S℠ program cost effectively detects internal engine component condition, even the presence of unwanted fluids and combustion by-products
CE Certification
CE Certification available
General
Single wall 8 hour wide fuel tank
Circuit breaker, IEC, 3 pole
Industrial Silencer (10dBA)
EQUIPMENT
Standard Equipment
Charging System
CAT Premium High Output Battery(s) with rack & cables Installed (wet);1000CCA;90amp hr;12V
Control System
EMCP 4.2
Controls include: Run / Auto / Stop Control - Speed Adjust - Engine Cycle Crank - Emergency Stop pushbutton
Features include: 12-volt DC operation - Environmental sealed front face - Text alarm/event descriptions
Digital indators for: RPM - DC volts - Operating hours, - Oil pressure - Coolant pressure - Volts (L-L & L-N), frequency (Hz) - Amps (per phase & average) - Power Factor (per phase & average) - kW (per phase,average & percent) - kVA (per phase,average & percent) - kVAr (per phase,average & percent) - kW-hr (total) - kVAr-hr (total)
Warning / Shutdown with common LED indicators for: -Low Oil pressure - Low coolant temperature alarm (detects jkt water heater failure) - High coolant temperature shutdown
Communications: Customer DATA link (Modbus RTU) - RS485 Serial DATA link (terminals only) - 8 programmable digital outputs available - 2 relays pre-programmed - 8 programmable digital inputs available - 2 pre-programmed
Circuit Breakers
Optional UL/CSA listed mainline breakers
Optional Multiple Breakers 100% Rated 3-pole with solid neutral
NEMA 1 steel enclosure
Electrical stub-up area directly below circuit breaker
Cooling System
Radiator and cooling fan complete with protective guards
Standard ambient temperatues up to 50degC (122degF)
50% coolant antifreeze/corrosion inhibitor
Coolant reservoir
Generator
Insulation system,class H
Drip proof generator air intake (NEMA 2,IP23)
Electrical design in accordance with BS5000 Part 99,EN61000-6, IEC60034-1,NEMA MG-1.33
All electroplated hardware or stainless steel
Anticorrosive paint protection
High gloss polyurethane paint for durability and scuff resistance
Mounting System
Heavy-duty fabricated steel base with lifting points
Anti-vibration pads to ensure vibration isolaton
Complete OSHA guarding
Stub-up pipe ready for connection to silencer pipework
Flexible fuel lines to base with NPT connections
Optional Equipment
Certificates
IBC Seismic and Wind Certifications
Air Inlet System
Cartridge type air filter
Charging System
NFPA battery charger UL10A 120VAC
Circuit Breakers
3-Pole 100% rated
Breakers (100% UL rated)
Second circuit breaker box
Power perminal strips
Control Panels
NFPA110 bundle includes: FSS low fuel level alarm & indication panel circuitry required when sub-base tank is selected - WSS1 Low Coolant level shut down - WCA1 Low Coolant temperature alarm - PAA1 Panel mounted audible alarm - PBC10NU NFPA Battery Charger - A coolant heater ,remote annunciator or 0.8 power factor test may be required depending on the application
Oil temperature guage and sender
Audible alarm
Ground fault relay
Discrete I/O module
Remote E-stop button
Volt free contacts genset run and common alarm
Remote annunciator
Protective devices: Low coolant temperature alarm - Low coolant level shutdown - Fuel level reading - Overload shutdown via breaker
Cooling System
Radiator stone guard
Radiator transition flange
Enclosures
Weatherproof enclosure
Sound attenuated enclosure, level 1
Sound attenuated enclosure, level 2
Panel viewing window
External emergency stop
Heating Elements
Coolant heater
Jacket water heater
Anti-condensation heater
Battery heater
Lube oil sump heater
Wiring for canopy space heater
Exhaust System
10, 25 and 35 dBA silencer systems
Overhaed silencer mounting kit
Fuel System
209 and 394 gallon sub-base fuel tanks
5 gallon fill containment
5 gallon spill containment
Emergency vent pipe
Tank riser
Generators
Permanent magnet generator
Mounting System
Seismic vibration isolators
Tests
Generator test report
PGS test report @ 1.0 power factor
PGS test report @ 0.8 power factor
4 Hour factory test
CALL NOW TO LEARN MORE

Andy Downs
423-463-2131 or 423-698-6943

Neal Reinhardt
865-595-1034 or 865-771-1036



HOW CAN WE HELP?
SHARE YOUR FEEDBACK OR ASK A QUESTION