C32 ACERT TIER 3 RECREATIONAL
C32 ACERT propulsion engine ratings of 1925 mhp (1900 bhp) 1417 bkW, 1825 mhp (1800 bhp) 1342 bkW, and 1622 mhp (1600 bhp) 1193 bkW are available with heat exchanger cooling. These ratings are compliant for U.S. EPA Tier 3 Recreational, EU Stage IIIA, and IMO II. The 1600 and 1800 bhp ratings are also meet US EPA Tier 3 Commercial Standards. The engine configuration includes an air cleaner and CCV system as well as jacket water aftercooling. Additional features include a "plug-in PTO", an MECP I control panel, and hybrid fuel lines. The MECP I panel has a monochrome display for engine parameters, external outputs for customer installed visible and audible alarms, Start/Stop buttons, and an Off/Local/Remote switch.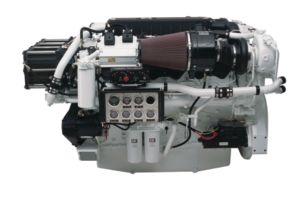 DETAILS
SPECIFICATIONS
Ratings
Power Range
1600-1900 bhp (1193-1417 bkW)
Engine
Emissions
EPA Tier 3, IMO II, EU IW
Rotation from Flywheel End
Counterclockwise
Configuration
Vee 12, 4-Stroke-Cycle Diesel
Dimensions & Weights
BENEFITS & FEATURES
Emissions
U.S. EPA Tier 3 compliant
Worldwide Support
Extensive service network of dealers; Unparalleled service from authorized marine dealers
Durability
Proven engine operating history; Performance iron with thousands of hours of validation testing for quality and durability
Reliability
60 months standard warranty
Cooling System
Heat Exchanger or Keel Cooling; Heat exchanger configurations: optional front mounted sea water pump
Aftercooling System
Separate circuit aftercooling system (SCAC): no seawater circulating through the aftercooler
EQUIPMENT
Standard Equipment
AIR INLET SYSTEM
Air Cleaner System with washable filter elements and fumes disposal (closed system)
Turbocharger, jacket water cooled
Turbocharger inlet, 152 mm (6 in) OD straight connection
CONTROL SYSTEM
Programmable Low Idle (550 - 750 rpm)
Electronic diagnostics and fault logging
Engine and transmission monitoring (speed, temperature, pressure)
Electronic fuel/air ratio control
Engine Protection Mode for extended ambient conditions
70-pin customer connector (Upper front-facing customer wiring connector and Service Tool connection)
Throttle Input signal options
COOLING SYSTEM
Sea Water Aftercooled Engine
Jacket water pump, gear driven
Sea water pump, rubber impeller, gear driven
Sea water Pump & JW Heat Exchanger Connection: 76.2 mm (3in) OD
Coolant recovery system
EXHAUST SYSTEM
Water-cooled exhaust manifold & turbocharger
4 Bolt 130 mm (5.12 in) diameter flanged outlet
FLYWHEELS & FLYWHEEL HOUSINGS
FUEL SYSTEM
Simplex Fuel Filters Spin-on, RH & LH service
Fuel connections size:
Plate Type Fuel Cooler (Jacket Heat Exchanger)
Fuel transfer pump, gear driven
Manual fuel priming pump
Hybrid fuel line design
LUBE SYSTEM
Simplex Oil Filters, RH or LH service
RH or LH service oil filler locations
RH or LH service dipstick
Oil pump, gear driven
Shallow Sump
MOUNTING SYSTEM
Front support - adjustable
POWER TAKE-OFFS
Front Poly-V groove pulley (Quantity 1) for auxiliary drives
GENERAL
Lifting eyes
Front damper guard
RH or LH service options
Optional Equipment
EXHAUST SYSTEM
Muffler
Muffler Spark Arresting
CHARGING SYSTEM
Battery Chargers
Charging Alternators
Ammeter
INSTRUMENTATION
Instrument Panels
OEM Wiring Harness
Engine to Engine Harness
Gauges
Transmission Sensors
Exhaust Temperature Sensors
MOUNTING SYSTEM
Adapter Kits
Isolator Mounts
POWER TAKE-OFFS
Rear Hydraulic Pump Drive
STARTING SYSTEM
Electric Starting Motors - Single 24 Volt
Starting Aids - JW Heaters
Battery Sets - 24 Volt - Dry
PACKING
Engine Protective Cover
Storage Preservation
Export Packing
CALL NOW TO LEARN MORE

Andy Downs
423-463-2131 or 423-698-6943

Neal Reinhardt
865-595-1034 or 865-771-1036



HOW CAN WE HELP?
SHARE YOUR FEEDBACK OR ASK A QUESTION