C15 ACERT™
Cat C15 ACERT engines are the ideal solution for your demanding operations in the oilfield. Decades of field operation and intense research and development allow Cat C15 ACERT engines to deliver excellent performance with low operating costs while meeting tight environmental requirements.This is an ideal engine for applications that require Tier 4 Interim or EU Stage IIIB emissions certifications in land mechanical drilling applications such as mud pump drives. Cat C15 ACERT™ Industrial Diesel Engine. Ratings: 354-433 bkW (475-580 bhp) @ 1800-2100 rpm meet U.S. EPA Tier 4 Interim, EU Stage IIIB emission standards.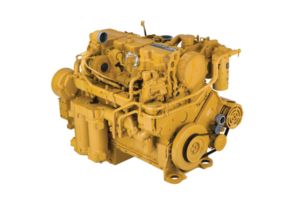 DETAILS
SPECIFICATIONS
Engine Specifications
Emissions
U.S. EPA Tier 4 Interim, EU Stage IIIB
Aspiration
Turbocharged-Aftercooled
Governor and Protection
ADEM A4
Engine Weight - Net Dry
2976 lb
Oil Change Interval
250 - 500
Rotation from Flywheel End
Counterclockwise
Flywheel and Flywheel Housing
SAE No. 1
Capacity for Liquids
Minimum Cooling System - Engine Only
5 gal (US)
Dimensions
BENEFITS & FEATURES
Emissions
- Designed to meet 2011 U.S. EPA Tier 4 Interim and EU Stage IIIB emissions requirements. - On-engine NOx reduction system with optimized piston, ring, liner, and fuel system configuration to reduce NOx while minimizing in-cylinder sooting- Aftertreatment features Clean Emissions Module, including: diesel oxidation catalyst, diesel particulate filter- Future Tier 4 Final technology solution designed to fit into current standard aftertreatment envelope, eliminating the need to redesign your installation
Engine Design
- Proven reliability and durability of engine and aftertreatment- Broad operating speed range- High power density- PTO drive options provide flexible access to auxiliary power for pumps and other needs
Low Total Cost of Ownership
- Optimized fuel consumption- Minimum 5000-hour diesel particulate filter ash service interval and 250- to 500-hour oil change intervals enable low maintenance costs
Advanced Digital Engine Management
ADEM A4 control system providing integrated ignition, speed governing, protection, and controls, including detonationsensitive variable ignition timing. ADEM A4 has improved: user interface, display system, shutdown controls, and system diagnostics.
Power Units
Engine available with factory packaged features including:- Aftertreatment- Base- Radiator- Transmission
Custom Packaging
For any petroleum application, trust Caterpillar to meet your exact needs with a factory custom package. Cat® engines, generators, enclosures, controls, radiators, transmissions, aftertreatment solutions — anything your project requires — can be custom designed and matched to create a one-of-a kind solution. Custom packages are globally supported and are covered by a one-year warranty after startup.
Fuel & Oil
Requires Ultra Low Sulfur Diesel (ULSD) containing a maximum of 15 ppm sulfur, and new oil formulations to support the new technology. Designed to accommodate B20 biofuel.
Optional Attachments
- Engine-Mounted Transmission Oil Cooler — integration with engine cooling system allows ease of installation and a tighter overall engine package- Engine Brakes — braking capabilities for mobile applications
Transmissions
- Caterpillar has a full line of engine-transmission packages that can be fully integrated with your axle, hydraulics, and operator interface.- C15 ACERT™ Cat optimized transmission matches: TH35-E81, CX31-P600, CX35-P800
Product Support Offered Through Global Cat Dealer Network
- More than 2,200 dealer outlets- Cat factory-trained dealer technicians service every aspect of your petroleum engine- Cat parts and labor warrantyPreventive maintenance agreements available for repair-beforefailure optionsS•O•SSM program matches your oil and coolant samples against Caterpillar set standards to determine:- Internal engine component condition- Presence of unwanted fluids- Presence of combustion by-products- Site-specific oil change interval
Over 80 Years of Engine Manufacturing Experience
Ownership of these manufacturing processes enables Caterpillar to produce high quality, dependable products.- Cast engine blocks, heads, cylinder liners, and flywheel housings- Machine critical components- Assemble complete engine
Web Site
For all your petroleum power requirements, visit www.catoilandgasinfo.com
EQUIPMENT
Standard Equipment
Air Inlet System
Turbocharged Air-to-Air Aftercooled
Control System
Electronic control system, over-foam wiring harness, automatic altitude compensation, power compensated for fuel temperature, configurable software features, engine monitoring system SAE J1939 broadcast and control, integrated Electronic Control Unit (ECU) remote fan control
Cooling System
Vertical outlet thermostat housing, centrifugal water pump, guidance on cooling system design available to ensure machine reliability
Exhaust System
Clean Emissions Module (CEM) that includes Diesel Particulate Filter (DPF), Diesel Oxidation Catalyst (DOC), and Cat Regeneration System, optional exhaust outlet
Flywheels and Flywheel Housing
SAE 0 and SAE 1 flywheel housing
Fuel System
MEUI injection; primary fuel filter, secondary fuel filters, fuel transfer pump, electronic fuel priming
Lube System
Open crankcase ventilation system, oil cooler, oil filler, oil filter, oil dipstick, oil pump (gear driven), choice of sumps (front, rear, shallow)
Power Take Off
SAE A, SAE B, SAE C drives available, engine power can also be taken from the front of the engine on some applications
General
Paint: Cat yellow; vibration damper; lifting eyes
Optional Equipment
Engine-Mounted Transmission Oil Cooler
integration with engine cooling system allows ease of installation and a tighter overall engine package
Engine Brakes
braking capabilities for mobile applications
CALL NOW TO LEARN MORE

Andy Downs
423-463-2131 or 423-698-6943

Neal Reinhardt
865-595-1034 or 865-771-1036



HOW CAN WE HELP?
SHARE YOUR FEEDBACK OR ASK A QUESTION