C9.3 ACERT
*Preliminary Information* The C9.3 ACERT propulsion engine has a B rating of 375 bhp (280 bkW) at 1800 rpm, a C rating of 416 bhp (310 bkW) at 2100 rpm, and a D rating of 476 bhp (355 bkW) at 2300 rpm. The C9.3 propulsion, auxiliary, and generator set engines have a common rail fuel system for optimal combustion and lower emissions. Cooling system options for the propulsion and auxiliary engines include heat exchanger with sea water aftercooling, and keel with combined circuit or separate circuit aftercooling. The genset packages are available with heat exchanger, keel, or radiator cooling. These products are EPA Tier 3 and IMO II certified. In addition the propulsionengine ratings are EU Stage IIIA certified and auxiliary and gen sets are also CCNR Stage II certified.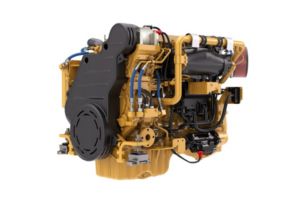 DETAILS
SPECIFICATIONS
Power Rating
Power Range
375-476 bhp (280-355 bkW)
Engine Specifications
Speed Range
1800-2300 rpm
Emissions
EPA Tier 3 Commercial, IMO II, EU IW
Rotation from Flywheel End
Counterclockwise
Configuration
In-line 6, 4-Stroke-Cycle Diesel
Dimensions & Weights
Engine Dry Weight - Approximate
945-1122 kg (2083-2474 lbs)
BENEFITS & FEATURES
Electronic Control System
Electronic control system provides industry-leading torque and throttle response at low speeds, while maintaining fuel efficiency at high speeds
Fuel System
Common rail fuel system enables optimum combustion and low emissions
Superior Serviceability
RH and LH locations for fuel and oil filters and dipstick improves serviceability
Displays
Compatible with Cat® displays and available remote-mounted display panel with start, stop, and engine diagnostics
Electrical System
12V or 24V electrical system
Marine Certifications
Marine classifi cation society certifi cates: ABS, BV, CCS, CRS, DNV, GL, IRS, KR, LR, NK, PRS, RINA, RS
EQUIPMENT
Optional Equipment
Dual starting motors
24V electric and air
24V electric (2)
HOW CAN WE HELP?
SHARE YOUR FEEDBACK OR ASK A QUESTION