C32 (50 HZ) WITH UPGRADEABLE PACKAGING
The C32 with the upgradeable packaging design has been developed for a wide range of applications, from emergency standby installations such as healthcare and datacenters to continuously powering remote installations. The packages can be optimized for performance to matters to you with either low emissions or low fuel consumption versions available. Backed by the worldwide network of Cat dealers ready to support your operation with technical support, service, parts, and warranty, Cat generator sets will provide the reliability and durability you expect.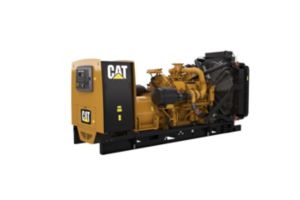 DETAILS
SPECIFICATIONS
Generator Set Specifications
Generator Set Configurations
Emissions/Fuel Strategy
Low Fuel Consumption, Low Emissions
Engine Specifications
Engine Model
C32 TA, V-12, 4-Stroke Water-Cooled Diesel
Displacement 32.1 L (1958.86 in3)
Exhaust Flange Size - Internal Diameter
203.2 mm (8.0 in)
Air Inlet
Single element canister style with service indicator
BENEFITS & FEATURES
Cat Diesel Engine
Reliable, rugged, durable design
Field-proven in thousands of applications worldwide
Four-stroke-cycle diesel engine combines consistent performance and excellent fuel economy with minimum weight
Cat EMCP Control Panel
The EMCP controller features the reliability and durability you have come to expect from your Cat equipment. EMCP4 is a scalable control platform designed to ensure reliable generator set operation, providing extensive information about power output and engine operation. EMCP4 systems can be further customized to meet your needs through programming and expansion modules.
Design Criteria
The generator set meets transient response and block loading steps as per ISO 8528-5.
World Wide Product Support
Cat dealers provide extensive post-sale support including maintenance and repair agreements. Cat dealers have over 1,800 dealer branch stores operating in 200 countries. The Caterpillar S•O•S℠ program cost effectively detects internal engine component condition, even the presence of unwanted fluids and combustion by-products
EQUIPMENT
Standard Equipment
Air Inlet System
Single element canister type with service indicator
Control Panel
Control Features
EMCP 4.2B
Communications
Programmable Protective Relaying Functions
Digital Indicators
Warning Shutdowns
Cooling System
Coolant drain line with valve
Caterpillar Extended Life Coolant
Low coolant level sensor
Radiator fan and fan drive
Fan and belt guards
ATAAC
Exhaust System
203mm (8in) ID round flanged outlet
Exhaust manifold - Dry
Fuel System
Fuel priming pump
Fuel cooler
Secondary fuel filters
Primary fuel filter with water separator
General
Caterpillar Yellow with high gloss black rails & radiator
RH Service
SAE Standard Rotation
Flywheel and flywheel housing-SAE
Generators and Attachments
3 phase brushless
Reactive droop
Busbar connections, top center mounted, top cable entry
Internal Excitation
Permanent magnet
Integrated voltage regulator (IVR)
Class H temperature rise at 40C ambient
Salient pole
Winding temperature detectors
6 Lead
NEMA Class H insulation
IEC standard hole pattern
Lube System
Fumes disposal
Oil drain lines and valve
Lubricating oil
Gear type lube oil pump
Integral lube oil cooler
Oil filter, filler and dipstick
Mounting System
Rubber anti-vibration mounts
Rails - engine/generator/radiator mounting
Starting / Charging System
45 amp charging alternator
Battery, rack and cables
Battery disconnect switch
24-volt electric starting motor
Optional Equipment
Control System
Expansion I/O module
EMCP (4.2) (4.3) (4.4)
Remote monitoring software
Local annunciator module
Remote annunciator module
Engine System
Heavy duty electric starting motors
Muffler (industrial grade)
Jacket water heater
Dual element air cleaners
Rubber anti-vibration mounts (90% efficient)
Battery Charger (10A)
Heavy Duty Batteries
Exhaust guards / shields
Heavy duty air cleaners
Spring type anti-vibration mounts (95% efficient)
Radiator duct flange
Extended Service Contract
2 Year Extended Service Contract (ESC)
3 Year Extended Service Contract (ESC)
5 Year Extended Service Contract (ESC)
Generators
Generator stator and bearing temperature monitoring & protection
Anti-condensation heaters
Temperature Rise over 40°C ambient: [ ] 150°C [ ] 125°C [ ] 105°C [ ] 80°C
Excitation: [ ] Permanent Magnet Excited (PM) [ ] Internally Excited (IE)
Winding: [ ] Random [ ] Random with coastal insulation [ ] Form
Power Termination
Circuit breaker, 100% Rated, UL Listed (fully rated)
Bus bars
Circuit breaker, IEC listed (fully rated)
CONNECT. DISCUSS. SOLVE.
CATERPILLAR MARINE POWER ONLINE COMMUNITY
HOW CAN WE HELP?
SHARE YOUR FEEDBACK OR ASK A QUESTION