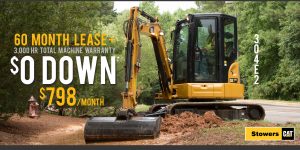 The Cat® 304E2 CR Mini Hydraulic Excavator delivers efficient performance, durability and versatility in a compact design to help you work in a variety of applications.
Cab AC
Hydraulic Thumb
Manual Coupler
135″ Dig Depth
9,000 lbs
All rates include a 60/month + 3,000 Hour Total Machine Warranty.
*Financing, zero down and published rate terms are subject to credit approval through Cat Financial for customers who qualify. Buyers are not guaranteed to qualify. Higher rates may apply for buyers with lower credit ratings or qualifications. PLUS APPLICABLE TAX. Offer valid until 1/31/2021.